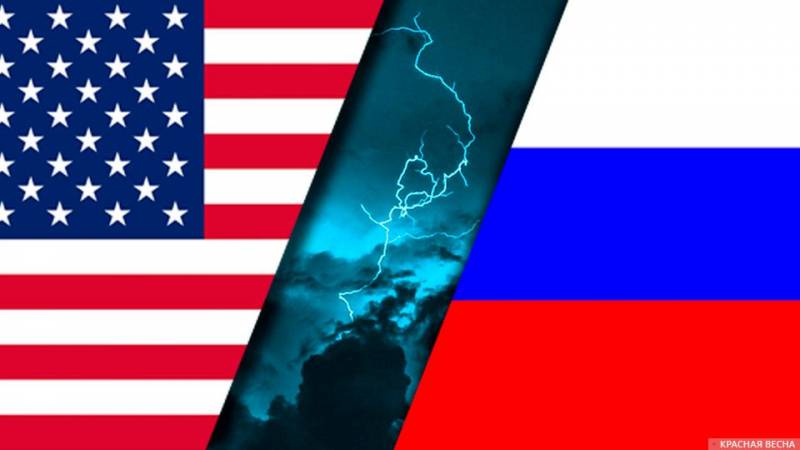 Having dealt with the deep reasons why Western civilization presses us with such force
, it is worth asking yourself the eternal Russian question: what to do? This is not an idle question, because we are talking about the survival of our culture and language. About the survival of the system of social order, which today we associate with the word "Russia", whatever it may be. Those for whom it does not matter may simply not read. And the rest should strain their brains properly.
There, beyond our western borders, the moment is slowly maturing when the monstrous inability of the Anglo-Saxons to put up with the existence of strong independent cultures will resonate with the redundancy of Russia instinctively felt not only by them, but by the entire West for their plans to reorganize the world and give rise to a "perfect storm", which we will not survive.
Can we provoke here, on our side of the border of civilizations, something that either will not allow the "ideal storm" to take place at all, or will allow us or our descendants to safely pass through it?
To paraphrase Marx, we can say that an idea that has taken hold of the masses becomes a material force. And it is: the countless victories of the Left in the twentieth century are evidence of this. Can we make material power an idea that will save us from an almost inevitable fate? After all, if this idea takes possession of the masses, then it will inevitably generate a response in the elites, as once the request to restore order in society, eliminate chaos and eliminate absolutely blatant injustice gave rise to the "Putin era" (and those who have not yet lost their minds and not yesterday they got off the pot, they remember very well how it was there, before Putin).
And if it turns out AGAIN to evoke a response from the elites, then the awareness of the coming catastrophe and the desire to fight against its onset will become part of both them and our goal-setting. Goal-setting, which will take place at all levels in our great and vast Motherland. This will become the goal around which our state machine will begin to work, from not very big officials to the president. And she, this machine, knows how to achieve goals. Especially when it comes to survival. And this is exactly what we are talking about.
And one should not think that it will be a "cry into the void": the power depends on society, no matter who or what may think about it. And those people who have this power, with all their specific moral character, are still part of society.
In the imagination of the troglodyte, these people have only one goal - to "grab" money and flee with them to London. In reality, this contingent is in the same boat with those who attribute to him the desire to escape to London. Moreover, these people understand everything perfectly. And in the event of the collapse of a country called "Russia" they will have much worse than the conditional Stalinist Vasya from the filthy Khrushchev mentioned in the last article: Vasya will not be lucky to die in The Hague right away, he will have a little time to have time for something for himself to do. Although the ending will be the same in the end. Capital and influence will not help; poverty and squalor will not save.
In fact, an individual dreaming of grabbing and fleeing to London is already a relic. They, these relics, are still there, and some even run. But this is a rarity all the same. Conventional Sechin is not running anywhere.
Sechin, beginning. From the book "How it was necessary to spend youth in order to become the chief of Rosneft in old age. But because of this photo, it will not be possible to get to London.
He has nowhere to run; in case of flight, he will face the same thing as Milosevic. As well as conditional Putin.
This common destiny may come as a surprise to someone, but the facts today are just that: those who seem to decide nothing, and many of those in whose hands the notorious fullness of power, will perish along with those who curse them. This is the specificity of the historical moment.
And this gives us, people without power, the chances that our voice demanding to save the situation will be heard. It just needs to be loud.
We need, first, to spread the understanding of the "Western threat" as deadly and, while maintaining our current approaches to it, unavoidable. And secondly, outline the contours of how we will still have to solve this problem. Those other approaches that will replace our current ones and turn an unavoidable threat into a removable one.
And by spreading this idea everywhere, make it a force capable of changing the course of events. Even as large-scale as the Anglo-Saxon, even, now it is more correct to say, the American crusade against us. But first you have to come up with such an idea.
Find the way out.
We go through the options
Often, when planning some time-limited business schemes, it is required to determine an exit strategy even before the start of the project: how all this should ultimately end. For example, we create an enterprise in order to sell it later, and the fact that it will be sold is the final; everything that precedes this desired ending must not contradict its realizability. In our case, it is necessary to start with this, that is, to define the contours of the world in which the position of Russia will be stable and will not be structurally redundant.
To begin with, let us formulate a requirement for the Russia of the future, which will not be a "fifth wheel" even in the current world order. As a first approximation, it might look like this:
Russia must provide for humanity something that humanity cannot do without, that humanity really needs, and that others cannot or do not want to do.
The fulfillment of this condition will allow us to overcome the problem of structural redundancy. Now the emotions of the Anglo-Saxons will become just the emotions of the Anglo-Saxons, this is how to take and unite a billion people against us will not work. The Western onslaught will simply turn into competition, and not in all directions. They will need us too. But is it possible?
No, because at this moment we come across our problem number 2: the cultural paradigm of the dominant civilization in the world, which fundamentally does not recognize the right of other cultures to occupy an insubordinate character and is ready to fight and incur losses for the sake of its dominance over everyone else.
How it looks in practice, everyone saw on the example of the Chinese. When did the US declare them enemies? Neither communism (well, let it be called that, let's make an assumption), nor the problem of Taiwan, nor the shooting of dissidents, nor Tibet, nor even Tiananmen prevented the United States from cooperating with China in the 90s. What changed? What has changed is that the Chinese have developed too much. From a weak and secondary power in relation to the West, they have become a player in the major league. And that was enough. A future war with China today is a fix idea among the masses of Americans. And this despite the fact that the Chinese did not want and do not want anything like that.
But the Americans want it. They need this war, because they simply cannot see a powerful and strong culture nearby.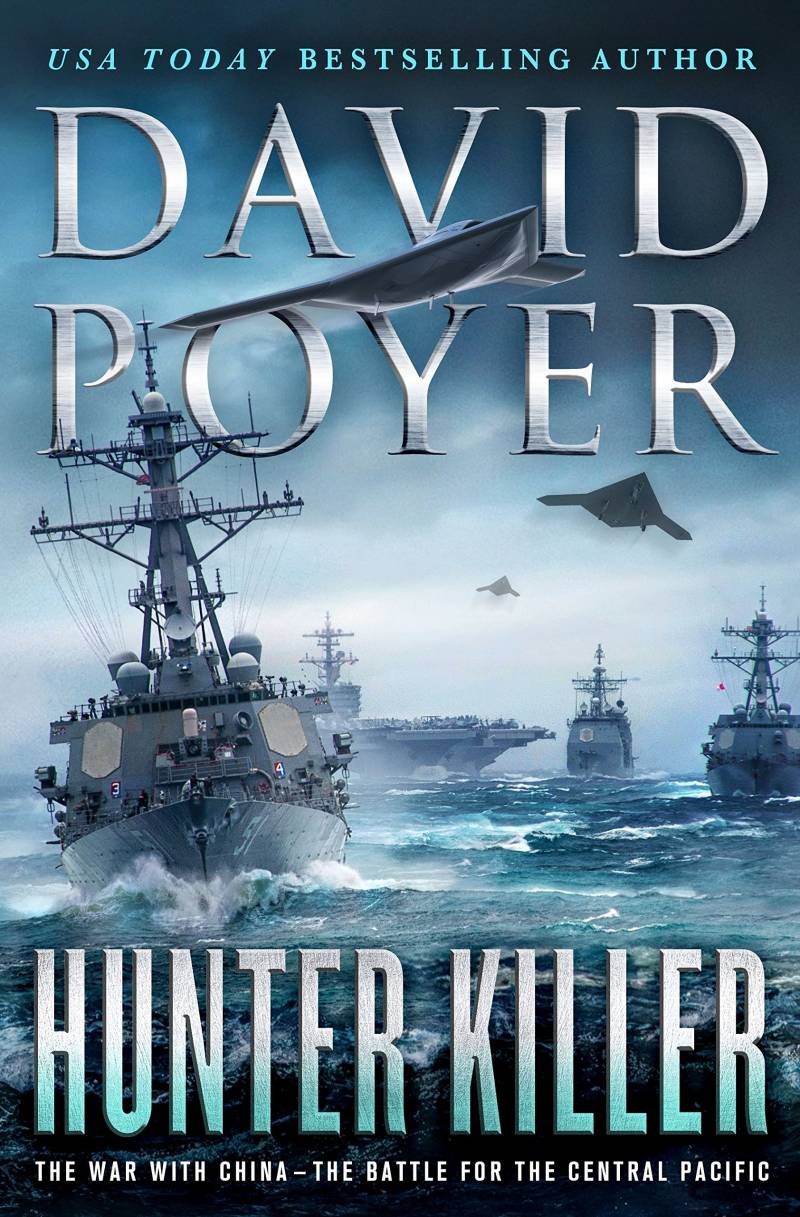 "War with China" by David Poyer is one of the most popular book series in the USA
Non-Americans, as we recall, can be either dependent and subservient to an exclusive nation, or dead. That is, the Chinese literally did what we want to "try on" in Russia - they became important and necessary as a "world factory", but at the same time remained independent. And now they will get a war in one form or another, and America will not rest until the Chinese colossus collapses. As it was before with the USSR. Accordingly, the attempt of the Russian Federation to find a niche in the world order is doomed not to remove the problem of "structural redundancy", but to aggravate the confrontation, but now for cultural reasons, again irreparable.
In a way, we saw an example in the case of Russia's announced successes in creating a vaccine against coronavirus. As soon as it was announced that the vaccine was successful, the West literally flooded the world with a wave of propaganda aimed at discrediting both the vaccine and Russia. There is no doubt that for Western countries controlled by the United States, it would be preferable to starve their citizens than to buy this vaccine if it really shows its effectiveness in large groups of people.
The fact is that the opposite means recognizing for "outsiders" at least equal status, and this is a real pain for the Americans and the British, they will not tolerate this even from their vassals. If someone still doubts such a psychological effect, then let them read about
"Syndrome of rejection of someone else's development"
- it arose among the Anglo-Saxons, another culture simply could not have generated this in such an explicit and institutionalized form. Some of them experience physical suffering from the fact that there is someone other than them who is capable of doing something in any progressive direction. And this has always been so, it is enough to remember the "satellite effect".
Remember what made Stephen King the horror king?
News
on the launch of a satellite in the USSR. We don't understand this, but for a whole American generation it was a lifelong trauma: they saw that there are other cultures in the world that are capable of breakthrough. And it terrified them.
Read this short excerpt from King's memoir
... It's a shock that non-Americans, it turns out, can. It is HORROR that there are "others" who are not inferior to an exceptional nation.
The horror that non-Anglo-Saxons can. They will never accept that non-Anglo-Saxons can.
It is this secret horror that stimulates them to try to wipe "others" off the face of the earth in one way or another. And they haven't changed. They are the same now and act on the basis of the same attitudes. Preventing the existence of any cultures that are capable of at least in some way outstripping their culture or simply comparing with it is the basis of their identity. If necessary, this prevention must be implemented by force, up to a nuclear war.
And this is all without taking into account the banal factor of competition: they also create their own vaccine and also want to sell it. And in all other branches of human activity, this simple factor of competition will also be present.
Thus, the idea of ​​occupying a "niche" in the world order will face the fact that at first the hegemon will try to throw us out of this niche, to the point of harming himself and allies, but only to prevent us from gaining a foothold. Up to the closure for all mankind (and even ourselves) of some possibilities. Taking into account the superiority of the hegemon in the forces, the picture becomes clear: our idea will not work.
And then everything will become "as always".
Thus, the idea "to provide for humanity something that humanity cannot do without, that humanity really needs, and that others cannot or do not want to do," disappears at the planning stage.
Besides, what is there that only we could do, but the West cannot? Nothing. Everything that we did first, they repeated almost instantly and brought it to a new level, unattainable for us. There are some exceptions that do not make the weather.
This was the case, for example, with astronautics. It will be so with anything. With vaccines, too. We remember that they are basically superior to us in technology, science, industrial power, economy, and very much more. And if they still stall, then the cultural factor will turn on, and they will act to their own detriment for the sake of causing damage to us. Remember about the game "Civilization": for them it is a competition in which there can be only one winner,
and everyone else must lose.
Any attempt to come up with any way to fit into the world order as a non-redundant unit will crash against it. Will not work.
Thus, willy-nilly, we need to take the second logical step:
in order to ensure survival for ourselves and our culture in the long term and in order to occupy some stable position in the humanity system that does not conflict with the dynamics of material and information processes going on in this system, we need to change this system in such a way, so that we are no longer redundant.
But how? The existing system has beneficiaries - the same Western civilization that is now waiting for Trump to fail in the elections in order to unite again around its quasi-ideological attitudes and again launch its crusade against "others" - apparently, immediately against us.
No matter how this "system change" looks, they will resist it. The same Americans will resist
TO END
- they will not be able to psychologically exist in a world where there are powerful cultures of equal status and powerful cultures, and there is no way to crush them and will not be.
And then we are forced to take the third logical step: to admit that the world order in the form in which it exists now must cease to exist in principle.

Or, more simply, if we do not want to disappear, we need something else to replace Western civilization, which is a mortal threat to us. Moreover, without regard to what people think, of which this very civilization consists. No more, no less. This does not necessarily mean that we have to destroy and destroy everything there. But this definitely means that we will have to "unmount" the "West" system and transform it into something safe for us in ANY AVAILABLE METHOD AND NOT CONSIDERING THE COSTS THAT WILL BE INCLUDED BY THE REPRESENTATIVES OF THIS CIVILIZATION. We want to live, it justifies any means.
Within the framework of the current reality, there is no other option: either this, or disappear on our own. We won't be able to sit out, they will come for us sooner or later.
But along the way, we have another problem. Very heavy. The point is that the enemy is not just superior to us in wealth, strength or numbers.
The fact is that he is superior to us in general. Basically.
Admit the obvious
We tend to think that we are generally cooler than our opponents. We are braver, not afraid to sacrifice ourselves for the sake of victory. We are smarter, and in the chaos of the nineties, we can dazzle a cruise missile with a nuclear reactor on our knees, so that later, in the 2000s and 2010s, we can bring it to a prototype. Our ancestors reached Berlin, we take Americans into space ...
The question, however, is that this is nothing more than our vision of the issue. In reality, everything is different, and we need to look into the eyes of this reality - as unpleasant for us as the fact of our existence is unpleasant for the Anglo-Saxons.
In reality, we are opposed by a civilization, all representatives of which, without exception, have existed for centuries in a situation of cruel natural selection, and exist in it now. America is a country where, until recently, everyone had to survive as they please, generation after generation. Nobody gave a damn if a certain Joe fell in the street from a hungry fainting and never got up again.
So they have existed for many centuries. And this seriously tempered them. These are really tough people. These are people prone to violence. For example, in American culture, the norm is finishing off the wounded. If the policeman did not kill the resisting suspect with the first shot, he will finish him off. This is normal from the point of view of their morality.
The word "killer" in their culture reflects a person's personal toughness, and in some cases is used as a compliment or praise. Compare that to us, and then think about whose side the odds are in the fight.
They are able to bear losses. In the second half of the twentieth century, they swallowed first Korea, and then Vietnam. In the latter, 3,5 times more of their soldiers died than we lost in Afghanistan, and this did not break them. And Afghanistan did not break us either?
We completely ignore this important factor when assessing the enemy. They tend to solve all problems with violence and are not particularly susceptible to loss, at least there is no reason to believe otherwise.
The second important point is the enemy's ability to enter a war (start it), relying on irrational considerations: pride, etc. They are really capable of this - the whole nation go to war for the sake of some ephemeral ideas, out of principle.
Let us recall at least the almost collision of our BOD and an American missile cruiser in the Pacific Ocean: you see on the wake in the photo who turned it away? Who couldn't stand their nerves?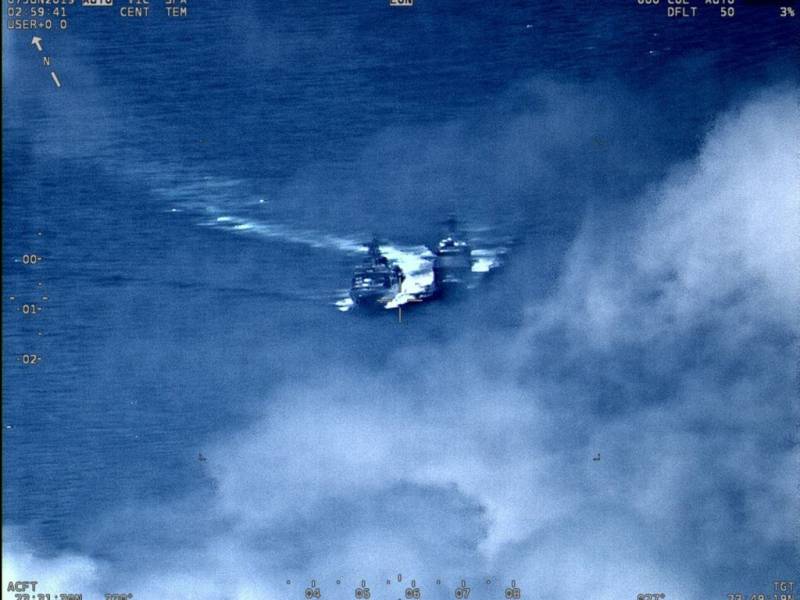 It can be seen who turned and who went to the ram to the end?
And if the BOD commander had gone to the end, what would have happened? Then there would have been a clash, because the Americans would not have turned away either: faced with the risk of human losses, they still accepted the principle - they really went and really did not turn away.
And so they behave very often. There are also reverse examples, for example, the surrender of American boats to the Iranians, but there are very few of them.
It is we who turn away in critical circumstances, not they.
In the 80s, they were leading the way to nuclear war, and the USSR surrendered, not the United States. And the United States would simply go to a nuclear war and accept losses in it, if it did not manage to resolve the issue "peacefully", or rather, through our surrender. And it is through this prism that they still look at us: in their understanding, we will not go to death for an idea. Didn't you go to the 80s? Don't go. And you didn't go to ram a cruiser with inevitable casualties for the sake of a simple demonstration of psychological superiority? Don't go.
And they went.
In Russia, few people understand this, but there we have a reputation of people who, on the verge of death, will turn back. And they themselves see themselves as those who will never turn away. And they almost never turn away, they actually do. And we do not see this and do not understand even when we have to jump out of their way, as then in the South China Sea. But the enemy must be assessed adequately, especially the one who is slowly leading the case towards our disappearance.
However, all this pales against the background of intelligence. Anyone who communicated with them knows that they are not at all the same as the clown Zadornov told about them. They are completely different in reality. It would be foolish to think that people who are deprived of the opportunity to even receive medical care without snatching a lot of money (that is, resources) somewhere beforehand will not have developed intelligence. The struggle for existence develops it like nothing else - and it is developed among them.
It's bitter to admit, but intellectually the enemy often outsmarts us. Not always "dry", which gives us chances, but mostly overestimates. And this is true even at the level of a "common man". The simplest example: readers' perception of the previous article on the topic, expressed by them in the comments. It suggests that a text of 44000 characters, which is not very complex in content, is simply beyond the power of about a third of the population of our country. The number of users of Voenniy Obozreniye is large enough to provide the required sample and draw such a conclusion from it.
Faced with information that takes him out of his comfort zone, our person in a third of cases simply loses his mind. At the same time, if you look at the reactions of readers, our people do not stop acting, but already without using the brain. The comments are truly worth reading, and will speed up the burial of any illusion. The idea that with such a contingent it is possible to withstand the onslaught of the "new world order" is absurd.
In turn, Americans in such situations retain emotional resilience and the ability to reason reasonably much better, and this is also known to anyone who has more or less crossed paths with them. At least in internet discussions.
In order to understand at what level they are able to work, we will briefly consider one of their most successful operations - World War II.
Special operation "WWII", or How the enemy can work
The First World War left behind so many contradictions that the "continuation of the banquet" was absolutely inevitable. But its format and direction were quite an open question, and for quite a long time. The Americans closed this question. It all started in the first half of the twenties.
It was then that even the most conservative representatives of the US elites came to the final understanding that it was necessary either to "unpack" the existing colonial systems in the world and go there with their goods and capital, or to prepare for permanent economic crises. Soon, in 1929, the first of these "future permanent crises" began, by the way.
Only war could break the world colonial system. And someone had to start it. At the same time, informal groups began to form, which a little later would give rise to the Council on Foreign Relations and a bunch of other similar organizations. In the meantime, a number of intelligent people had to decide the question: who will be the guy who will ignite the second round of World War, and how to find this guy? Logic dictated that it should be a German: Germany is located in the center of Europe, and if they want revenge wherever, then there. This means that an agent is needed who would go there and find a new leader for the Germans in the boiling pot of Weimar Germany's street politics.
The search task was solved by a young and promising member of an influential clan - Franklin Delano Roosevelt, who was then confidently running on foot. Let's pay tribute to Roosevelt: he was the second largest strategist in
stories
humanity after Sun Tzu (although many do not understand this), and he completed his first serious task at "five". Roosevelt recalled his student years and immediately found a performer for the task of finding a new German leader - his classmate Ernst Hanfstaengl, a talented person, an art gallery owner, musician and composer. And half ethnic German.
Then the American state entered the business, which twisted Hanfstaengl's hands, and as a result, yesterday's owner of the art gallery soon found himself in Germany prowling through various demonstrations, gatherings and rallies in search of the right person. He was assisted by American officers from the office of the military attaché: the task was important, it was not a sin to involve the army.
As a result, one of the lieutenants found the future Fuhrer of the German nation for Ernst. According to Hanfstaengl's recollections, Hitler impressed him as some kind of wonderful, frivolous character "dressed as a waiter."
Soon Putzi, as his friends called lanky Ernst, became Hitler's inseparable companion. He was his image-maker, he was his right hand, he humbled his aristocratic qualities and, together with Hitler, went to prostitutes, he saved him from communist militants at the risk of his life, he forgave Hitler for many years of harassment of his wife, wrote hymns and marches to the Nazis , taught them to work with the mass consciousness, worked as a press secretary of the NSDAP.
And the Nazis defeated the communists and the left, more and more people became under their banner, they worked better and better with the consciousness of the masses, which eventually gave them the opportunity to create their own political regime.
But Hanfstaengl was a de facto aristocrat, a broadly and well-educated person, a creative person. And Hitler was a former homeless man from Vienna and then a corporal in the Kaiser's army, who fought in the trenches throughout the war. With everything appropriate: a sense of humor, habits and the like. What made Putzi patronize this man? Risk my life for him? How about helping him (successfully) create a very ugly political system? The answer is simple: he had such a job at that time. And he did it. As it should be.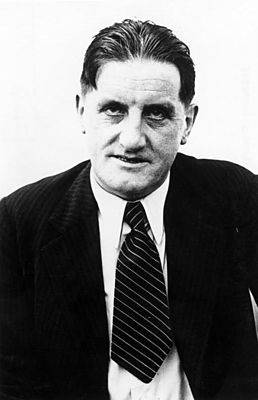 Here he is, the guy who invented Nazi Germany. American and citizen of the Reich. A friend of Hitler and Roosevelt's classmate, a press secretary of the NSDAP and an employee of one of the psychological warfare units of the US Army, a high-ranking German Nazi and the father of an American officer. Poet, composer, action movie. It all just coincided, didn't it?
In parallel, American monopolies invested in Germany, restoring its industrial potential. They also invested in the USSR, and also in the industrial potential. For a future war, fighters were needed.
In 1937, when everything was already clear in Europe, Hanfstaengl fled. The biography says that Hitler, Goering and Goebbels planned to arrange an accident for him during a business trip.
And he took it and found out about it, that's bad luck. Probably by chance, he is not some kind of James Bond, to know in advance what is on the minds of the highest Nazi leaders. And he safely disappeared from the Third Reich. Interestingly, he was searched many times before, but he was never arrested in his life, he always left. This, of course, is not because he had special training, it just coincided.
During the war, his son served in the US Army Air Corps, and there were no questions to him about Hitler's daddy comrade-in-arms. You can compare this phenomenon with the fate, for example, of Americans of Japanese origin, who were simply herded into the "zones" -camps throughout the Second World War. The origin failed. And Hanfstaengl Jr., the son of Hitler's comrade-in-arms, did not really interfere with anything, including his origin. A little if only.
Everyone remembers what it cost us Hitler's rise to power in Germany? It seems like yes, but why does no one remember the role of the United States in this event? After all, the same Hanfstaengl even wrote a book, and indeed all these things lie on the surface, as they say.
They didn't hide much at all. For example, US Ambassador to Great Britain Joseph Kennedy pointed to his country's role in unleashing World War II: "Neither the French nor the British would have made Poland the cause of the war, if not for the constant incitement from Washington". This is how Kennedy commented on the situation with the declaration of war on Germany by England and France, after its invasion of Poland in 1939, which, in fact, turned the war into a world war and became the first funeral bell for the British Empire.
And then, after the failed German attempt to deal with Britain and the diplomatic mistakes of Stalin and Molotov (see the negotiations in Berlin on November 13, 1940), we got "Barbarossa" with all that it implies.
The way Roosevelt "pulled the nostrils" of the Japanese is a separate story, and, unlike Putzi's role, it was promoted much more widely, so we will not waste time on it, we will confine ourselves to the fact: to Pearl Harbor, and, consequently, Hiroshima from Nagasaki the Japanese were pulled up, they did not come to this themselves. Although the blame cannot be removed from them, but without the "help" of the Americans in 1940-1941, the direction of their expansion would have been different.
The Berlin - Rome - Tokyo axis fulfilled its task perfectly: in 1945, even those colonial possessions that were still under the control of the Europeans were already "seething", and it was clear that the world colonial system was finished. The global role of America, which we know today, manifested itself precisely because of this. And the cost was countless human lives, including ours. But who in the US is interested in this?
What did the USSR get as a result? Right:
the shift of the 1941 border to the east (we gave up the territories in Europe as a result of the war, if anyone does not remember)
, devastation and losses, famine, and also a "cold war" with the prospect of its escalation into a hot and nuclear one. Former allies of Hitler and the Poles who hate everything Russian - for re-education (at the first opportunity they were all pulled to the West). As at least some compensation for this massacre - the Kuriles and South Sakhalin.
This is just one example of how these people can get things done when needed. And we, with our intellectual capabilities, even after the fact, cannot understand such operations. Even if we are given to read the decoding and explanation of the course of certain events, we do not master the plan that was behind this course. Do we understand what the Second World War really was? No. And they planned it. Do you understand the difference?
The enemy is smarter, alas. Smarter than us. The entire history of the twentieth century speaks of this. And he is smarter just as much as stronger.
The fact that the United States is now gripped by intellectual degradation both among the masses and among the elites, of course, can play into our hands. But only if this degradation is for a long time, because so far the gap between us and them is still significant. If this is not a temporary "failure". If the US decay continued for many decades, and we at least remained at the current level, and if we had enough strength to hold out until America collapses (and if it still collapses), then our problems could "dissolve" themselves. But it is impossible to build any plans on all these "ifs". These "ifs" may never happen. Even, most likely, will not happen.
So what to do?
The main contradiction
Let us fix the main contradiction revealed as a result, with which we have to work. It is like this:
"To survive, we need to resort to transforming Western civilization into something safe for us (whatever that means and by whatever means is done), but we cannot do this due to the total intellectual and material superiority of the enemy."
What is the way out of this contradiction? We cannot refuse to transform the enemy into a safe form, it is a matter of survival in the long term. Accordingly, what? It is true: then it is NECESSARY TO ELIMINATE THE ADVANTAGE OF THE OPPONENT. Then the second half of the phrase disappears.
That is, we ourselves must surpass them, then the main contradiction will disappear.
Where is the enemy superior to us? Almost everything. Does this mean that we must immediately push in all directions and try to increase in number to 300 million people, get rich, and so on - and all at the same time? Let's face it, it's unrealistic within a reasonable time frame. And there will not be enough resources: they must first be taken from the same hegemon, but he will not give them up. What then should become the destroyer of the main contradiction?
Intellectual superiority. It is immaterial. We do not need to capture anything and double in size to achieve it. This is the only answer we can give with the resources available.
Let us formulate the problem that must be solved for the survival of our culture in the long term.
The main thrust in the strategy of survival of our people, culture, language and country should be the acquisition of the intellectual superiority of our population over the population of the enemy.
This is the key to victory. It sounds strange and unusual, but it is. We must become so much smarter than our "opponents" so that the most complicated set of problems around Russia ... would cease to be the most complicated.
We, today, do not know what to do with the juggernaut of the English-speaking West slowly rolling over us.

But this is just because our intellect does not tell us a solution. He cannot find it. We must educate new generations so that they can find such solutions easily. Our children should become better than us - much better.

And they will solve those problems that we cannot solve with our intellectual level.
Exit to the supersystem
What may seem to someone a banal decision or far-fetched whim is to develop human potential instead of building
tanks
and guns (or factories, communism - no difference), in fact, is the solution. And this is the most difficult task. It is so complicated that, for example, within the framework of a single family, it cannot be solved in principle: parents who try to make such a move, at a certain moment, will have to start setting their children developmental tasks that exceed their own understanding. This is impossible.
The reason is that we are not talking about knowledge, not about education in the usual sense. We are talking about the forced stimulation and compulsion to develop the ability to think. In addition, the development of imagination will be required, of what is now called "creativity". By the way, the Secretary of the US Navy under Reagan, John Lehman, considered a developed imagination to be the main quality of a commander: it is imagination that makes it possible to come up with such a plan of action for which the enemy is not ready, it is it that allows you to be one step ahead in your actions, to impose the course of events and as a result win.
What would such a human development system look like? It is impossible to answer this question within the framework of a single article; we will outline only a few general points.
1.
Today, the education system involves imparting knowledge to children and testing how they have learned it, including tasks to apply the knowledge learned. The educational process is not limited to these things, but this is its main feature.
In the future, it will be necessary to move towards a situation where the child basically should not master the knowledge, but solve the problem that is presented to him. Now the goal of the education system is to release people, firstly, socialized and able to live in society, and secondly, having a certain basic set of knowledge.
In the future, the goal will be to release people who are able to quickly understand the nature of the problem they face, determine ways to solve it and solve it with minimal effort and resources, both individually and in a group. The solution may provide for both the need to acquire knowledge and training with the subsequent application of knowledge in practice.
This is a radical, revolutionary leap in itself. Of course, he does not deny the need to assimilate knowledge. It's just that now this is not the only thing that will be required of a person, even close. Socialization is carried out in the course of joint work of children and adolescents on the problem facing them. It is necessary to stimulate the ability of students to quickly and without outside guidance build informal groups for joint problem solving.
2.
Since we need not only to educate smart generations, but to educate smart generations that will win, then we need to train the will, and not just the intellect. The only significant means of strengthening the will for a child, which is available from an early age and is relatively safe for the psyche, is sports. This means that his role will have to grow many times over. Now, excluding physical education lessons at school, sport is a voluntary matter, many children simply do not do it. This will have to be done away with: future generations will have to get used to fighting extreme exertion from a very young age. By the way, the importance of sports in life for Americans is incomparably higher than for us, and in many respects their success is due precisely to this.
3.
The mechanism of social culling. At present, the social status of people regulates the nature of economic relations in society. It is he who slows down on the social ladder those who are making insufficient efforts to ensure the required quality of life. Without disputing its significance and without proving justice or injustice, let us say that as a stimulator of the development of consciousness, although it works, it is bad.
In the society of the future, it will be necessary to come up with and implement mechanisms that would require constantly confirming their intellectual abilities and volitional qualities under the threat of loss of social status. And without the option "to snatch the dough in an illegal way and to solve all your questions." That is, these mechanisms cannot be completely reduced to "bubble". Society should be organized so that the population has no choice but to "keep the brain and will in good shape." This is even more difficult than modernizing education. Those who fundamentally do not want to keep themselves in shape and be at least at an average level should not be able to maintain an acceptable standard of living and social status for themselves and in the future should be removed from society in one way or another.
The task is very difficult, and mistakes in the implementation of such social mechanisms will be very expensive, but they are needed in any case, we cannot give an opportunity to exist peacefully for people who are unable to understand a text of 44000 characters and are emotionally so unstable as to fall into a severe hysteria from a defiant discomfort of information. Because with them our society will not survive in competition with other societies. They will drag us to the bottom in any confrontation: having masses of population of this quality, we will not be able to do what is necessary for survival, simply because those who have to "do" cannot understand the meaning of what they should do, and they cannot be explained. No way. These people should be coerced into development or culled - of their choice.
There is a funny example of somewhat similar tests, or at least was in Germany. The so-called idiotentest was held there for malicious violators of traffic rules - a set of intellectual tests, the purpose of which was to cut off people who were unable to understand with their heads that they had previously behaved incorrectly. It was very difficult to pass it, and without this it is impossible to get the withdrawn "rights". The selection in its pure form, simply "soft", those who did not pass through its "sieve" were removed only from the road.
It will be a somewhat cruel society. However, to the weak, to those who do not want to and cannot, it may well be soft. Those whose intellectual abilities cannot develop due to illness, due to congenital developmental lag behind their peers, should not fall into this meat grinder simply for humanistic reasons. But there are few of them.
4.
Stimulation to creativity. Currently, society lacks a mechanism for the development of creative abilities in the younger generation. There are art schools, clubs of various kinds, but this is all voluntary and does not cover all children. There must be a situation when the conduct of some creative activity is uncontested. How and who will succeed is an open question, but everyone should have an incentive, and it should be strong. Developing creativity, creativity and imagination in every person is fundamentally important.
To some extent, the task is simplified by the fact that it is of a massive nature: what is unsolvable within the framework of an individual family can be completely solvable within the framework of society as a whole, since the education system will need to deal with a certain average level of people, but to develop the methods by which such an educational process will be built, it will be possible to attract not "average" ones at all. As a result, the task of "entering the supersystem" can still be solved. And its solution will set a completely different "average" level of mental and physical development of a person.
All of the above are just general wishes, it is natural that everything is not reduced to them, and their task is only to show "which way to think", solving the issue of improving the quality of the population of Russia.
The creation of a "thinking man" will become that decisive link, the leap for which pulls everything out. We are stupid and do not know what to do and how to cope with the array of problems that surround us. But, having solved this most difficult task, we will create people for whom these problems will be elementary.
At the same time, the most important point: we need not only to grow a smarter, more strong-willed and creative population. We need to ensure the superiority of our people over non-our people in these matters. Decisive superiority.
Are there any examples in recent history when a certain society would set itself the goal of creating a generation of people with a new quality (and not just a more educated and healthy one, as the Bolsheviks did in their time in Russia)?
There is, though unsuccessful. Japan has already made such an attempt before us. True, she stalled at the start, but not because the task was impossible.
Koizumi's attempt
In the first half of the 2000s, when Junchiro Koizumi was Prime Minister of this country, an extremely interesting conceptual document was born in the depths of the Japanese political system. It was called The Inner Frontier. Japan's Goals in the XNUMXst Century ". Fragments of this amazing text long ago
translated into Russian and available on the Internet
.
In short, the Japanese compilers of this program proclaimed the following points:
1. The structure of Japanese society, the nature of relationships between people, approaches to management and human education in Japan do not meet the requirements of the XXI century.
2. In order for Japan to take full advantage of the fruits of globalization, it is first of all necessary to change the Japanese themselves.
3. One of the critical aspects of these changes (among others, there are many of them), it is required to maximize the development and implementation of the creative potential of the Japanese population.
Quote:
After World War II, Japan experienced a seemingly astonishing recovery, achieved tremendous growth, quickly joined the economically advanced category and became a member of the Western camp. Japan has been able to achieve and maintain peace, stability and prosperity. In general, the Japanese remember the post-war period as a success story. The political, economic, and social systems created at that time were also perceived as components of a successful model.
It cannot be denied that they have contributed to political and social stability. However, this successful post-war model (or, more accurately, the undeniable belief in this model) has now drained Japan's vitality. Many of the property rights and social agreements established in the postwar period made Japan's economy and society rigid and outdated.
This model ("catch up and overtake") was followed not only in the post-war period, but all the time since the Meiji era. Now Japan must find a better model. But the world no longer offers ready-made models. The time when answers could be taken from the outside is over. Most societies face the same challenge. The globalization that is expected to sweep the world in the twenty-first century will bring great benefits, but also big challenges, challenging every country.
...
Japan does not have a ready-made model that it can use immediately. By studying examples from all over the world, we must find solutions to such problems within Japan.
Thus, it is especially important to unleash the hidden talents and potentials within Japan. This is the key to Japan's future.
An important caveat was made at the very beginning: now Japan does not have an example to follow, it is necessary to find a solution inside.
The very project of these transformations was unprecedented: no one had ever tried to answer the challenge from the uncertain future by creating people who would presumably be ready for this challenge. Koizumi's team in this matter was, apparently, the very first in modern history.
It is worth repeating once again: this is not about education, not about training. This is about ultimately improving the quality of human intelligence.
However, this project ended with Koizumi's resignation. Japanese society did not understand its prime minister. The idea, as they say, "didn't take off".
But, first of all, this does not mean that it will not take off next time.
And secondly, it shows that other cultures can provide a similar way of responding to the challenge of the future.
Of course, the Japanese set themselves completely different goals than we have to set. But they had their own tasks, and we have ours. Or rather, a task. Survive.
But we also need to make it work.
Step forward
The task that we face, once accomplished, will shake the foundations of our society. If successful, we will grow up a totally different generation that will surpass us both intellectually and by its will. To say that a certain generational conflict will take place between us and them is to say nothing. We will have to accept this, as well as the fact that these people following us will remake reality "for themselves." This was, in general, always, but not on the scale that awaits us, and at the wrong pace.
We do not know how all this will go. But the future is also the future, because it has not yet come, and keeps the unknown in itself.
At the same time, the intellectually superior generation will be able to do what we could not. And maybe he can easily. We do not need to be afraid of them - they will be our children and grandchildren.
Other people will have to be afraid of them.
However, in addition to the task of initiating all these processes somehow, we also have one more responsibility: to make sure that no one interferes with bringing this idea to practical implementation. He did not organize any revolution in our country. Didn't organize a war for us with grave consequences. Didn't sabotage what we do.
Naturally, we are talking about the United States and, more broadly, Western countries.
In our country, few people think, but the United States and Britain have much older political systems than most countries in the world. In the case of the Britons, you can generally count from the restoration of their monarchy. In the case of the United States, their political system has been continuously evolving since the 1991th century. For comparison: ours - since XNUMX.
We used to think that we have such a long and old history, and they are upstarts who are several centuries old. On the one hand, yes, on the other, New York is 100 years older than St. Petersburg, and the construction of the residence of the President of the United States, the White House, began when Catherine II was still in power.
One of the consequences of this long-term continuity of the political system is the accumulation of historical experience. And it helps to win in many ways, the intellectual superiority of the enemy is largely realized with the help of experience: they KNOW the methods to act, they remember it, they have done it before, and more than once. In our country (like almost all non-Anglo-Saxons in the world, a strange pattern, right?), There is a regular "chopping off" of the whole country: this was the case both in 1917 and in 1991. Breaks in the political tradition led to a break in the accumulation of political experience, which later became a harbinger of heavy losses.
So, Stalin's entourage and he himself did not see that the situation in Europe in 1940 very much resembles it in 1812, and could not draw the correct conclusions. They simply did not have the necessary knowledge, did not remember what they should have remembered, and missed the blow. It cost the USSR tens of millions of deaths. That is what the break in political tradition usually costs.
It is not hard to see that the "partners" are actively trying to arrange something for us again. On the other hand, pumping
weapons
Poland, the hysterical propaganda of the Russian threat in it, as well as the activities of the United States in Ukraine, indicate that purely military problems are not excluded for us, and it is quite possible that military problems are needed in order to initiate a coup within the country.
Our generation will be required not only to launch the program for the development of future generations described above.
We will also be required to prevent the enemy from ruining everything. A war from the outside or an explosion initiated from within, it makes no difference.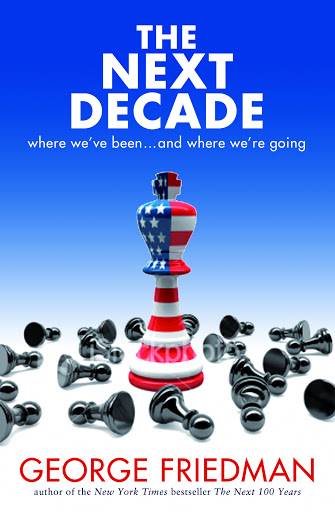 On this cover of Friedman's book, there is only one acceptable future for Americans: everyone died, but they stayed. And they will never give up this goal
Betting on the fact that our descendants will surpass us in everything and solve those problems that we could not solve, we must not let anyone break the system that will make them what they should be.
We must buy enough time for this project to reach the point of no return.
Due to the dynamics of world processes, we can gain time only with the help of force. We will have to use force, but we will need to use it correctly.
To be continued ...