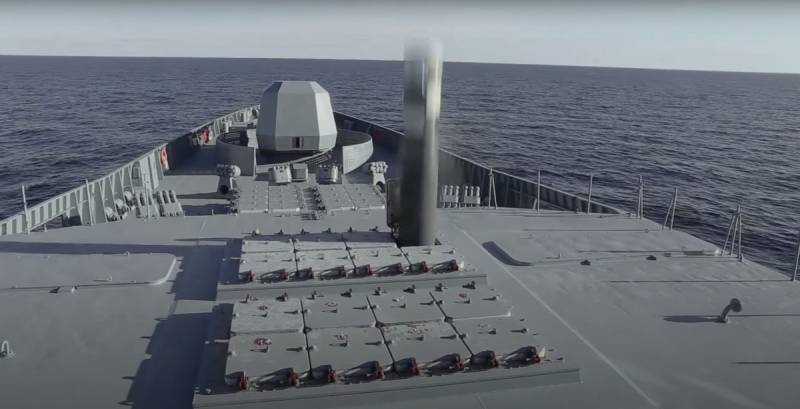 The tests of the sea-based Zircon missile, which took place on October 6, attracted increased attention of the Western press. Launched from the frigate "Admiral Gorshkov", it, reaching a speed of over Mach 8, flew 450 km and successfully destroyed the target. Expected new
weapon
will enter the Navy in 2020-21.
Surprise for the birthday boy
Not every birthday person is pleased with the launch of a hypersonic cruise missile in his honor
- writes Asia Times, pointing out that the tests coincided with the birthday of the head of the Russian Federation, Vladimir Putin.
At the same time, many experts were puzzled by the personnel posted by the Ministry of Defense. Some of them believe that the video captured several launches of older missiles, such as the Onyx.
The video recording of the last test does not provide much additional clues about the appearance of the "Zircon" itself or how exactly it works.
- notes the publication The War Zone (USA), which puts forward the assumption of equipping the rocket with two engines. One of them brings it to the required speed and height, after which the second turns on.
According to the authors of the publication, "Zircon" can use the technology of "plasma stealth": the missile may be hidden from enemy radars in the surrounding cloud of radio-absorbing ionized particles.
Unanswered threat
Adding the Zircon to the arsenal of various ships and submarines could significantly increase the overall capabilities of the Russian
fleet
[…] The missile is able to quickly hit an American warship without giving it time to react to a threat.
- indicates The War Zone.
As the French edition of La Tribune explains, missiles traveling at speeds many times the speed of sound follow a lower trajectory than conventional ballistic munitions. Moreover, their movement is much less predictable.
The development of hypersonic weapons is a key element of competition between Russia, the United States and China, as there is currently no protection against this type of weapon
- notes Business Insider, pointing out that the current missile defense is not able to fend off the threats posed by the RF hypersonic weapons.
At the same time, some foreign readers were very skeptical about the test personnel:
Standard Russian weapons programs: fantastic statements, minimum tests and evidence, in any case, no money for practical use
- says one of the American users who got acquainted with the combat testing footage.