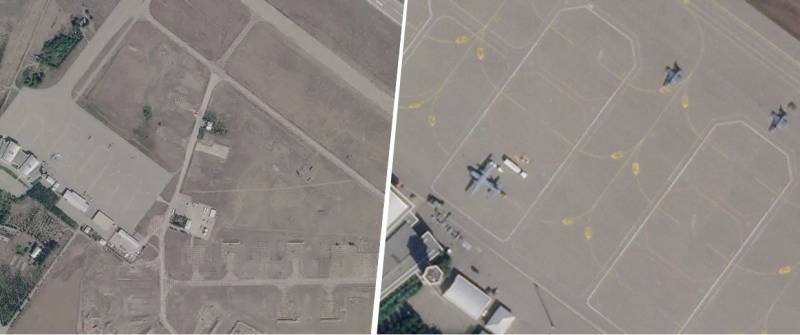 The American media published materials stating that Armenia was right in announcing the transfer of F-16 aircraft from Turkey to the territory of Azerbaijan. It should be reminded that earlier in Yerevan it was stated that Turkey has transferred its fighters to the Ganja airfield and is using them in an armed conflict. In particular, it was alleged that one of the Turkish F-16s shot down a Su-25 attack aircraft of the Armenian Air Force.
Without commenting on the statements about the alleged downed attack aircraft, the information resource The Drive publishes satellite images of the Azerbaijani airfield on its military-themed tab. As noted, at least two F-16 fighters can be seen in these images. The Azerbaijani Air Force does not have such equipment, which means only one thing - the F-16s were transferred from a foreign country. Considering that earlier in Ankara they declared their readiness to provide any assistance to Baku, including military-technical, it can be assumed that these are Turkish combat aircraft.
American columnist Joseph Trevithick notes that F-16s are located at the Ganja airfield. This is the same airfield that the troops of the unrecognized Nagorno-Karabakh Republic tried to fire at the other day.
Trevithick:
This is the first irrefutable proof that at least some of these aircraft were in the country after fighting broke out between it and its neighbor Armenia over the long-contested Nagorno-Karabakh region.
It is noted that Chris Tribert of Visual Investigations was among the first journalists to pay attention to airplanes. He writes on Twitter that he is closely following the changes taking place at the military airfields of Armenia and Azerbaijan in connection with the armed conflict that has flared up with renewed vigor.
At the moment, the Azerbaijani side has not officially commented on the appearance of publications in the Western media with satellite images of the Ganja airfield.