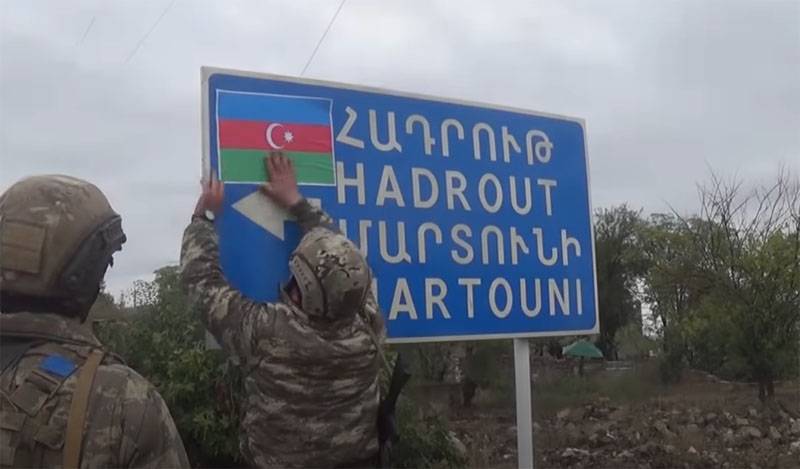 The representative of the Armenian Defense Ministry Artsrun Hovhannisyan said that yesterday the defense army of Artsakh (the unrecognized Nagorno-Karabakh Republic) launched a counteroffensive in the northern direction and recaptured the Varangatagh height. The blow was delivered by special forces with the active support of the Volunteer Movement detachment.
Reportedly, 50-year-old Mkhitar Zakaryan, mayor of the Armenian city of Meghri, was taken to a hospital in Yerevan. Having come under the shelling of the Azerbaijani army, he was seriously wounded.
According to the Baku.ws portal, Zakaryan took part in military operations in the south of Karabakh. The publication emphasizes that the Azerbaijani army strikes exclusively at military targets.
Meanwhile, the Azerbaijani Defense Ministry claims that their servicemen managed to capture several more villages in the Jebrail region. In particular, it is reported about the "liberation from occupation" of the settlements of Shukurbeyli and Sheybei.
The village of Shukurbeyli is known for the fact that on its territory there is an archeological and cultural monument dating back to the ancient era. We are talking about the ancient settlement of Toragaitepe of the early Bronze Age.
The video shows soldiers gluing images of their national flag to road signs and walls. In the settlements themselves - destroyed and abandoned buildings, civilian equipment, local residents are not visible. It is not reported whether the archaeological site was damaged.
The destroyed equipment of the NKR troops is shown through the drone's infrared cameras.
The conflict between Armenia and Azerbaijan over Nagorno-Karabakh has been going on for over 30 years. Even during a relative lull, there were mutual shelling of enemy territories by the warring parties.