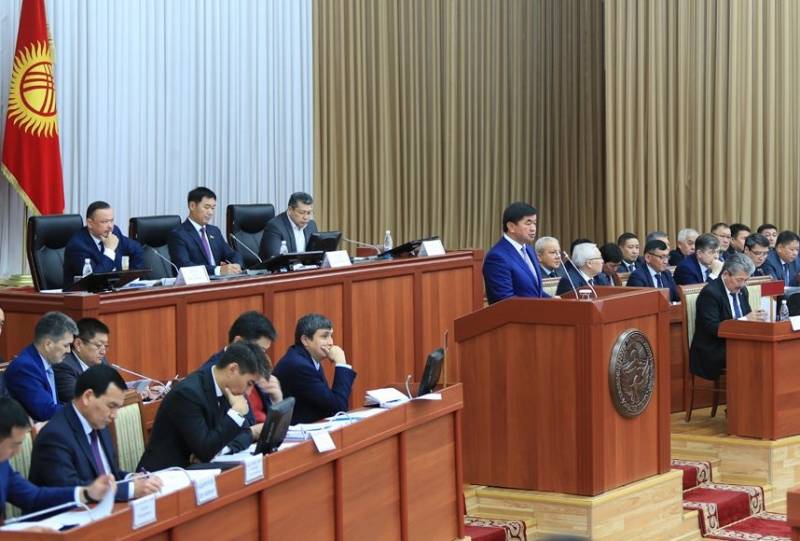 Young people gathered in Ala-Too Square in Bishkek demand to declare impeachment to President of Kyrgyzstan Sooronbai Jeenbekov. The speakers emphasize that it was thanks to the youth that the results of the parliamentary elections in the country were canceled.
Speakers speaking at the rally, declare the non-recognition of self-appointed to government posts and demand to give power to the youth. They call the Jogorku Kenesh (parliament of Kyrgyzstan) the only legitimate body and demand that it be urgently convened.
The main demands of the protesters are a change of power and impeachment of the president, who is accused of betraying his own people.
Jeenbekov abandoned his people, he shot at his people, he betrayed us.
- said the deputy Elvira Surabaldieva.
At this time, a meeting of the Coordination Council was held in the House of Government of the Republic. The building is guarded by civilians, not allowing almost anyone into it. In particular, according to the Kyrgyz information agency AKIpress, MP Dastan Bekeshev tried unsuccessfully to enter the Government House. He said that now no one in the country has legitimacy, so it is necessary to assemble a parliament and elect a new government.
Deputy Mukhtarbek Ainakulov called the events taking place in Kyrgyzstan a "bacchanalia":
Yesterday the bacchanalia began, several parties shared and occupied offices, this is not a vegetable garden to share, this is the state.
Ainakulov said that he was not present at the yesterday's extraordinary session of the Jogorku Kenesh, as he was not informed about its holding. Therefore, he cannot judge the degree of its legitimacy.
According to the Kyrgyz media, the president "felt bad and decided to go into self-isolation."
Meanwhile, the network continues to discuss the statements of Ms. Gulzat Mamytbek. She announced that Kyrgyzstan will soon become one of the most developed countries in the world - with advanced medicine and its own Hollywood.