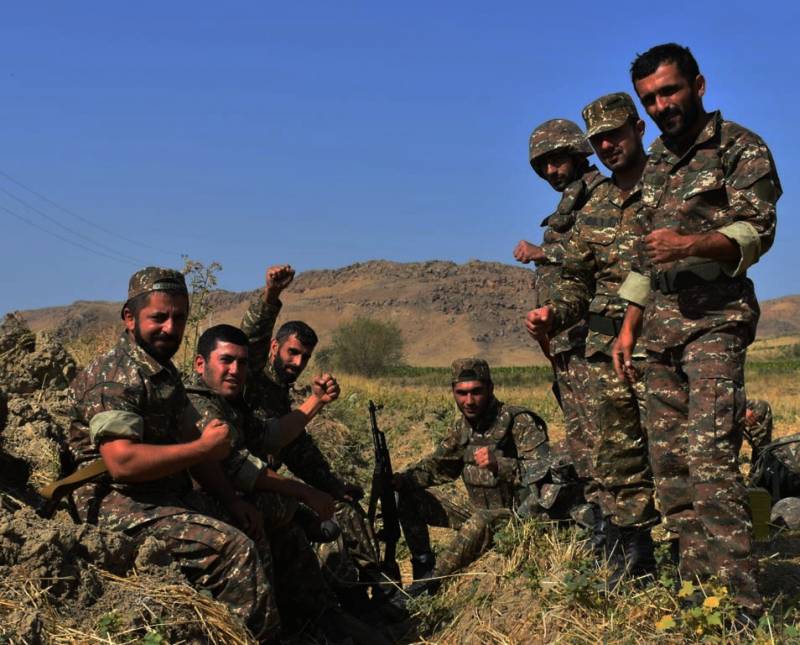 The Ministry of Defense of the Republic of Armenia reports that the troops of Azerbaijan made an attempt last night to advance deep into the territory in the southeast direction. It is about the conflict zone in Nagorno-Karabakh.
The press secretary of the Armenian military department Shushan Stepanyan writes on Facebook that Azerbaijani units tried to approach the settlement of Jebrail.
From the summary:
... but with artillery fire, the Armenian armed forces attacked the enemy, who was eventually driven back.
A spokesman for the defense department of the Republic of Armenia claims that as a result of artillery fire, the enemy suffered significant losses, including 60 irrecoverable ones. Added what has already become traditional in recent days:
The remnants of the enemy brigade scattered in disorder.
It is also reported that the Armenian side struck a blow at the warehouses of fuels and lubricants (POL). The Azerbaijani army allegedly "lost the ability to quickly refuel its
Tanks
and other military equipment in the conflict zone ". For the strike, according to the latest information, RPGs and ATGMs were used.
From the summary of the Ministry of Defense of Armenia:
Opportunities have been created for the development of success on different fronts.
Earlier, the Azerbaijani military department announced the successes of its troops in the Jebrail region, including the capture of at least one settlement under control.