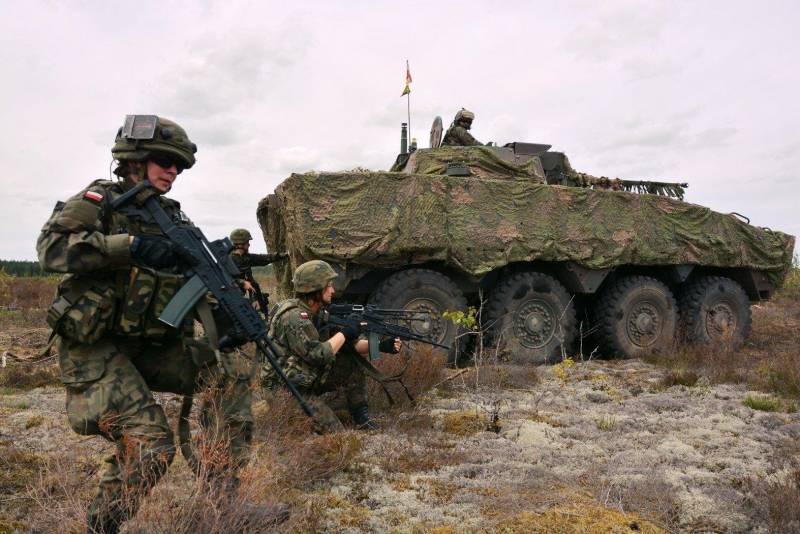 A relatively small stretch of terrain - up to hundreds of kilometers of the Polish-Lithuanian border, with one end resting on Belarus and the other in the Kaliningrad region, named after the city of Suwalki located in this area, has become a source of serious headache for the strategists of the North Atlantic Alliance in recent years ... Why?
NATO generals are confident that it is in this area that the Russians, who have finally decided to begin the conquest of Europe, will make their first breakthrough in order to cut off the "small but proud" Baltic states from their allies, and, most importantly, to ensure themselves the possibility of overland communication with Kaliningrad and the military group stationed there. Hence the name - "Suwalki corridor". Explaining to Russophobic anxious Western commanders that we are not going to attack anyone is obviously useless. So let's think about it. What will happen if the troops of Russia and NATO really collide in this very corridor, if there is a real clash? Hypothetically ...
It must be said that, in addition to the abundantly produced fantasies, our most probable enemy has for some time been very active in carrying out quite real measures to prepare for the defense of this territory from the "insidious Russian strike." Chief among these is the Iron Wolf (Gelezinis Vilkas) exercise, which has been held since 2017, taking place in Lithuania with the participation of military personnel from most European NATO countries, as well as the United States. As a rule, their number is about 5 thousand people.
As for the American contingent directly, last year, for example, it was represented by half a thousand soldiers of the 2nd Armored Brigade of the 1st Cavalry Division of the US Army with 30
tanks
M1 Abrams and 25 M2 Bradley infantry fighting vehicles. To be honest, somehow not very impressive. In addition, it is one thing to arrive at a place in advance, for pre-planned maneuvers, and quite another - on a combat alert in a "surprise attack". At one time, the Pentagon calculated that, for example, the 82nd Airborne Division of the American army needed at least 72 hours to transfer to this region.
At the same time, according to the ex-commander of the US ground forces in Europe, Lieutenant General Ben Hodges (a person clearly understands this issue), the Russian armed forces will need from 36 to 60 hours in order to take full control of not only the notorious corridor, but also all the Baltic countries together with their capitals. As for the Suwalki "hundred-kilometer" route itself, the difficult terrain conditions (very swampy and wooded) will rather become a problem for NATO troops, who cannot imagine an offensive without massive use of armored vehicles, than for ours.
In addition, if necessary, we do not even need to send ground troops there: only the 9K58 Smerch MLRS with a firing range of about a hundred kilometers, if they are used from both the Russian and Belarusian sides of the corridor, will arrange a real a firestorm from which hardly anyone will come out alive. And this is without taking into account the more serious missile weapons and strike capabilities of our Aerospace Forces. All the tactical simulations and headquarters games conducted by the alliance analysts forced them to come to a disappointing conclusion: to keep the Suwalki Corridor under control, forces and means are needed that are many times superior to those that NATO has in the region.
According to the experts of the well-known American analytical center RAND, whose services the Pentagon constantly uses to make military forecasts, the North Atlantic Alliance will be able to deploy a maximum of 17 battalions for the defense of the "Suwalki Corridor", which is not up to 7 thousand people. This is against 25 battalions of the Russian army, which have 10 thousand soldiers in their composition. In this case, the most "serious" equipment, ready to go into battle immediately, most likely, will be the American Stryker armored personnel carriers. To stop our tanks ... Do not tell ... No, this is not jingoistic patriotism. Just besides the tanks ...
Back in 2018, Warsaw announced the formation of the 18th Mechanized Division with headquarters in Siedlce and plans to restore the 14th Suwalki Anti-Tank Artillery Regiment to cover this area. However, all this is clearly not enough.
It is clear that modern warfare is not only and not so much a clash of motorized infantry battalions and tank brigades, but a confrontation between much more serious and formidable forces. One strike aircraft carrier group of the US Navy is capable of turning the tide of hostilities in almost any theater of operations. That's just not on the considered in this case! The American AUG will not be able to operate in the Baltic Sea both by its natural conditions (shallow depth) and by the most powerful anti-ship defense systems deployed in the same Kaliningrad and our Baltic fleet.
On
aviation
an even sadder situation for the Alliance. It is not for nothing that they complain about the creation of an anti-access / area denial in the Kaliningrad region, a zone of complete barriers to access. Russian air defense and electronic warfare systems deployed both in this region and in Belarus, when NATO aviation tries to establish its own air supremacy, will very quickly force the generals there to remember the term "unacceptable losses". In fact, the alliance does not even try to deny this truth.
Perhaps, it is all these factors that are responsible for the heightened concern in the West regarding the "Suwalki Corridor". Well, here we can only advise one thing: not to try to threaten our country and thereby not create situations in which our army will be forced to use the corridor.