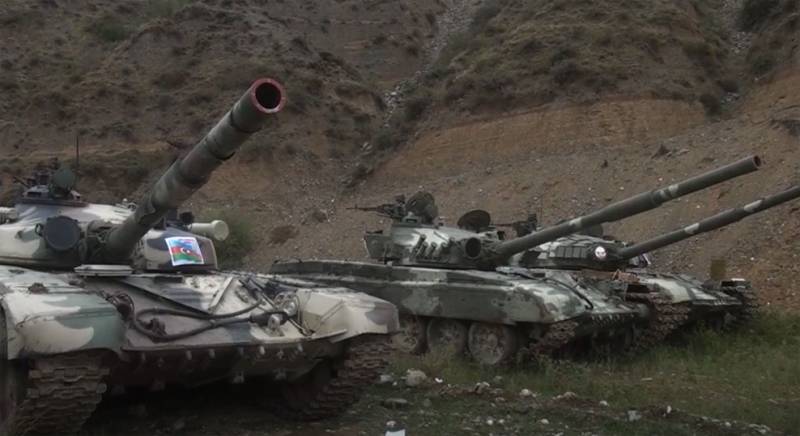 The Armed Forces of Azerbaijan have published another video from the territories taken under their control. Apparently, we are talking about the territories of the Jebrail region, which, according to the version of the unrecognized Nagorno-Karabakh Republic, belongs to its Hadrut region.
The Ministry of Defense of the Republic of Azerbaijan reports a large number of trophies. War trophies of Azerbaijani troops include
Tanks
troops of the NKR, including T-72, other armored vehicles.
On the video presented, you can see three tanks of the NKR Armed Forces captured by Azerbaijani detachments. "On the armor" of one of the tanks are magazines for a Kalashnikov assault rifle with unfired cartridges, several zinc with ammunition, a bayonet knife. The symbolism of the Nagorno-Karabakh Republic is visible on the tank. At the same time, before filming the video, the Azerbaijani military stuck their symbols on the armored vehicles, including state flags.
The captured tanks were also on the move. The footage demonstrates how Azerbaijani servicemen are driving captured equipment to their positions.
At the same time, it remains unclear why at the beginning of the video the tanks are in the same row. Perhaps they were already overtaken for a better angle of shooting, or they were initially in cover, never having time to join the battle. Nothing is reported about their crews either, as well as about the specific circumstances under which Azerbaijani troops took possession of these trophies without causing damage to them.