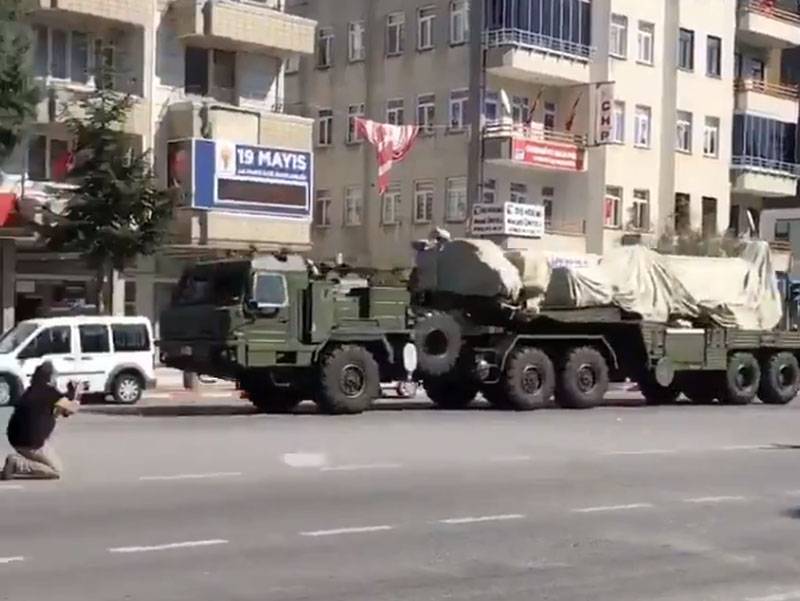 In the Turkish media environment, materials appeared about where exactly the country's military command decided to send the S-400 "Triumph" air defense systems received from Russia earlier. Recall that Turkey to this day is under pressure from the United States, which is trying to dissuade Ankara from deploying the already acquired S-400 air defense systems and from new purchases of such complexes from Russia.
In the Turkish blogosphere, footage has appeared on which you can see the transfer of military equipment. The technique was captured, as stated, in the city of Samsun. It is a 600 thousandth city located on the Black Sea coast.
In the materials of Turkish journalists it is reported that the transfer of the S-400 air defense system in the Black Sea region is due to the fact that military exercises have begun in these territories. During these exercises, the Turkish Armed Forces plan to use various types of
aviation
including the unmanned one. Military maneuvers involving air defense systems will continue in northern Turkey until October 16.
Footage appears to be showing that Turkey has moved S-400s to Black Sea city of Samsun

A NOTAM was released that closes the airspace for 10 days due to air defense system / drone exercises in Sinop, which might be the final destination via @kamerkncpic.twitter.com/vz1xtoP7vc

- Ragıp Soylu (@ragipsoylu) October 6, 2020
Comments from Turkish journalists on Twitter:
Ironically enough, Turkey will test the S-400 off the Black Sea, right next to Russian territory.
CAATSA is coming ...
For reference: CAATSA is an American sanctions package, which provides restrictions for a country that has contacts with Russia in the military-technical sphere.