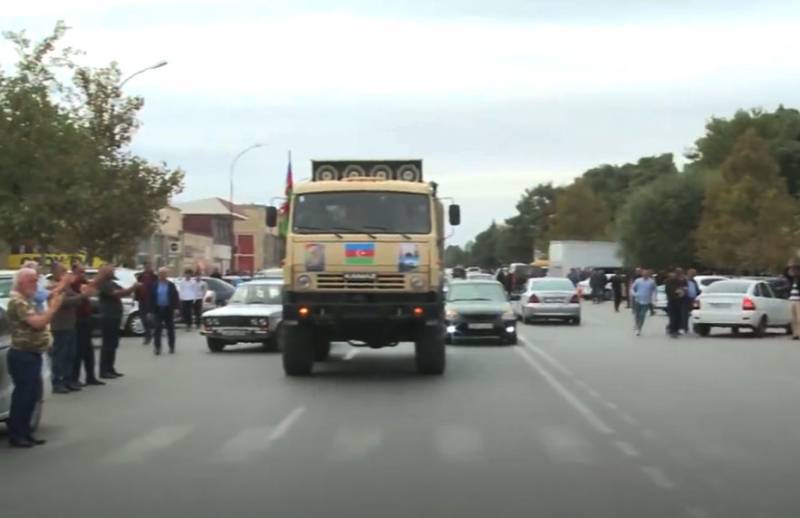 The leadership of the Republic of Azerbaijan ordered to establish propaganda broadcasting in the settlements of the country dedicated to the event in Nagorno-Karabakh. Moreover, the term "propaganda" is used directly by the state structures of Azerbaijan.
Broadcasting is carried out in those settlements located in the front-line zone.
Cars with loudspeakers appeared on the streets of cities and villages of the republic. Through these audio systems, there is a broadcast of statements about the success achieved by the Azerbaijani troops in the zone of the armed conflict.
From a statement by the press service of the Azerbaijani Ministry of Defense:
The role of propaganda in the framework of measures for moral and psychological support during hostilities is undeniable. The purpose of these events is to further strengthen the Union of the Army and the People, to demonstrate the strength and success of our army in battles, as well as to increase the morale and determination of personnel in order to transfer the support and trust of our people to the military.
Loudspeakers broadcast the statements of the country's President Ilham Aliyev that the Azerbaijani army will fight until the territories in the conflict zone return to full control of Baku.
The messages of the Azerbaijani Ministry of Defense say that military-patriotic songs and marches are broadcast on the streets of settlements through mobile sound stations of the republic. It also adds that the civilian population of the front-line zone "enthusiastically welcomes mobile sound stations and messages about the success of the country's army."
Presented frames:
Through the loudspeakers, information (including) about the enemy's failures and how the Republican army's offensive continues.
Meanwhile, reports are coming from the unrecognized Nagorno-Karabakh Republic that the capital of the republic, Stepanakert, has been continuously fired upon for more than 24 hours. In this case, heavy military equipment was used, including multiple launch rocket systems. In fact, there is no longer any talk of any negotiation process between the parties to the conflict, despite all the calls of the international community and the UN Security Council. And this can be considered another challenge for the same UN Security Council.