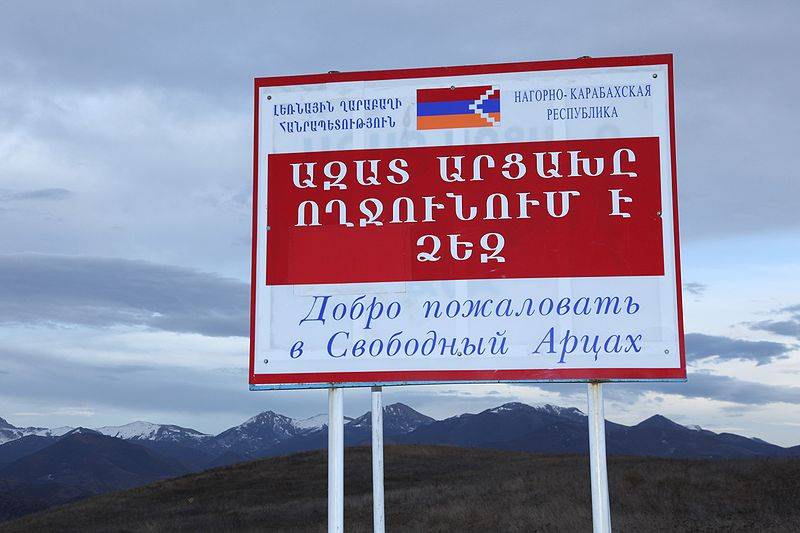 Apparently, the Azerbaijani army is not going to stop the armed attack on Nagorno-Karabakh and Armenia, which supports it. President Ilham Aliyev said bluntly that he does not agree that "this conflict has no military solution" and, it seems, is determined to resolve it in this way. Let's pretend for a moment that he succeeded. What then awaits the unrecognized republic that has existed for almost 30 years?
Perhaps, it should start with the fact that according to international law, as well as UN resolutions and the Bishkek agreement that stopped the bloodshed on these lands, there is no territorial-state formation with the name "Republic of Artsakh". There is the Nagorno-Karabakh Autonomous Region within Azerbaijan. Whether someone likes it or not, these are the universal agreements, recognized and signed.
In reality, the situation is such that more than 99% of the population of this area are Armenians. During the 2005 census of Azerbaijanis, it was possible to count as many as 6 people ... There is no doubt that if the region is returned to Baku by military force, if not all of its inhabitants, then the absolute majority of them will face the fate of refugees. And this is the best case.
Unfortunately,
история
The Nagorno-Karabakh conflict has such deep and bloody roots (after all, in fact, it lasts not at all since the 90s, but at least since the 20s of the last century), that no peaceful existence of the Armenian and Azerbaijani diasporas on this land today even there can be no question. Especially taking into account the fact that the representatives of the latter intend to come to the "primordially Azerbaijani lands"
tanks
...
Proceeding from the rhetoric of the same Aliyev, and by analogy with the experience of many similar situations, the Armenian population, for whom Nagorno-Karabakh is "free Artsakh", will be asked to go to their historical homeland. In the most successful variant - with the payment of some purely symbolic compensation for the lost real estate and with a minimum of movable. However, even this is unlikely: who pays the expelled "occupiers"? Most likely, official Baku will try to keep too hot heads from reprisals, but how it will turn out in practice is unknown.
Alas, in the history of the Armenian-Azerbaijani confrontation (and not only in Nagorno-Karabakh) there are too many pages that cannot be easily turned and even more so rewritten. Pogroms, killings motivated by ethnic strife and real wars, in which the death toll amounts to thousands of people on both sides, are absolutely not the basis on which to build peace and mutual understanding. Especially in the territory that each side considers its own.
Again, there is no doubt that the attempts of the Azerbaijani army to establish itself on the land of Nagorno-Karabakh will be accompanied by inevitable destruction and casualties in such cases, including among the civilian population. Yes, actually, they are already accompanied. This is the reason for new hatred and thirst for revenge. Based on this, it is quite possible to assume that even after conquering Karabakh, Baku will face a rather powerful partisan movement there. And stocks
weapons
, and there are more than enough people who perfectly know how to handle it.
With such a development of events, an already far from prosperous region in economic terms will inevitably plunge into complete devastation and chaos. The Azerbaijani authorities will certainly try to establish control over its exploitable economic objects and resources (the same Drmbon copper deposit), while trying to populate the conquered territory with their compatriots as much as possible.
Another question is whether they will want to go to places that may be far from hospitable. Unless those who wish can be found among those who really lived in the territory of Nagorno-Karabakh before the 1992-1994 war. But they will bring with them, in addition to nostalgia for their native places, most likely, long-standing hatred and intransigence. In any case, if Artsakh disappears into oblivion under the onslaught of Azerbaijani soldiers, peace and quiet will not be seen in this land.
However, all this can happen only on the condition that Russia completely and completely withdraws itself from the resolution of the conflict. In reality, this option seems extremely unlikely, since it will be perhaps the most severe defeat for our country, received in recent years not only in the Caucasus, but, perhaps, throughout the entire post-Soviet space.