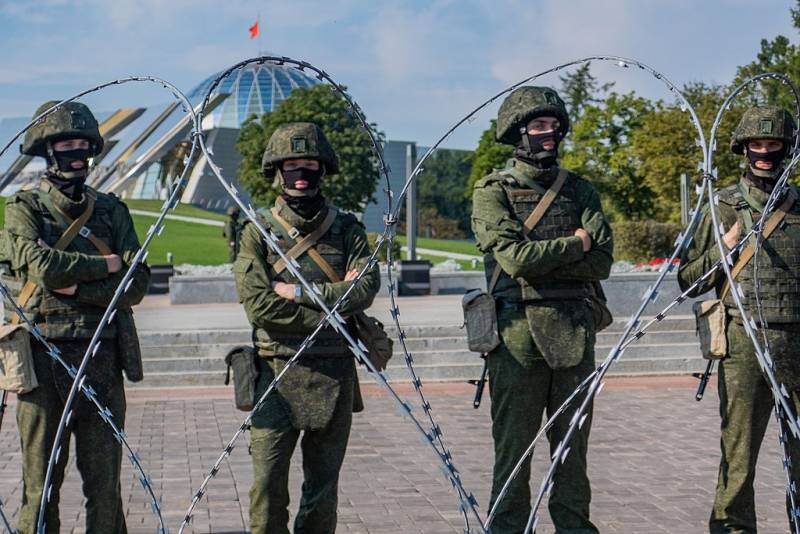 Armored vehicles were seen not far from the residence of the President of Belarus Alexander Lukashenko in Minsk. At the same time, the State Flag Square in the area of ​​the Palace of Independence has been cordoned off by a double ring of law enforcement officers and the military since the morning.
In addition to army equipment, trucks with barbed wire appeared on the square.
To disperse the protesters, the Belarusian security forces used water cannons against the protesters. It happened near the Sports Palace on Pobediteley Avenue. The footage published by the Belarusian edition of Tut.by shows how the jet of the water cannon was first directed at a public transport stop, and then at the gathered crowd. Fleeing from the pressure of water, people began to run away. After that, the Belarusian police began mass arrests of the protesters.
Personnel of a resource controlled by Poland:
Protest actions in Minsk and other cities of Belarus began on August 9. The demonstrators disagree with the official data of the presidential elections, according to which the incumbent head of state, Alexander Lukashenko, won. The protesters claim the results were falsified. In addition, they oppose human rights violations in Belarus, as well as the abuse of power by the security forces in the course of dispersing demonstrations and arresting participants.
Today it became known that Svetlana Tikhanovskaya, who lost the elections, is going to visit Germany on October 6 and meet with Angela Merkel. Merkel confirmed her readiness to meet with Tikhanovskaya, saying that she admires women who protest for justice. But for some reason, Merkel does not admire women who come out to protest for justice in Berlin. These women are twisted by the German police and sprayed with tear gas, which the Bundescanzlerin apparently does not particularly regret.