The Azerbaijani authorities announced that the Armenian troops struck at the city of Ganja, 335 thousand. It is the second most populous city in the republic (in the first place is the capital, Baku). From 1935 to 1989 the city was called Kirovabad.
Reports indicate that ammunition fired by Armenian troops destroyed and damaged several buildings. In total, up to seven rounds of ammunition were fired in the city.
At the moment, no casualties have been reported from the shelling.
Meanwhile, the Ministry of Defense of Azerbaijan announced that it was taking "punitive measures" against the enemy. From the message of the departmental press service:
The Azerbaijani army is taking punitive measures against the enemy, who does not attach importance to the repeated warnings made to him.
The press secretary of the president of the unrecognized Nagorno-Karabakh Republic earlier said that a military airfield in the Azerbaijani city of Ganja was attacked. It is used, among other things, to send attack drones to the zone of armed conflict.
Footage of the shelling of an Azerbaijani city.
Results of Armenia's massive missile attacks against dense residential areas in Ganja city. Azerbaijan retains its right to take adequate measures against legitimate military targets to defend civilians and enforce Armenia to peace. 4 new missile just hit Ganja. pic.twitter.com/GInYCJyJc6

- Hikmet Hajiyev (@HikmetHajiyev) October 4, 2020
However, judging by the footage, we are talking about a residential area. Perhaps it is adjacent to a military facility.
What exactly was the shelling was not reported.
For reference: the distance from Stepanakert to the city of Ganja in a straight line is exactly 100 km. Experts suggest that the strike could have been delivered from the north of the territory of the unrecognized NKR using MLRS or barrel artillery.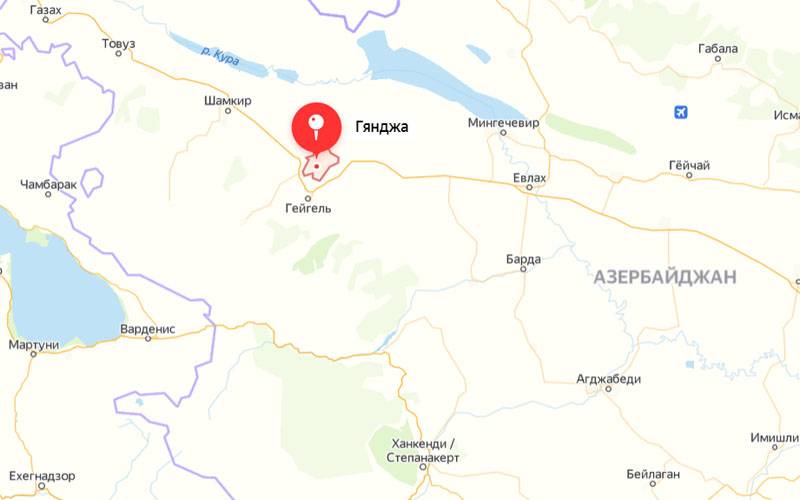 Earlier, the Armenian side accused the enemy of shelling settlements in the Republic of Armenia. At the same time, the head of the press service of Armenia Shushan Stepanyan stated that the Armenian army did not open fire in the direction of Azerbaijan.