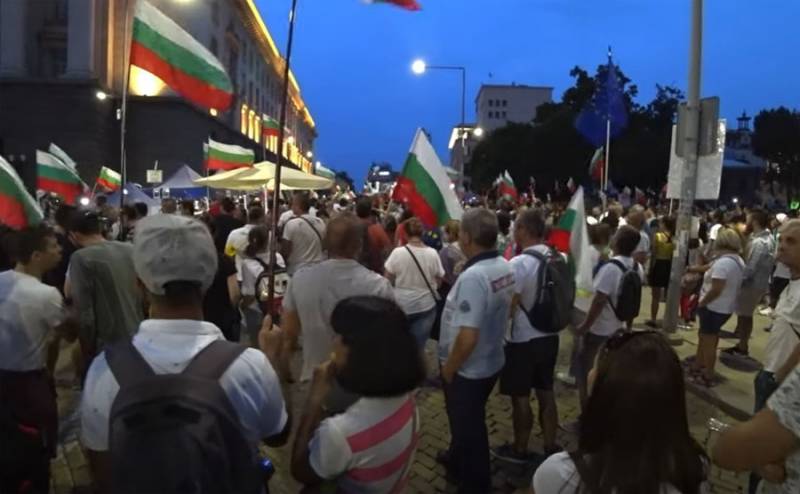 The protest action in Bulgaria, called the fourth Great People's Uprising, took place yesterday in Sofia without escalation, but was accompanied by an increased police presence. Law enforcement officers carefully checked the protesters for the presence of prohibited items.
Reported by the Bulgarian
news
portal Novinite.com.
Some of the protesters were banned from participating in the action. One of them, for example, because of the eggs he tried to throw at the police.
The police blocked the streets leading to the Independence Square, where the protesters gathered, and also cordoned off the parliament and government buildings.
The action started at about 17.00. Several thousand people took part in it, including those who came from other cities in Bulgaria. They demanded the resignation of Chief Prosecutor Ivan Geshev and the government of Boyko Borisov, as well as early parliamentary elections.
The demonstrators proceeded to the Alexander Nevsky Cathedral, and then, after 10 pm, headed to the Eagle Bridge. There, one of the protesters climbed into a traffic light and waved the Bulgarian flag from there.
Protests took place in other cities of the country as well. As the organizers called, the action was peaceful.
Mass protests, called the fourth Great Popular Uprising, have been going on in Bulgaria for 87 days.
Previous Great Popular Uprisings probably refer to three events from
stories
country. The first was the anti-Turkish uprising in 1876. The second was raised by the Bulgarian communists in 1923, and the third took place in 1944 and was directed against the fascists. Recall that the Bulgarian authorities at the first stage of World War II sided with Nazi Germany.
At the same time, today's protesters consider any appearance on the streets to be a "Great Popular Uprising", assigning the appropriate numbering. According to their classification, the "previous Great Uprising" was at the end of September of the same year.