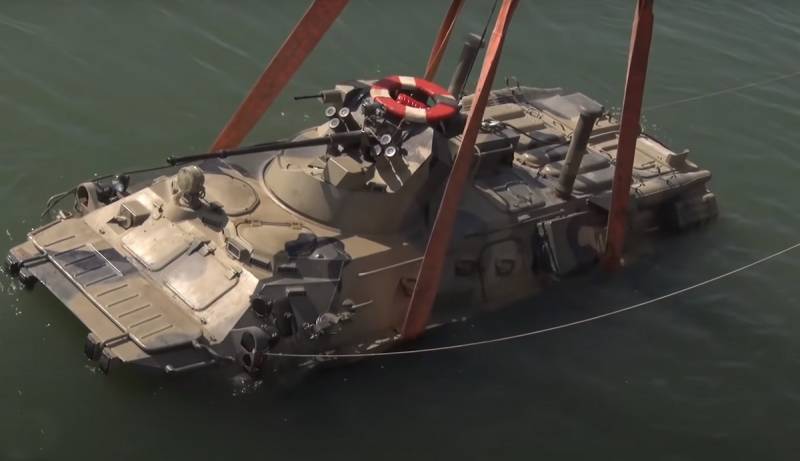 During the Kavkaz-2020 exercises, the Russian fleet, carrying out a landing operation in the Caspian Sea, used an unusual way of the VTR-79 sea transport of weapons of project 20360 "Dubnyak".
Bottlenecks of the Caspian Flotilla
As the Polish edition of Defense24 explains, the Caspian
flotilla
does not belong to the largest strategic formations of the Russian Navy. This affects, in particular, its equipping with landing gear. In the course of these exercises, it was necessary to ferry two battalions of marines. Traditional means for this were not enough: for example, on the footage of the maneuvers, Project 1204 Bumblebee armored boats are visible, not suitable for landing - the infantry jumps from their deck, going under the water headlong (00:40).
The flotilla has only one landing craft "Ataman Platov" of project 21820 "Dugong", which can take on board three armored personnel carriers, one unit of project 1176 "Akula", six of project 11770 "Serna", which are capable of carrying one machine each ["Serna" all it is also designed to carry two armored personnel carriers / infantry fighting vehicles].
Meanwhile, it was necessary to transport twice as many BTR-82AM used by the Marine Corps.
- writes Defense24, indicating that in this regard, a sea transport of weapons VTR-79 of project 20360 "Dubnyak", equipped with a powerful crane, was used. As can be seen in the 50th second of the video, the armored personnel carrier was launched directly into the water from the deck of the ship, after which the crew took their places in it.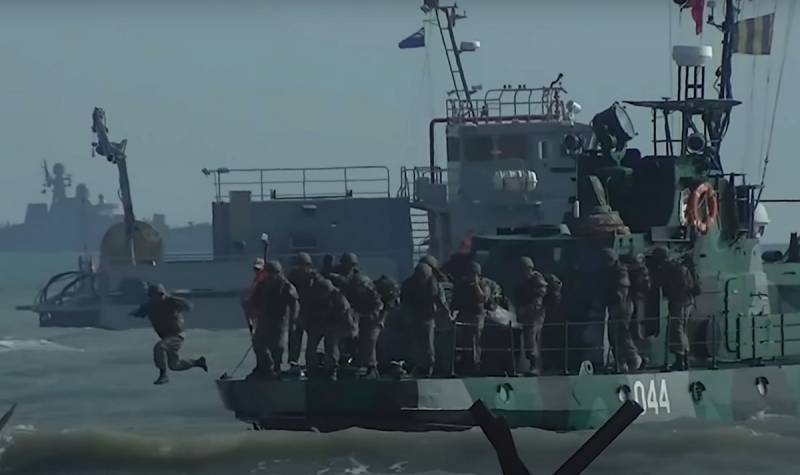 Such unconventional techniques would have been impossible during a landing in a real battle with enemy countermeasures and in other waters, especially with even a minimal wave
- explains the publication.
However, Defense24 believes that this example shows a major change in the training of command personnel:
Russian commanders have moved away from strict and schematic procedures and are able to improvise in the face of limited opportunities. This indicates a certain effectiveness of Russian reforms and the changes that took place at the turn of the century in the systems of command and control and training of officers.
VTR-79 is designed for transportation and reloading of weapons and other cargo. Its total displacement is about 2 thousand tons, length - 61,5 m, width - 15,7 m, draft - 3,1 m. The ship develops a speed above 10 knots. This ship is the only representative of the type 20360 "Dubnyak", which was considered unsuccessful by the Russian military. It was modified to project 20360M, according to which the construction of maritime transports of weapons is underway.