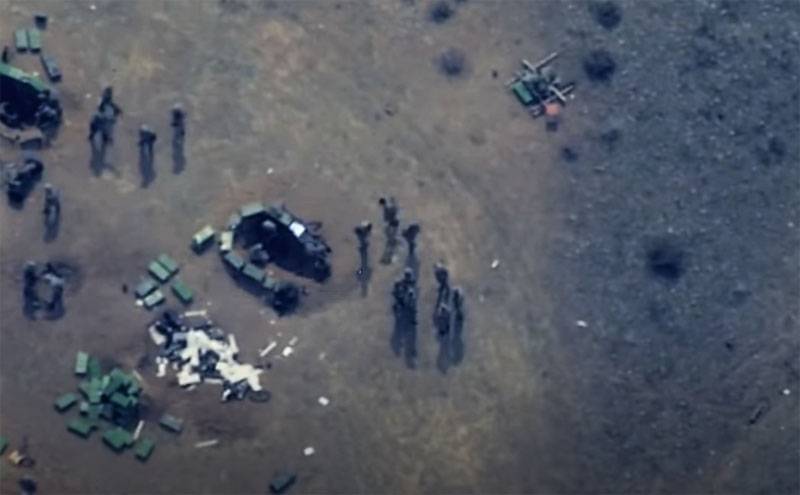 The Armenian Defense Ministry announced a statement that Azerbaijani troops launched an offensive in Nagorno-Karabakh. It is argued that Azerbaijan launched an offensive in several directions, including north and south.
According to the press secretary of the Armenian Defense Ministry Shushan Stepanyan, the Azerbaijani army has concentrated large resources in these areas and imposed fierce battles.
Shushan Stepanyan noted that the Armenian army is holding back the offensive of the enemy forces.
Meanwhile, the armed forces of Azerbaijan are publishing regular footage of strikes against Nagorno-Karabakh.
The footage shows how strikes are being delivered on Armenian positions, where there is a relatively large crowd of people. At the same time, one gets the impression that the Armenian side does not expect strikes at all - the movements are taking place as if it were not a front line, but a sufficiently deep rear. There are firing positions, but between them there are no protected ones, at least from a direct shot from a firearm
weapons
, corridors.
At the same time, apparently, by means of control and visually, the presence of the reconnaissance UAVs of the Azerbaijani armed forces "on their heads", which direct artillery and an unmanned strike
Aviation
in position. This leads to grave consequences for the Armenian side, as can be seen from the published footage.
At the same time, the Ministry of Defense of the unrecognized Nagorno-Karabakh Republic says that the enemy is suffering heavy losses. According to the military of NKR and Armenia, these losses of Azerbaijan already amount to about 3 thousand people killed and wounded.