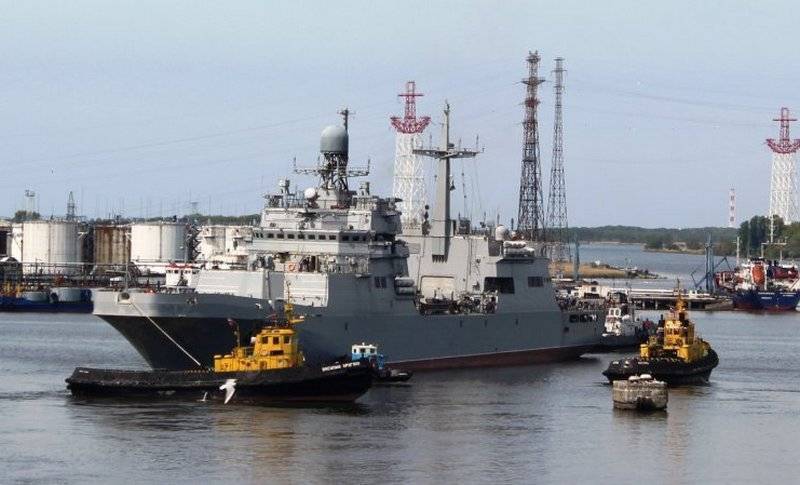 An outbreak of coronavirus infection was recorded on board the Petr Morgunov large landing craft undergoing testing. 41 out of 206 crew members of the ship were diagnosed with coronavirus infection. This was reported at the regional operational headquarters for infection control.
According to the report, the Petr Morgunov large landing craft has returned to the Yantar shipyard in Kaliningrad from the next stage of sea trials. When checking the crew, 41 sailors tested positive for coronavirus. The infected were hospitalized and treated. The rest of the crew is isolated on board and monitored.
Yesterday, the large landing craft built at the Yantar Shipyard returned from sea trials. There were 206 crew members on board, and 41 tested positive for COVID-19. 40 were hospitalized in infectious diseases hospitals, 1 is in self-isolation at home, the rest of the crew are isolated on the ship. At the first manifestation of symptoms, they will also be hospitalized
- stated at headquarters.
The press service of the Baltic
fleet
clarified that the disease in all sailors is asymptomatic, doctors assess their condition as satisfactory. There is no information about the timing of the transfer of the large landing craft to the fleet.
BDK "Peter Morgunov" is the second ship of the project 11711 and the first serial after the lead BDK "Ivan Gren". Laid down in June 2015 and launched on May 25, 2018. The construction of the ship was carried out with delays, since it was necessary to correct the mistakes made in the design of the lead ship.
BDK 11711 is able to accommodate 13
tanks
or more than 30 armored personnel carriers and infantry fighting vehicles. The ship also provides for the deployment of a reinforced battalion of the Marine Corps, as well as the temporary basing of various types of ship helicopters. The ship has a cruising range of 4 thousand nautical miles, which allows you to perform tasks in the far sea zone.