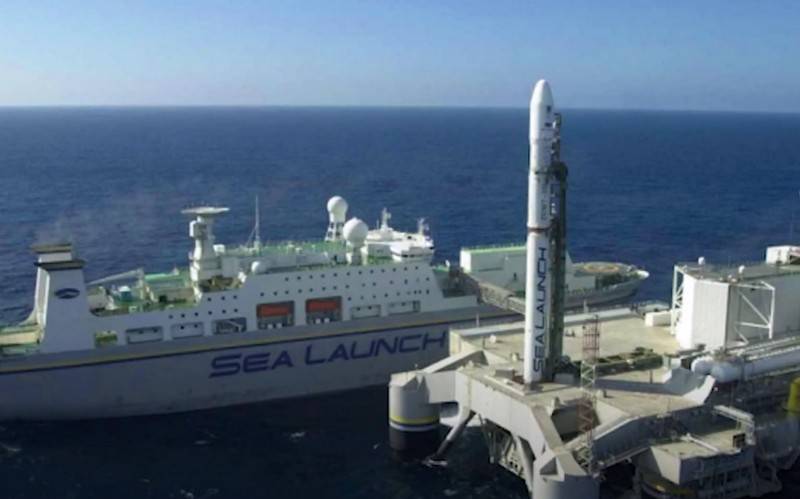 The costs of restoring launches from the Sea Launch floating cosmodrome may amount to 29 billion rubles. This is the conclusion reached by the specialists of the S7 group of companies, which own the cosmodrome. This is reported by "RIA
News
"citing a source in the rocket and space industry.
According to the source, the S7 company estimated the restoration of launches from the Sea Launch cosmodrome at 29 billion rubles, of which 15 billion will be spent on repairing and modernizing the launch platform and creating a new light rocket. At the same time, the agency's interlocutor clarified that another 14 billion rubles have already been spent. They went to buy a floating spaceport, transport it to Russia and solve other problems associated with the project.
Deputy Prime Minister Yuri Borisov said that the preliminary amount for the restoration of Sea Launch is about 35 billion rubles. Meanwhile, Rosatom has estimated the restoration of launches from Sea Launch at 84 billion rubles in 2020 prices - or 91 billion rubles in forecasted prices, taking into account inflation.
Earlier it became known that the Development Center of the S7 group of companies will develop a light launch vehicle with a reversible first stage, work on it has already begun. The developments on the new rocket will be used to produce a medium-class launch vehicle that will be launched from a floating cosmodrome. Development details were not disclosed.
It should be noted that earlier the Zenit rocket, which was produced at the Ukrainian Yuzhmash, was launched from the Sea Launch, but since 2014 the assembly of the missiles has stopped due to the lack of Russian components at the enterprise. At the same time, Roskosmos announced the development of the Soyuz-5 (Irtysh) rocket to replace Zenit. The first test launch of the Irtysh is scheduled for 2023, the launch will take place from the Baikonur cosmodrome.