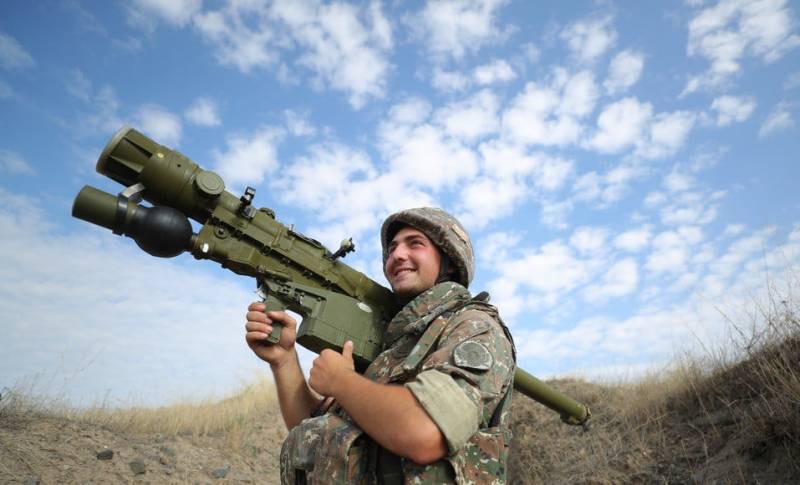 A new round of confrontation in Karabakh makes it possible to assess the changes that have taken place in the tactics of fighting in connection with the changes in the technical appearance of the army, and draw conclusions in relation to our own troops. Therefore, once again we draw the attention of our readers to the chronicle of the conflict between Armenia and Azerbaijan.
Only within one day, the active use of loitering ammunition made it possible to hit a number of targets: according to the Azerbaijani side, they turned out to be two BM SAM "OSA-AKM", one MLRS "Uragan" and one BMP, 4 MLRS "Grad", 4 howitzers D- 20, 16
tanks
and 2 trucks with personnel.
However, it was found by observers that some of the targets were false. So, in the frames shown, it is noticeable that instead of the Osa air defense missile system combat vehicle, a mock anti-aircraft missile launch platform was destroyed. Nevertheless, this technique went into the "piggy bank" of the achievements of the Azerbaijani army.
Also in the video presented, the electronic warfare "Repellent" appears, which indicates the use of electronic warfare by the Armenian side. This product is specifically designed to detect miniature drones and suppress their control channels for powerful barrage or directional interference. Apparently, the frames show her "finishing off"; from the words of Azerbaijani sources - the Turkish drone "kamikaze" Alpagu. It is possible that the initial damage was caused by ground forces.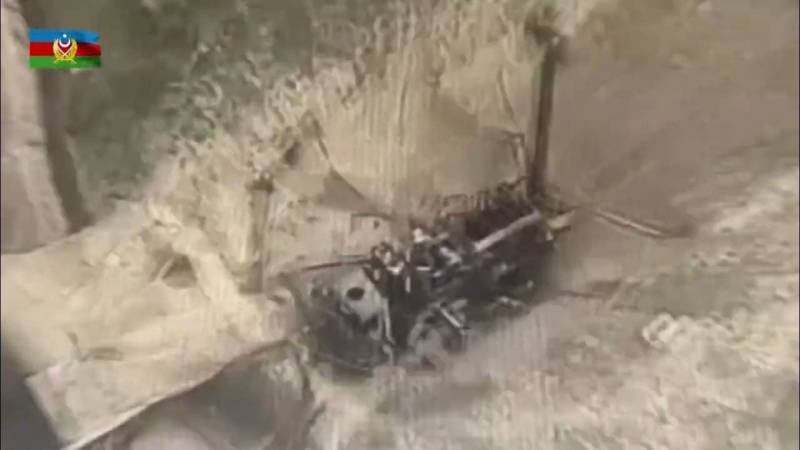 The high hitting accuracy can be noted: with a few exceptions, the shells accurately cover the target. Below is a rare deviation from this rule in video materials.
Attention is drawn to the fact that Armenian calculations are missing in many frames.
In general, the active use of unmanned aerial vehicles by the Azerbaijani side, including loitering ammunition, creates the impression of air superiority, which makes it possible to effectively destroy the enemy's battle formations.
Just one successful UAV hit can disable an enemy squad (in the video below - from the reserve units). At the same time, many Russian "experts" recently argued that if drones are needed by the army, then it is far from the first.
At times, entire columns of troops become targets of an aerial UAV attack.
Under these conditions, Yerevan, operating mainly with ground forces, relies on massive artillery shelling when eliminating the enemy on distant approaches.
The Armenian military claims to have successfully carried out counterattacks, during which they manage to capture the enemy's positions.
It should be noted that both sides of the conflict accuse each other of spreading false information. For example, the Armenian Defense Ministry claims that the video footage of soldiers trapped in a trench and shouting "We were left alone!" Is fabricated, as indicated, in particular, by a distinct accent and speech errors. Baku, for example, calls reports of the destruction of the Armenian Su-25 by a Turkish fighter jet a "fake".