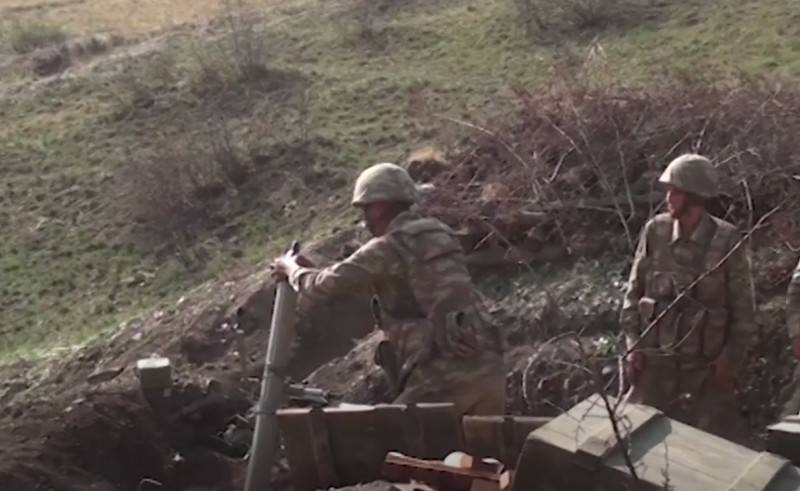 The fighting in the zone of the Karabakh conflict continues, the Armenian side has suffered huge losses. This is stated in the statement of the Ministry of Defense of Azerbaijan, circulated on Wednesday morning.
In total, starting from September 27, according to the Azerbaijani military, in the conflict zone, the Armenian side has lost up to 2,3 thousand soldiers in killed and wounded. The destruction of a large amount of military equipment is also reported.
Since September 27, the losses of the Armenian Armed Forces in battles against Azerbaijan are up to 2300 killed and wounded, up to 130
tanks
and other heavy equipment, more than 200 artillery and other installations, up to 25 air defense systems
- said in a statement.
The Azerbaijani military department also announces the destruction of six enemy command posts, five ammunition depots, up to 50 anti-tank weapons, 55 units of vehicles. For its part, Azerbaijan does not report losses.
In addition, it is announced that the S-300 air defense missile system located on the territory of Shushakyand of the Khojavend region has been disabled. A video of the alleged destruction of the anti-aircraft missile system has already appeared on the Internet under the title: "an instant before destruction." Earlier, the ministry stated that the Armenian S-300, which covered the airspace of Yerevan, were removed from combat duty and sent towards Nagorno-Karabakh.
On the morning of September 30, the fighting continues, the counterattack of the Armenian side with the aim of regaining the lost positions in the Magadiz direction has been repulsed, the Azerbaijani Defense Ministry said.
In turn, the Ministry of Defense of the unrecognized Nagorno-Karabakh Republic reported that in the battles in Karabakh, 81 people were killed from the Armenian side, 120 soldiers were injured.
The Armenian Defense Ministry reports that artillery battles continue along the entire line of contact on Wednesday morning, there are losses on both sides. Two drones of the Azerbaijani army were shot down at night.
Artillery battles are currently underway along the entire front in Artsakh (the unrecognized Nagorno-Karabakh Republic). Artsakh Defense Army's air defense destroyed two enemy drones in the sky over Stepanakert at night
- said the press secretary of the Armenian Defense Ministry Shushan Stepanyan.