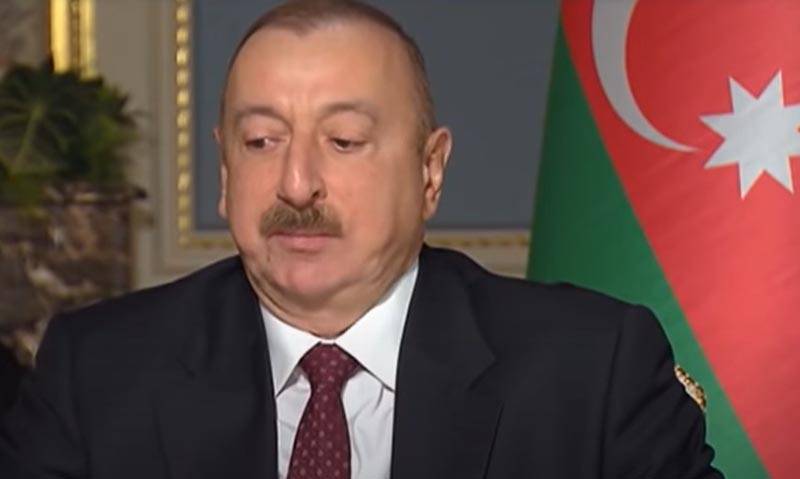 Azerbaijani President Ilham Aliyev gave an online interview to the hosts of the 60 Minutes program. The interview is dedicated to the events in Nagorno-Karabakh, where active hostilities have been going on for the third day in a row.
Yevgeny Popov and Olga Skabeeva asked Ilham Aliyev what is the role of Turkey in the armed conflict.
President of Azerbaijan:
Turkey is a brotherly country to us. She morally supports us. However, Turkey is not a party to the conflict.
According to Aliyev, there is no need for Turkey's participation in this conflict, since "the Azerbaijani army is quite well prepared."
Ilham Aliyev also commented on statements that a Turkish F-16 fighter shot down an Armenian Su-25 attack aircraft. According to Aliyev, he heard such statements from the Armenian side, but he has no information about it. Aliyev added that fake publications have become more frequent on the Armenian side.
The President of Azerbaijan stated that the new escalation of the conflict is related to the actions of the Armenian side. Ilham Aliyev called the Prime Minister of Armenia a protege of Soros, and the current authorities in Yerevan - "the Sorov regime and the dictatorial regime of Pashinyan."
There was also a question about whether there are fighters from Syria transferred by Turkey in Azerbaijan.
Ilham Aliyev noted that Pashinyan did not fulfill his pre-election promises, and now decided to divert the attention of the population to the armed conflict.
Azerbaijani President:
What did not succeed in Belarus, was succeeded in Armenia two years ago - the coming to power of Soros's henchmen.
Aliev:
There are no militants from Syria on our territory. With a population of 10 million versus 2 million in Armenia, we have enough human resources.