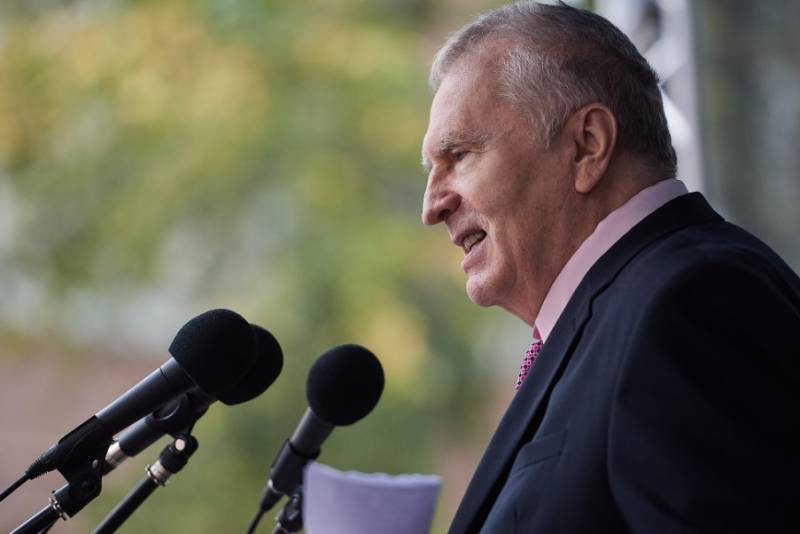 The leader of the Liberal Democratic Party and the deputy of the State Duma of the Russian Federation Vladimir Zhirinovsky believes that there are three options for resolving the conflict between Armenia and Azerbaijan in Nagorno-Karabakh. Each of them is pretty radical.
The reasoning of this well-known Russian politician is quoted by the correspondent of the news agency
REGNUM
.
Zhirinovsky recalled that the Armenian-Azerbaijani conflict has been going on for several centuries. And even if the bloodshed stops today, in a year everything will start again.
It is impossible to reconcile, everything is saturated with the blood of Armenian, Azerbaijani and Russian, the whole Caucasus.
- said the State Duma deputy.
To overcome this age-old feud, the politician offers one of three options. The first is to include Nagorno-Karabakh into the Russian Federation. Then no one will be offended - neither Yerevan nor Baku. "And everyone will be happy."
The second option is even more radical. He intends to admit two republics to Russia - Armenia and Azerbaijan.
And Zhirinovsky called the third version "tsarist", as it was used in tsarist Russia:
The king gave
weapon
to both, and they themselves achieved the rules in battles.
At that time, the press service of the German government reported that German Chancellor Angela Merkel had a telephone conversation with Azerbaijani President Ilham Aliyev and Armenian Prime Minister Nikol Pashinyan.
The Chancellor stressed the need for an immediate ceasefire and a return to the negotiating table.
- said the official representative of the government of Germany, Steffen Seibert.
The OSCE Minsk Group offered its platform for negotiations.