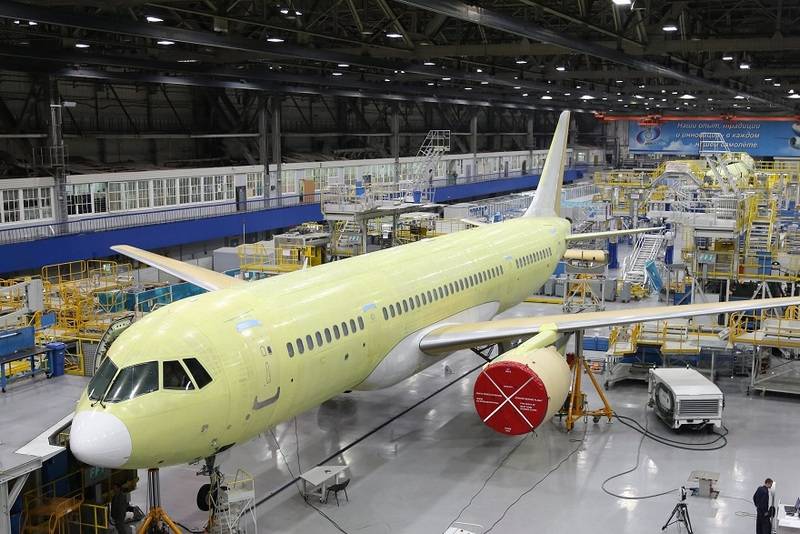 The Russian medium-range aircraft MC-21 in the process of development and production has repeatedly encountered problems from foreign suppliers. In addition to refusing to supply composite materials for the wing, some countries refused to supply a number of small components and assemblies for its Russian PD-14 engine, but these problems have been resolved. This was reported by "Interfax" with reference to an informed source.
Difficulties were not only in terms of composites, our partners also refused to supply a number of units and small parts for the PD-14 engine
- said the source, adding that in such conditions, enterprises had to deal with import substitution and solve these problems.
As reported last year, US sanctions blocked the supply of composite materials for the aircraft wing from the US and Japan. UAC promised to solve this problem by launching, together with Rostec, its own production of the necessary materials. At present, this issue has been resolved, the Federal Air Transport Agency is starting to certify the MS-21 using Russian polymer composite materials in the main elements of the airframe.
Last week, Russian President Vladimir Putin called the refusal of Western companies to supply composite materials for MS-21 "rudeness". According to him, the plane does not belong to the defense sphere, and all the obstacles are evidence of unfair competition.
(...) for reasons of unfair competition, our partners have stopped supplying the corresponding composite materials for the wing. Well, what is it? Well, this is just rudeness in the world market in violation of all generally accepted principles and rules. They know what we will do anyway. Well, just so that our aircraft builders come out later with this product. And by this time they expect to occupy these niches and markets
- Putin said.
Let us recall that the serial production of the Russian PD-14 engines began at the end of March this year.