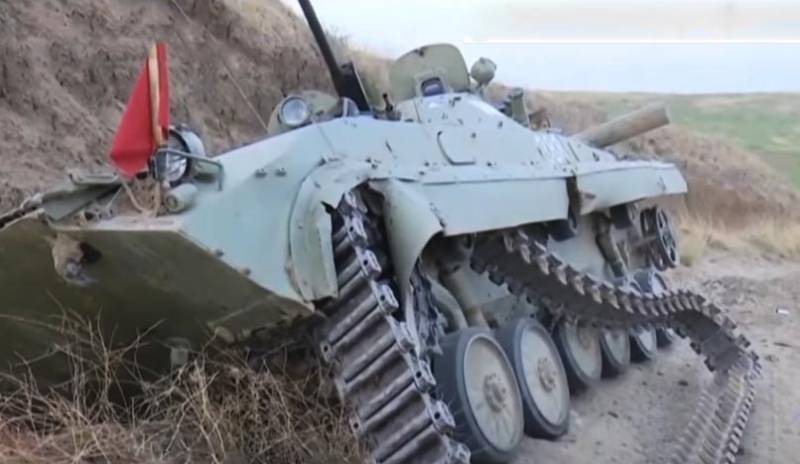 The situation developing in Transcaucasia is such that the armed forces of Azerbaijan are making attempts to restore full control over the 7 regions under the actual control of the enemy, and the Armenian side is trying to prevent them from doing so. As you know, heavy equipment is actively used in the conflict, including
Tanks
and heavy flamethrower systems. And shelling is being conducted not only at the positions of the military, but also at settlements.
It is clear from the reports that neither Yerevan nor Baku has yet heeded the calls for an immediate end to hostilities. Instead, the sides in their reports announce how many units of equipment and enemy soldiers were eliminated in two days of fighting.
For example, the Armenian Info Center publishes a graphic showing that the Armenian armed forces managed to destroy 4 helicopters, 49 drones, 80 armored vehicles, including tanks, 82 army vehicles and 1 aircraft.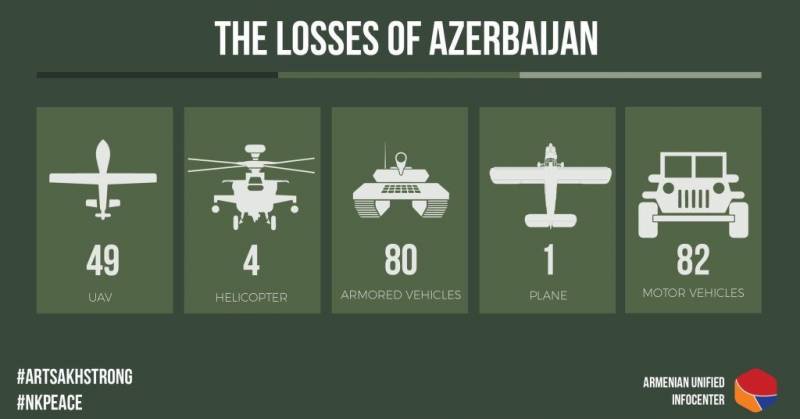 The Azerbaijani side calls such reports false. Earlier, the Ministry of Defense of Azerbaijan made a statement that there were no aircraft losses in the country's Armed Forces.
It is reported about the activation of the Armenian diasporas in different countries of the world. One of the largest Armenian diasporas lives in the United States. The reports say that in Los Angeles, ethnic Armenians gathered in front of the city hall with an appeal to the US administration "to intervene in the situation and influence Azerbaijan and Turkey."
Meanwhile, Azerbaijan is reminded that the war is taking place on their territory and that the soldiers of the Azerbaijani army did not violate the borders of the neighboring state, unlike the enemy.
O. Vartanyan, Senior Analyst of the Crisis Group Agency for the South Caucasus:
We haven't seen anything like this since the turning of the fire in the 1990s. The fighting is going on in all sectors of the front.

Armenia commented on the Azerbaijani statements about the loss of the commander of the air assault battalion Lernik Vardanyan in the area of ​​the Talish settlement. The Armenian side called these statements disinformation. It was noted that "in this way the enemy wants to bring confusion into the ranks of the Armenian troops, but he will not be able to do this."