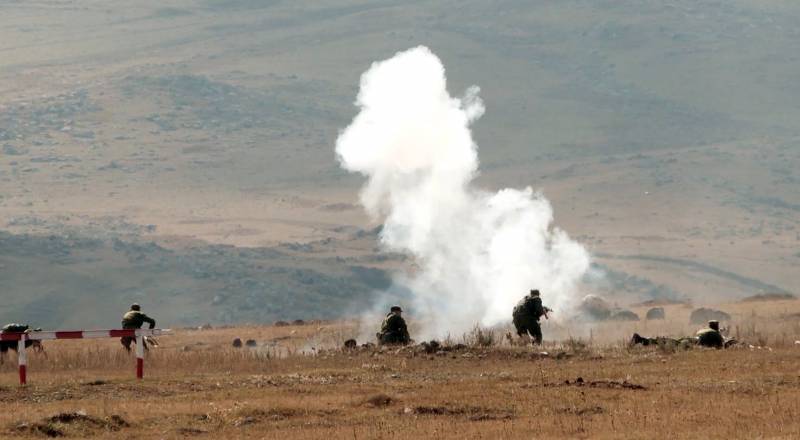 In connection with the introduction of martial law in the Republic of Armenia, the departure of males aged 18 to 55 from the country is completely closed. We are talking about men who are in the mobilization reserve.
Let us recall that earlier the Armenian government announced a general mobilization. The military commissariats of the cities of Armenia have accumulated a large number of people who express their voluntary desire to enter the structures of the country's armed forces and take part in the conflict.
Partial mobilization has been announced in Azerbaijan.
Meanwhile, Armenia announced the start of a large-scale offensive by Azerbaijani troops. At the same time, the power structures of Armenia spoke about the downed plane of the Azerbaijani Air Force in the sky over Karabakh. The Minister of Defense of the Republic of Azerbaijan Vagif Dargyahli hastened to issue a refutation, stating that the corresponding report from Yerevan is disinformation.
Against this background, the parties continue to exchange statements either about the "flight of the enemy from positions", or about attracting militants from Syria and Iraq to the side of the enemy. If initially Armenia accused Azerbaijan of having transferred several groups of militants from the SAR with the support of Turkey, now the Caspian News has published an article by Mushvig Mehdiyev, which claims that Yerevan has transferred detachments of representatives of the PKK (Workers' Party) from Syria and Iraq. Kurdistan).
An article appeared in the Malaysian press, which says that Recep Erdogan, using the familiar scheme, sent "up to 2 thousand Syrian mercenaries" to Azerbaijan. First of all, from Idlib.
It should be noted that at the moment, hostilities are taking place in several regions that de jure belong to the Republic of Azerbaijan.
At the same time, Yerevan fears that the Azerbaijani army, with Turkish support, can go to Armenia. But a few hours ago, President of Azerbaijan Ilham Aliyev said that Azerbaijan "is not going to follow the path of an aggressive war, but at the same time is ready to return its lands."