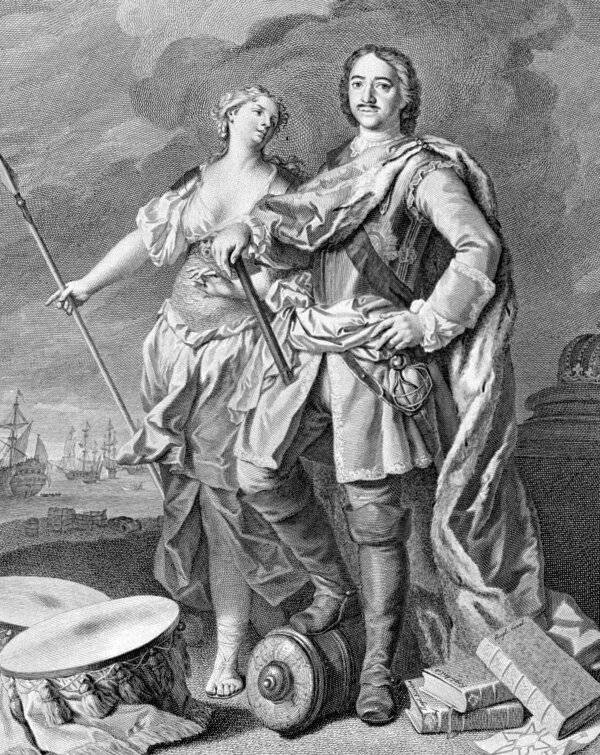 Peter I and Catherine, XNUMXth century engraving
In two small articles, we will talk a little about the reasons why Russia in the XNUMXth century suddenly turned down the very dubious path of the era of palace coups. And let's remember the young Russian Emperor Peter II, who managed to nominally reign for less than three years and died before he was fifteen. Traditionally, he remains in the shadow of his predecessors and successors, few people remember him. Meanwhile, his early death became one of the most important bifurcation points in the historical development of Russia.
We will have to start this story from afar, otherwise we will not be able to understand why this young man was rejected by his grandfather, Emperor Peter I, and, being the undisputed heir to the throne, and even the last purebred Russian representative of the Romanov dynasty in the male line, came to power in such a roundabout by way. And why after his death a series of palace coups began in Russia.
Unloved wife of Peter I
This began
история
back in January 1689, when the wedding of 16-year-old Peter I and 19-year-old Evdokia Feodorovna Lopukhina took place.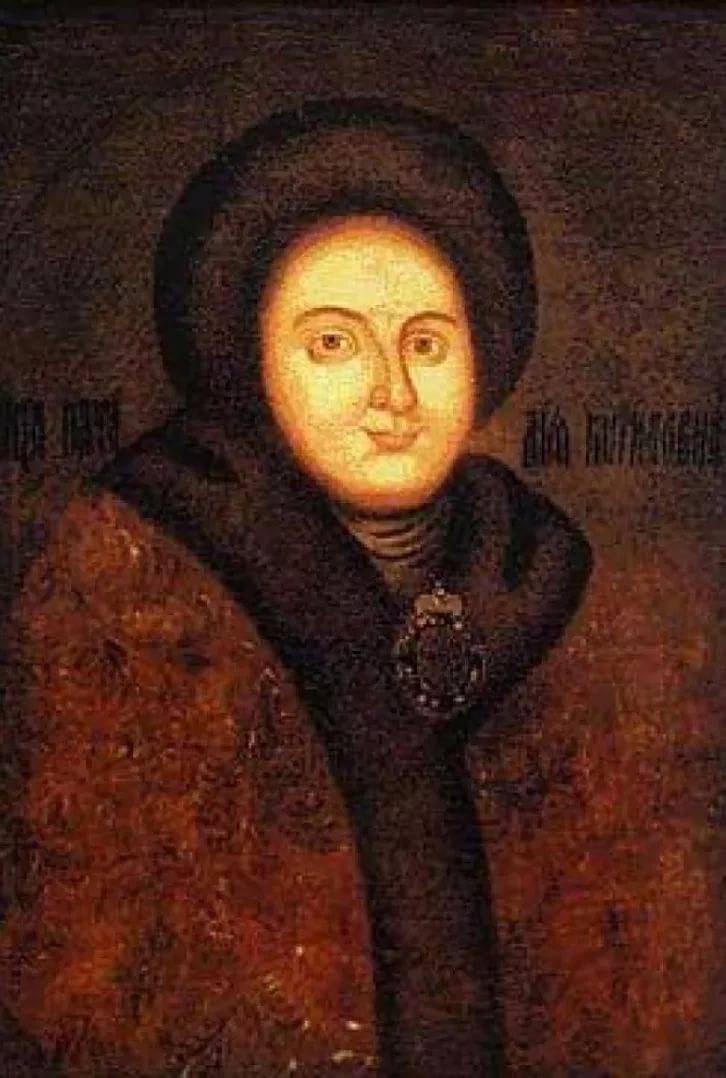 Evdokia Lopukhina, parsuna
The wife for Peter was chosen by his mother, Natalya Kirillovna (nee Naryshkina), and naturally, she did not ask her son's opinion. She was in a hurry with the wedding because the wife of another tsar was pregnant - Ivan V Alekseevich (from the Miloslavsky family), who two months after Peter's wedding gave birth to her first child - Princess Mary.
It is curious that in fact the bride of Peter I was called Praskovya. However, at the wedding, she was given a different name - either because it seemed more decent to a royal person, or because Praskovya was the name of the wife of Ivan Alekseevich, co-ruler of Peter I.
The girl's patronymic was also changed: her father's name was Illarion, but she became Fedorovna: this is already in honor of the Feodorovskaya Icon of the Mother of God - the shrine of the Romanovs' house.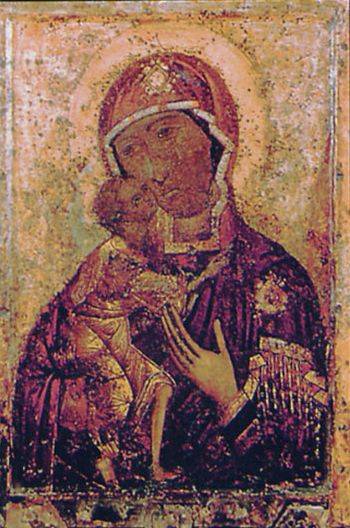 Theodorovskaya icon of the Mother of God, XII century, Kostroma Epiphany-Anastasiin monastery
Boris Kurakin, married to the sister of the new queen Xenia, left this description of Evdokia:
"And there was a princess with a fair face, only an average mind and disposition not similar to her husband, which is why she lost all her happiness and ruined her entire family ... True, at first the love between them, Tsar Peter and his wife, was fair, but only lasted only a year ... But then it stopped. "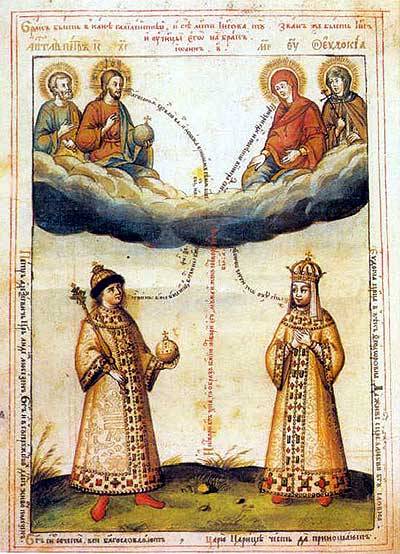 Peter I and E.F. Lopukhina. Miniature from "The Book of Love is a Sign of Honest Marriage". Historical Museum, Moscow
Nevertheless, Eudoxia gave birth to Peter either two or three sons (the existence of a third is in doubt). Only one of them survived, Alexei, who in 1718 was destined to die from torture - not in the Seven-Tower Castle of Constantinople and not in the casemates of Stockholm, but in the Peter and Paul Fortress of St. Petersburg. According to some sources, his father, Tsar Peter I, personally took part in these tortures, and they took place in the presence of his new wife Catherine (goddaughter of the arrested prince).
But back a bit.
The marriage of Peter and Eudokia, concluded at the insistence of the Tsar's mother, was doomed to become unhappy: the spouses turned out to be too different in character and their inclinations. And besides, the jealous Natalya Kirillovna, according to the same Kurakin, for some reason, her personally chosen daughter-in-law "hated and wished to see her more with her husband in disagreement than in love."
As a result, his wife brought up in the old Moscow traditions, Peter preferred relaxed and depraved metress, and partly transferred his contempt for Evdokia to his son and heir - Alexei.
It all ended with the fact that on September 23, 1698, Queen Evdokia was transported to the Intercession Suzdal convent and forcibly tonsured there as a nun under the name of Elena. They say that when Alexei bid farewell to his mother, the Tsar's sister, Natalya Alekseevna, had to literally snatch the crying boy out of her hands. One can imagine what a blow was then inflicted on the psyche of this unfortunate child and how this scene influenced his further relationship with his father.
Meanwhile, Peter's hatred for Evdokia was so great that, contrary to tradition, he refused to assign her content and provide a servant. The tsarina of Russia found herself in the position of a beggar and was forced to ask relatives:
"Even though I'm boring to you, but what can I do. While she is alive, please, drink and feed, and dress, beggar. "
This decision did not add to the popularity of Peter's subjects. Both the people and many aristocrats and clergy (including Patriarch Adrian, Metropolitan Ignatius of Krutitsa and Bishop Dositheus of Rostov) condemned the tsar, who at that time was already called the Antichrist and assured that "the Germans replaced him abroad". In Russian society, they clearly sympathized with the unfortunate woman and pitied her son. Peter I, of course, was aware of these rumors and therefore was very jealous of any contacts between Alexei and Evdokia.
Let's just say that "meek Evdokia" actually turned out to be a very strong woman. She was well aware of Peter's unpopularity in society and general sympathy for herself as an innocent sufferer, enduring reproach and insults from an unworthy husband. She never submitted to Peter, and six months later she began to live in the monastery as a laywoman. In 1709-1710. she got in touch with Major Stepan Glebov who had come to recruit recruits. This relationship, like many other things, was revealed in the framework of the case of Tsarevich Alexei. Peter was simply enraged by the news of the infidelity of his abandoned wife. On his order, an extremely cruel search was carried out. The abbess of the monastery Martha, the treasurer Mariamna and some other nuns were executed in Red Square in 1718. According to the testimony of the Austrian citizen Player, "Major Stepan Glebov was tortured in Moscow with a terrible whip, red-hot iron, burning coals, for three days he was tied to a post on a board with wooden nails."
Finally he was impaled. His agony lasted 14 hours. Some sources claim that Evdokia was forced to watch his torment, not allowing him to turn away and close his eyes.
Evdokia herself was whipped and sent first to the Alexander Dormition Monastery, and then to the Ladoga Dormition Monastery. After the death of Peter, by order of Catherine I, she was transferred to Shlisselburg, where she was kept as a state criminal under the name of "Famous person". A rootless German woman of Courland, whom in the spring of 1705 Aleksashka Menshikov demanded in his letter to immediately send to him "and with her the other two girls" (the first mention of Martha Skavronskaya in a historical document!), The legitimate Russian queen Evdokia seemed very dangerous. She survived not only her son, but also her persecutors - Peter I and Catherine, after the accession of her grandson she lived in Moscow in high esteem, and after his death her candidacy, according to some sources, was considered by members of the Supreme Council for the role of the new empress. Anna Ioannovna treated Evdokia with respect and attended her funeral in 1731.
Tsarevich Alexei: the unloved son of an unloved woman
Alexei loved his mother and suffered greatly from separation from her, but did not show obvious discontent and disobedience to his father. Contrary to popular belief, he willingly studied and far surpassed his father in knowledge of history, geography, mathematics. Peter knew 2 actions of arithmetic, his son - 4. In addition, Alexei perfectly knew French and German, also surpassing Peter I in this respect. He was also well versed in fortification.
The prince began his military service as a soldier in a bombardment company at the age of 12, when he took part in the storming of the Nyenskans fortress (1703). Peter, for the first time, "sniffed gunpowder" only at the age of 23. In 1704, Alexei was part of the army that was besieging Narva. Later, he headed work to strengthen the walls of the Moscow Kremlin and Kitay-gorod. And even his children were given "loyal" names by the heir: he named his son Peter, and his eldest daughter Natalya (in honor of the beloved sister of the emperor, one of the most ardent persecutors of his mother, who treated him without any sympathy).
And an interesting question arises: what exactly did Peter dislike about such a son? And when exactly did he stop liking the eldest son?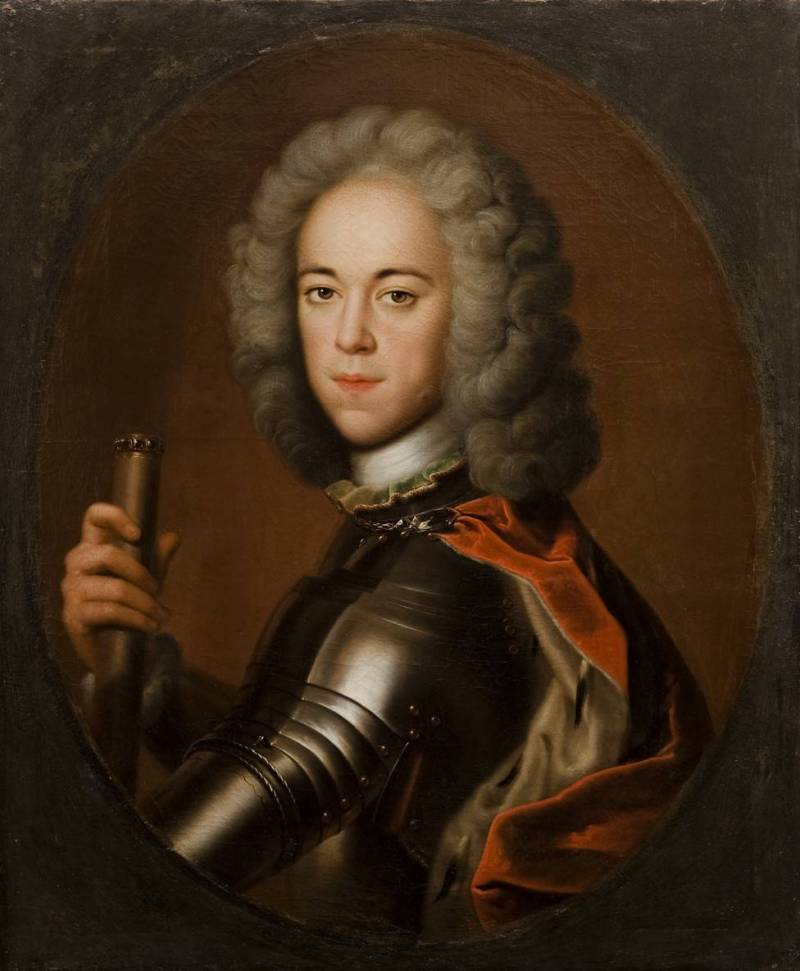 Christoph Bernard Francke. Portrait of Alexei Petrovich
It is impossible to answer the first question from the standpoint of logic and rationality. Alexey was simply an unloved son, born of an unloved woman, and no other guilt was attributed to him. His desire to live in peace with neighbors ("I will keep the army only for defense, and I don't want to have war with anyone") expressed the most cherished aspirations of the entire people of Russia: by the time the tsarevich was arrested, Peter I had really "ruined the Fatherland worse than any enemy" ( V. Klyuchevsky).
The successes, of course, were great, but everything has its own margin of safety. Russian finances were upset, the people were starving, the peasants fled from the villages: some to the Don to become Cossacks, others immediately to robbers. The country was depopulated and was on the verge of a demographic catastrophe. Peter's most loyal associates, who ruled Russia on behalf of Catherine I and Peter II as part of the Supreme Soviet, silently abandoned the policy of the first emperor and actually carried out the program of the tortured Alexei. Russia was able to start the next big war after the Northern War only during the reign of Anna Ioannovna. After the death of Peter I, of all the battleships he built in the Baltic
fleet
only one went out to sea several times: the rest rotted at the berths. Under Catherine II, this fleet was practically created anew. The large ships of the Azov fleet, as you know, have completely rotted, never having entered into battle with the enemy. And even the capital under Peter II was again moved to Moscow - without the slightest objection from Menshikov and other members of the Supreme Soviet. So it is impossible to find any betrayal of national interests in the plans of Alexei Petrovich: the prince was only a realist and correctly assessed the situation in the country.
The second question is easier to answer: the expressed tension in the relationship between Peter and Alexei appeared in 1711, in which Peter I secretly married Martha Skavronskaya, in Orthodox baptism - Catherine (March 6).
On October 14 of the same year, Alexei married Crown Princess of Braunschweig-Wolfenbüttel Charlotte Christine-Sophia, who after the adoption of Orthodoxy took the name of Natalia Petrovna. And on February 19, 1712, the official marriage of Peter I and Catherine was concluded, her illegitimate daughters were declared princesses. For this purpose, the following ceremony was carried out: 4-year-old Anna and 2-year-old Elizabeth walked around the lectern with Catherine during the wedding ceremony, after which they were declared "wedded."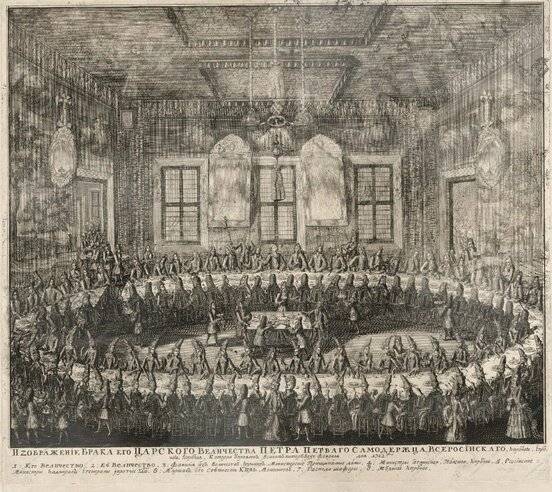 A. Zubov. Wedding of Peter I and Catherine in February 1712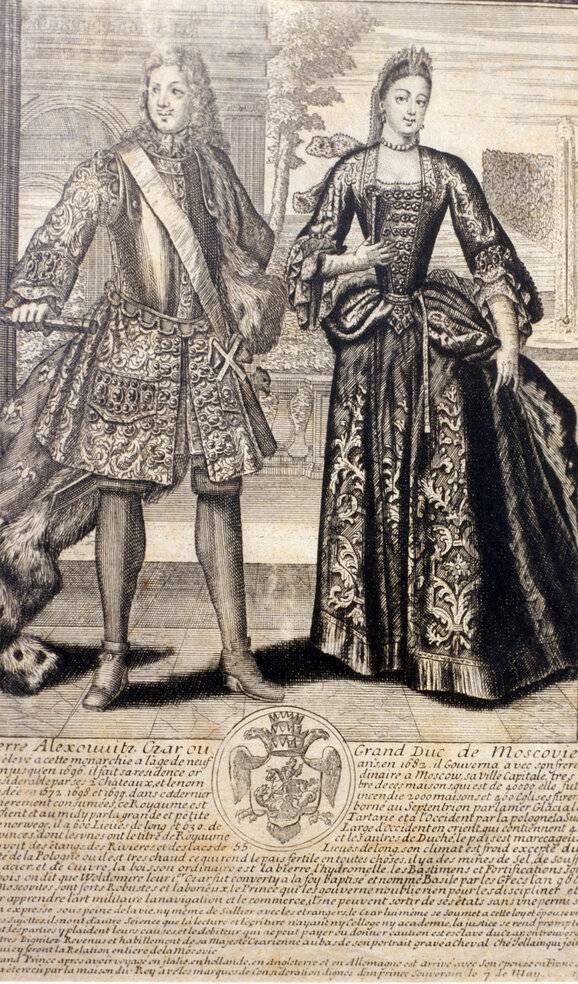 Peter I and Catherine. 1717 engraving
But the situation became especially acute in October 1715, when two boys were born in the royal family at once: on October 12, Alexei's son, the future Emperor Peter II, was born, on the 29th, Peter Petrovich, the son of Peter I and Catherine.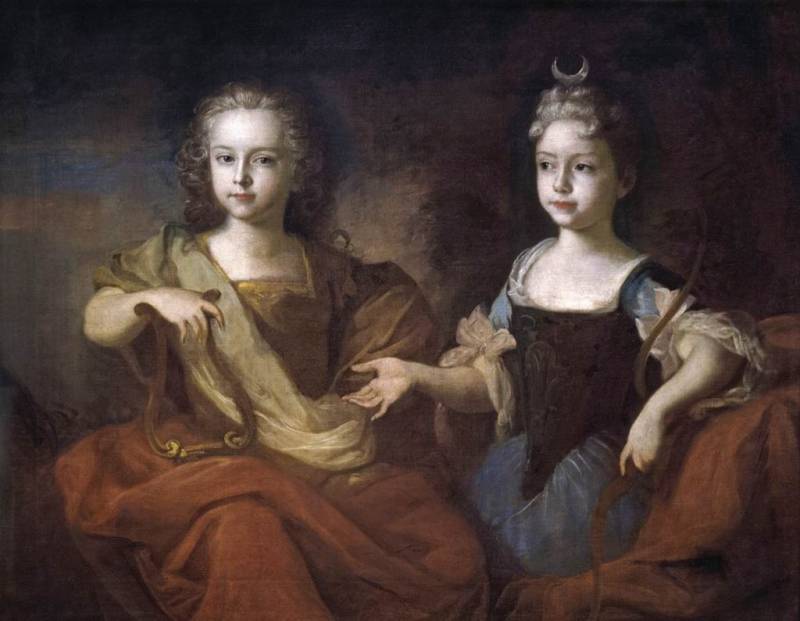 Louis Caravac. Children of Tsarevich Alexei: Natalya Alekseevna in the image of Diana at the age of 8 (right) and her brother, the future Emperor Peter II, in the image of Apollo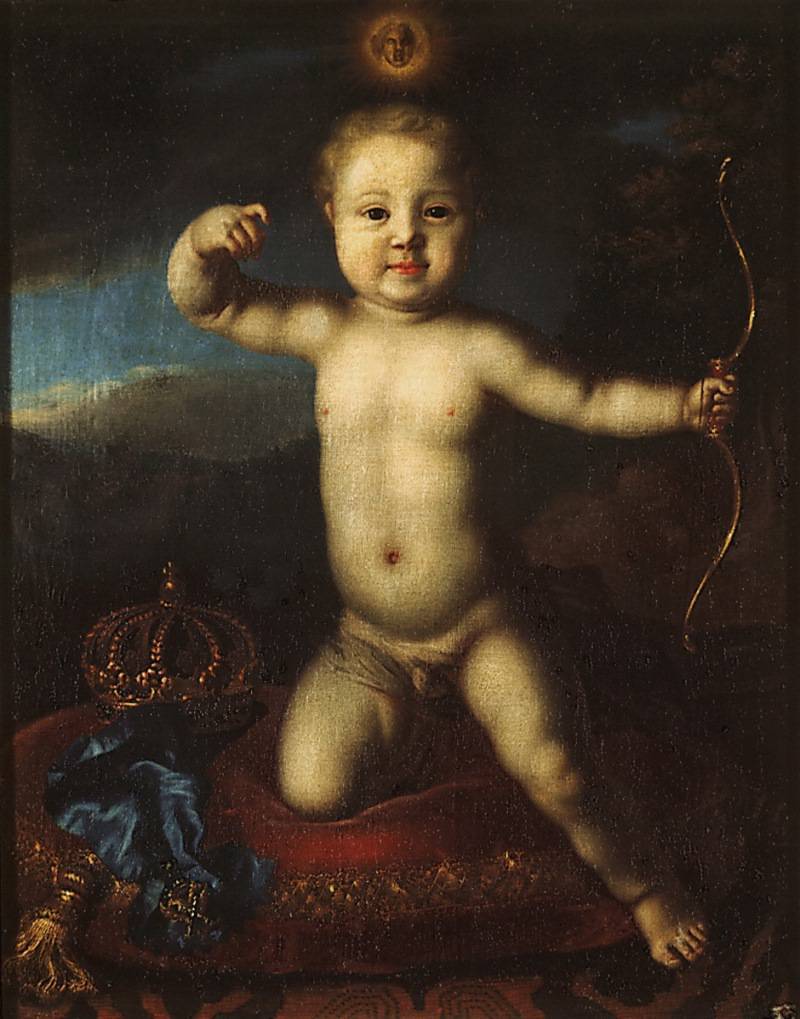 Louis Caravac. Pyotr Petrovich (son of Peter I and Catherine I) as Cupid
It was then that Peter, apparently, for the first time seriously thought about who exactly would take his place on the throne. Alexei was the undisputed legal heir, but Peter had already decided that his younger son, born of Catherine, should replace him on the throne.
And very soon Alexey heard threatening words from Peter:
"Do not imagine that you alone are my son."
Alexei then tried to renounce the throne, but Peter did not like it: the eldest son, regardless of his will, still remained the legal heir in the eyes of all subjects. There was only one way out: to get rid of him.
This was followed by some strange intrigue with the flight of Alexei, which some researchers consider a subtle provocation of Peter. At the same time, the tsarevich for some reason went to Austria, friendly and allied to Russia, which looks absolutely illogical: after all, he should have escaped to Sweden or Turkey. In these countries, he would be completely inaccessible to his father's agents, and they would welcome him there with great joy. Who advised him to go to Austria? Perhaps it was his father's people who directed him along this path?
So, the prince ended up in Austria, where Peter's agents felt at home, and the emperor was not at all going to quarrel with a powerful neighbor because of his family affairs. It was not difficult for P.A.Tolstoy, who led the search, to find the fugitive and convey to him the false letters of Peter I, in which he solemnly promised forgiveness to his son.
Alexey returned to Moscow on January 31, 1718, and already on February 3 he was deprived of the rights of the heir to the throne. Arrests began among his friends and acquaintances. Moreover, on February 14, 1718, a decree was signed to exclude Alexei's son Peter from the list of heirs.
It was for the investigation of the Tsarevich's case that the Secret Chancellery was created on March 20 of that year, which for many decades instilled terror in all Russians, regardless of material well-being and position in society.
On June 19, Alexei began to be tortured, and he died from these tortures a week later, on June 26. Some believe that Alexey, sentenced to death, was strangled, since his public execution could have made a very unpleasant impression among his subjects. They refer, in particular, to the memoirs of the guard officer Alexander Rumyantsev, who claimed that on the night of June 26, 1718, Peter ordered him and several other people loyal to him to kill Alexei, and at that time Catherine was with the tsar. And less than a year later, on April 25, 1719, the beloved son of Peter I, born by Catherine, died, who, as it turned out at the autopsy, was terminally ill.
Meanwhile, the grandson of Peter I was growing up - the son of Alexei, also Peter. And he was not at all as bad as traditionally portrayed and is portrayed by historians panegyrically inclined towards the first Russian emperor (not to mention the authors of works of fiction). The boy was absolutely healthy, developed beyond his years, handsome and by no means stupid.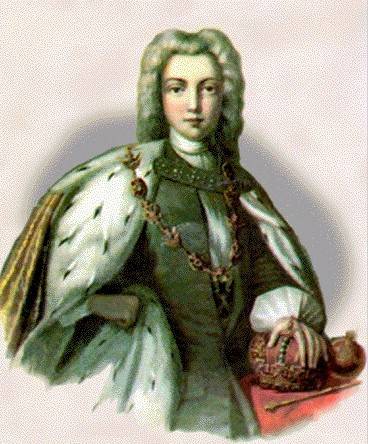 Peter II, portrait by an unknown artist
And you can't blame him for growing like a weed without having received proper education: claims about this can only be made to Peter I.
The life and fate of the son of Tsarevich Alexei will be discussed in the next article.