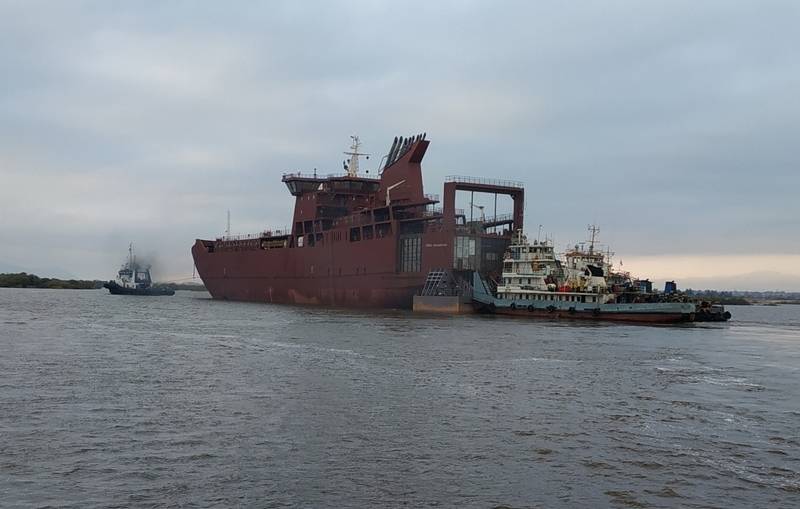 The lead cargo-passenger road-rail ferry "Alexander Deev" of CNF11CPD / 00300 project, under construction for Sakhalin, was sent to Vladivostok for completion. This was reported by the press service of the Amur shipyard, which built the ship.
The ferry was reportedly sent to Vladivostok to the delivery base by towing on September 26 this year. The ferry is planned to be handed over to the customer next year, 2021. The vessel is designed to operate on the Vanino - Kholmsk ferry line (Sakhalin Island).
According to the bmpd blog, the contract for the construction of two cargo-passenger road-rail ferries for the Vanino-Kholmsk ferry line was signed in December 2016 with the commissioning of both ferries by the end of 2019, but the deadlines were shifted to the right.
The laying ceremony for two ferries took place at the Amur Shipyard on June 29, 2017. The head ferry "Alexander Deev" was launched on August 1, 2019, the second "Vasily Oshchepkov" is still on the slipway.
The ferries are being built according to a project developed by LLC "Marine Engineering Bureau" (Odessa), which operates through its Russian representative office CJSC "Marine Engineering Bureau-design-SPb" (St. Petersburg) and is the designer of almost all large ferry ships being built in Russia recently. ...
The ferry of this project is designed to carry on three cargo decks 30 railroad cars of the Russian standard, 48 freight road trains, 28 cars and 150 passengers.
The deadweight of the vessel will be about 6420 tons, maximum length is 131 meters, overall width is 22,6 meters, draft is 7 meters. Maximum speed 18 knots. Cruising range 1500 nautical miles at 12 knots. The new ferries have an unlimited navigation area and, accordingly, have no restrictions on weather conditions.