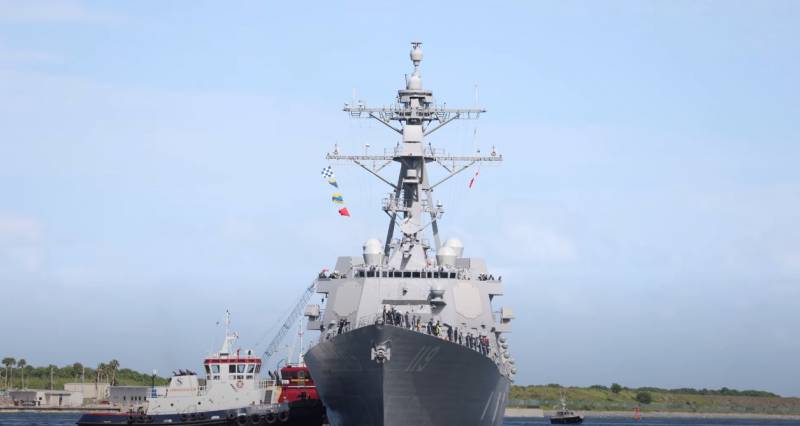 The United States Navy commissioned the Arleigh Burke-class missile destroyer USS Delbert D Black (DDG-119) during a ceremony held September 26 in Port Canaveral, Florida.
The new ship is named after the first master chief petty officer of the American
fleet
... This title is held by only one representative of sailors and petty officers, who represents and defends their interests in the highest leadership of the armed forces.
DDG-119, the 68th Arleigh Burke URO destroyer, was built by Huntington Ingalls Industries in Pascagoul, Mississippi. It will be based in Mayport, Florida, alongside sister ships USS The Sullivans (DDG 68), USS Lassen (DDG 82), USS Farragut (DDG 99), USS Thomas Hudner (DDG 116) and USS Paul Ignatius (DDG 117).
Arleigh Burke-class destroyers form the backbone of the US Navy's surface fleet. These highly efficient multipurpose ships carry out a wide variety of operations - from military presence in peacetime to national security.
- indicates the Navy Recognition edition.
The destroyer has a crew of 380 sailors and officers. It is armed with Mk 41 launchers (one launcher with 32 and 64 cells, 96 RIM-66 SM-2, BGM-109 Tomahawk or RUM-139 VL-Asroc missiles), one 130-mm gun, two 25-mm automatic cannons Mk 38, four 12.7-mm machine guns, two three-tube Mk 32 tubes with Mk 46 torpedoes and one 20-mm Phalanx CIWS anti-aircraft system.
As a power plant, 4 General Electric LM2500 gas turbine engines are used, developing a maximum speed of 31 knots.