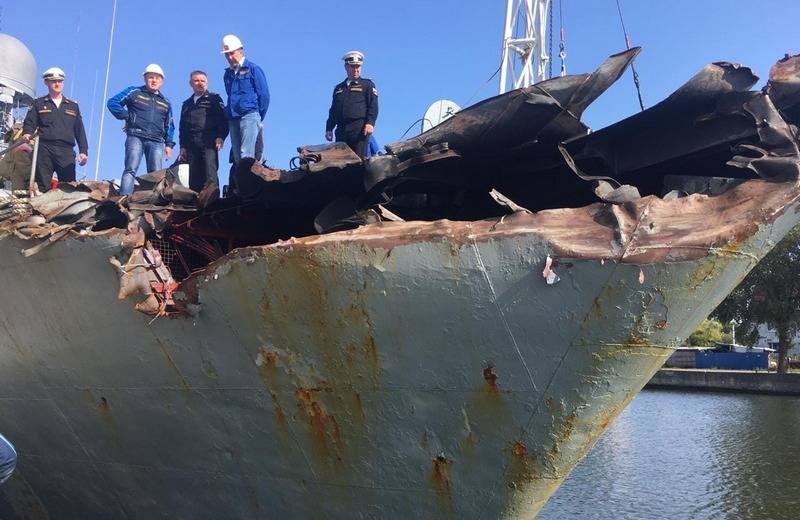 The small anti-submarine ship "Kazanets", which received a hole above the waterline after a collision on September 23 with a cargo ship in the Øresund Strait between Denmark and Sweden, will undergo initial repairs in Baltiysk.
"Kazanets", which suffered damage to the hull in a collision with a foreign ship, got up for repairs at the 33rd Shipyard JSC. Experts have already examined the damaged tank (bow of the ship), determined the tasks and the degree of repair of the IPC
- Interfax reported.
It was decided that part of the restoration work on the ship's hull will be carried out at the 33rd Shipyard, after which Kazanets will make the transition to Kronstadt, where the main repair of the ship will take place. At the same time, it is noted that it is too early to talk about the timing of the repair, during the work hidden damage and defects may be revealed, since the ship has been in operation since 1986.
The MPK was built in 1986 at a shipyard in the GDR and, despite the fact that the ship is in good condition, surprises may appear
- said in a statement.
After a survey on the territory of the GCC, the MPK left the water area of ​​the plant and landed at one of the berths of the Baltiysk naval base. After a while, he will return to the enterprise to start work. Establishing the causes of the collision between the MPK and the cargo ship will be undertaken by a special commission from the General Staff of the Navy, which has already arrived at the Baltic Fleet.