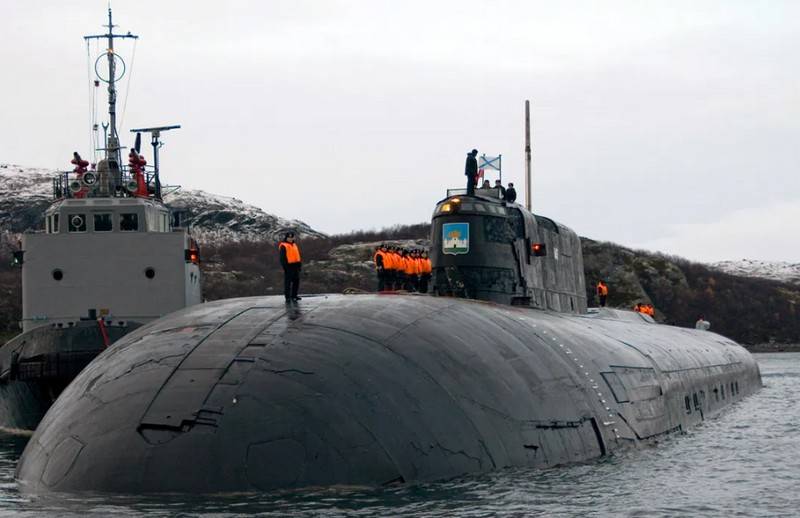 In the coming years, the Navy may return to its membership two nuclear submarines of Project 971U Shchuka-B and Project 949A Antey that have been repaired at once. This is reported by the Russian media.
As they say
"News"
with reference to a source in the Ministry of Defense, the repair of the Magadan nuclear submarine will be completed a year earlier than planned, the submarine will return to
fleet
already in 2022. Currently, the submarine is undergoing repairs with modernization, the submarine should receive modern equipment.
It is noted that the submarine spent several years waiting for repairs, work on it began only in 2019, when the submarine was delivered to the Zvezda plant in the Far East. In this case, the submarine can once again be renamed. The thing is that the "Varshavyanka" is being built at the "Admiralty Shipyards" for the Pacific Fleet, called "Magadan".
Simultaneously with the Magadan, the project 949A Antey multipurpose nuclear submarine (nuclear submarine) Irkutsk is being repaired at Zvezda. According to TASS, citing a source in the shipbuilding industry, the submarine may return to service in 2023. There is no official confirmation of this information.
Under favorable circumstances, the expected date for the return of "Irkutsk" to operation is 2023
- the agency leads the words of the source.
Recall that the Irkutsk nuclear submarine was put into reserve in 1997 pending repairs, and in November 2001 the submarine was transferred to Bolshoy Kamen at the Zvezda shipyard. In fact, the repair and modernization of the nuclear submarine began in 2019.