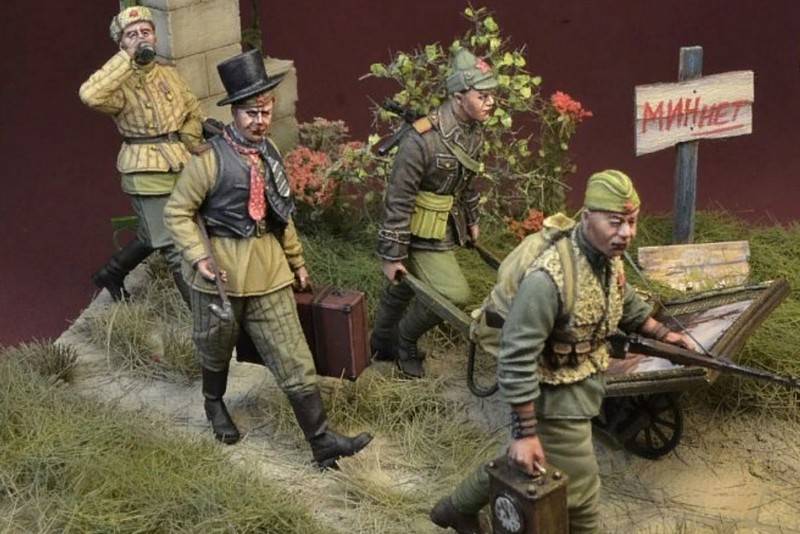 The Polish company D-Day Miniature Studio, engaged in the manufacture of toy figures of military personnel from various countries, has released a new series entitled "The Red Storm over Europe. Rear Soviet Troops in 1944-1946". Soviet soldiers in the series are represented by marauders.
The series includes four figurines of soldiers of the Soviet army, made on a scale of 1:35. Polish artist Pavel Krasicki depicted them as marauders. Each figurine has its own name: "Time Collector" (soldier with a clock), "Thirsty" (drinks from a bottle), "Fashion Designer" (in a vest and ties) and "Art Connoisseur" (carries a cart with paintings).
On the official page of the D-Day Miniature Studio studio, this series was published under the motto: "Tips are coming!" Thus, these miniatures reflect the main idea of ​​modern Poland, that the Soviet army did not liberate the country from the Nazis, but simply plundered it.
Meanwhile, the company also offers other figurines, including the 1939-1945 German army. It is noted that among the figures of the SS there is not a single one that would be engaged in robberies, murders, etc. All German soldiers are shown simply as warriors.
Note that after the announcement of this series, a lot of negative comments appeared on the company's official page in social networks, including from the Poles.