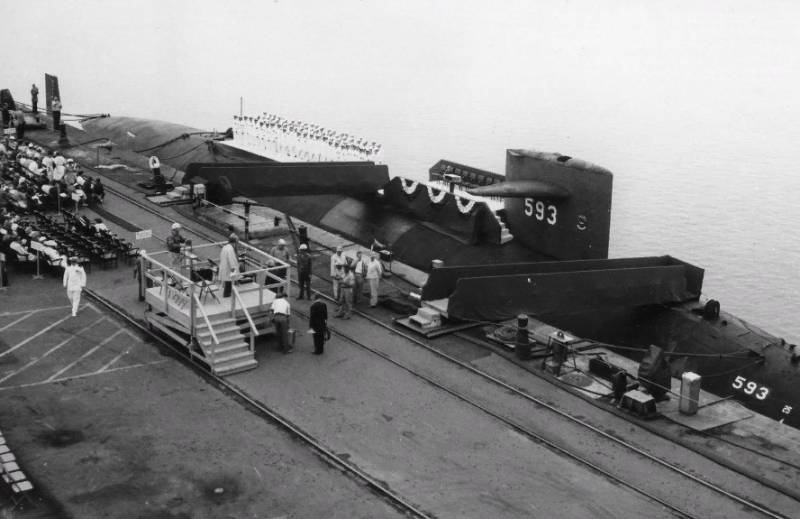 Yesterday, the US Navy began publishing documents on the investigation of the deadliest submarine disaster in the US
stories
... The reason for the publication of these materials was the court decision on the claim of a retired officer
fleet
James Bryant, who declared his legal right to have access to the documents.
This was written by David Sharp in an article published by the Associated Press.
Of the 1700 pages of the investigation, which will eventually be published in full, the first 300 have been made public. According to the US Navy, the documents presented on Wednesday reveal nothing new. These include the chronology of the submarine sinking, lists of evidence, reports, eyewitness statements and various official correspondence. True, you can see that the documents were later amended.
Submarine USS Thresher sank on April 10, 1963. She was the first in her series. Its main advantages over its predecessors operating during the Second World War were its high speed and the ability to dive to great depths.
There are several versions of the reasons for the death of the submarine. The official version says that the accident occurred due to a leak from the seawater pipeline designed to cool the reactor. A crack in the pipe caused water to enter the wiring in the engine room and short circuit, causing the reactor to shut down. As a result, the boat sank below the maximum depth, and its hull burst, unable to withstand the high pressure. The submarine was torn into six fragments and scattered within a radius of 300 meters.
The loss of a state-of-the-art nuclear-powered submarine and the deaths of all 129 people on board during a test dive to extreme depth during the height of the Cold War struck a blow to US national pride and became the impetus for strengthening security measures in the US Navy.
After the death of the submarine, the type of submarines "Thrasher" was renamed, calling it "Permit", like the next ship in this series. The accident investigation helped to reveal a large number of flaws in the design of these submarines, so they decided to suspend the commissioning of 31 new submarines of this type.