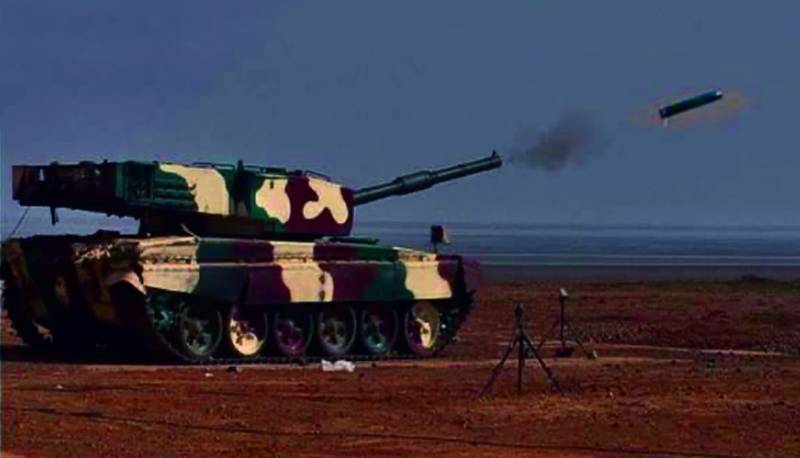 India conducted the first successful test firing of the GLATGM (Gun Launched Anti Tank Guided Missile) anti-tank guided missile fired from the main combat
tank
"Arjun" of local production. The missile, apparently, can be used from other platforms in service with the country's troops.
The new product was tested by DRDO at the Ahmednagar test site. The missile is said to have successfully destroyed a target at a distance of 3 km during the tests. The projectile was equipped with a tandem cumulative anti-tank warhead guided by a heat trail.
GLATGM is able to effectively overcome the dynamic protection of armored vehicles, increasing the combat power of "Arjun". As indicated, the new missile was created on the principle of "a balanced combination of conventional and smart tank ammunition."
According to the journalists of the Army Recognition publication, most of the Russian MBTs, which form the basis of the Indian tank fleet, are also capable of firing ATGMs from the main gun. The 9M119 "Svir" and 9M119M "Reflex" missiles are laser-guided ATGMs developed during the Soviet era. They are similar, but differ in flight range and launch platform. Designed for firing smooth-bore 125-mm tank and anti-tank guns (2A45, 2A46 and 2A46M). Both missiles have a range of 4000 to 5000 meters.
Judging by these tests, India intends to soon acquire a new ATGM instead of Russian ones.
India prides itself on DRDO team working to reduce import dependency
- said the Minister of Defense of the country Rajnat Singh on September 23 after testing.