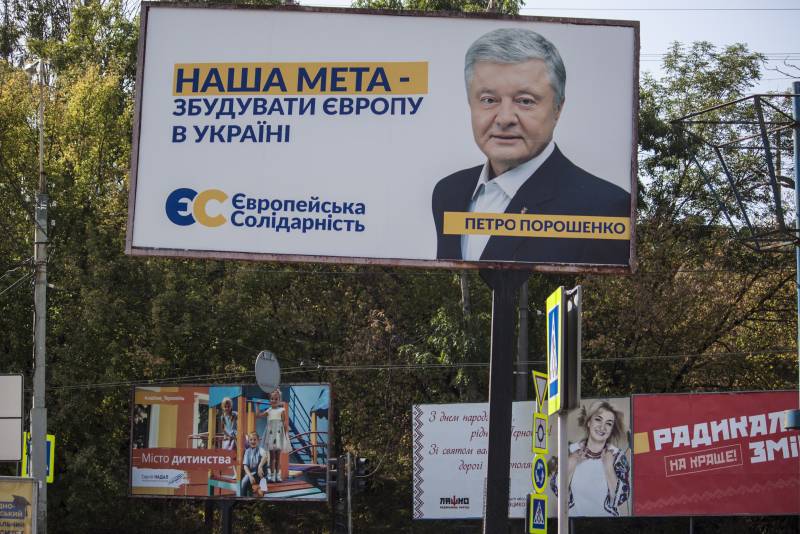 Hello long and safe to everyone who reads me! For like the prophets of antiquity, I can utter great Wisdom! I can, but I won't. In our world, no one needs it at all, and therefore we will leave wisdom aside and simply try to evaluate some things happening around us with our unclothed brains.
According to the picture with all the already bored ... personality, we seem to be still going to Europe. Because this process is boring and long, I will probably start with your side.
Most of your
News
we are interested in your Russian matriarchy lately. Your shadow queen, so to speak. Maria Zakharova.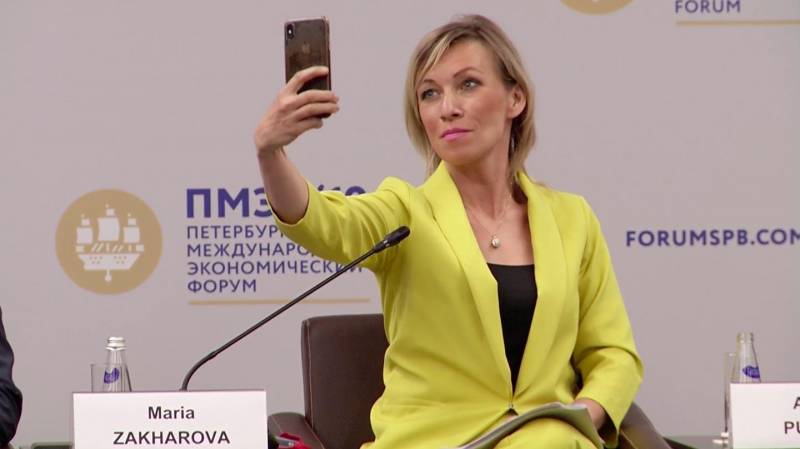 Now you say: why are you angry? It's just interesting. Well, look yourself from the side and think in your head. You, unlike everyone else (I will not say the word "normal", you yourself understand, not to the whole world can be applied), it seems like a man in power. Not without flaws, of course, not without flaws, but at least not Aleister Crowley and not Petro Poroshenko. And then bread with lard.
And the first lady? Must be? I don't know how about all this, but the fact that Maria Zakharova suddenly began to play the role of the first lady is a fact. How she mows is just an unearthly pleasure to watch. But then, when the first men of the kingdom, I mean, Putin and Lavrov, rush to apologize - this is significant.
Moreover, it is significant not that they apologize, but that Zakharova herself has water off a duck's back, that foam is used for axes. And here's a question for you: who is more important? Now, if in our opinion, then Zakharova. And what do you think - tell me yourself, it will become of you.
Moving on.
Let's talk about the war?
No, not about Syria, not about Donbass, not even about Afghanistan. Let's talk globally, on a grand scale. About the world war.
What did we all have recently? That's right, the jubilee UN General Assembly, dedicated to the 75th anniversary of this utterly strange organization.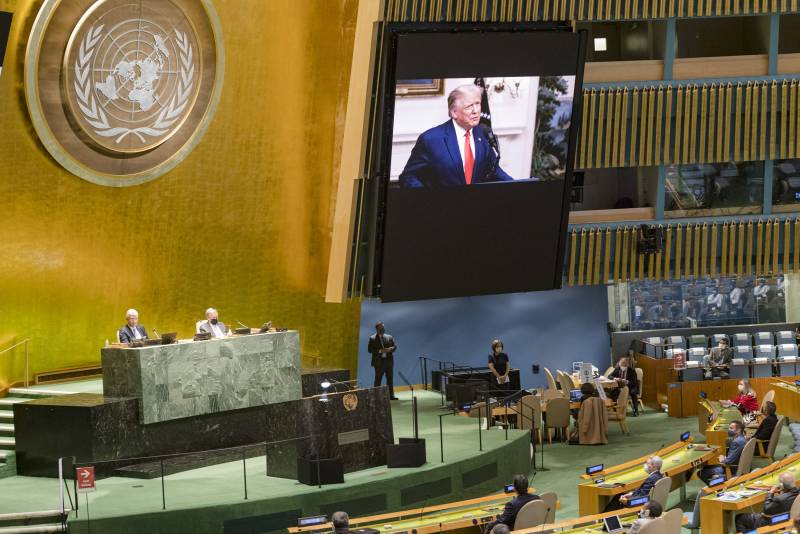 Did you laugh? We, too. The main organization of the world, which, in theory, should be the conductor of the ideas of peace and harmony, has become the arena of talk about war.
Trump wants war with China, which is up the hill again. And the US President decided to remind everyone that this is a "Chinese infection", and therefore China must be punished for the coronavirus. Sanctions, blockades and other pleasures of our time.
Everyone listened to Trump, nodded, and that's it.
Then there was Merkel. Grandma wants to fight ... with the UN! The organization, you see, is outdated. And why? But because the UN does not reflect the increased role of Germany.
In general, the main message of the German Chancellor: you need to either abolish the veto power enjoyed by the United States, China, Russia, France and Great Britain, or add Germany to this list.
By the way, we are all for it! And our Zelensky also spoke about the war. It is necessary to introduce into the countries that have the right of veto, those who really fight and are fighting for high ideals! And that is why Ukraine also needs to be given the right to "veto", and then we will show you all how to properly covenant everything that is possible.
It is clear that there is only one country in Europe that is waging such a war. It is Ukraine.
To be honest, Ze could not have strained in terms of performance. And just turn last year's performance on the record. A year has passed, and everyone is in the same positions.
In general, here we are looking at this whole "Eurokvartal" and we understand that when Pan Ze speaks for his own people, at home, he is, one might say, a normal president. Well, or when he meets with some foreign leaders. It looks normal, it says on the topic. That Ukraine needs peace at any cost, that it is necessary to fulfill the Minsk agreements and save human lives.
But as in the UN - so everything. The same text, practically, with which Poroshenko spoke. As if the same person writes. More precisely, he does not write, but simply changes the dates. Either this "speechwriter" is not paid, or the copywriter has been hired, again to pay less.
And for some reason no one realizes that all this did not work even under Obama. But nevertheless, with manic persistence, they continue to drive the same song. Into emptiness.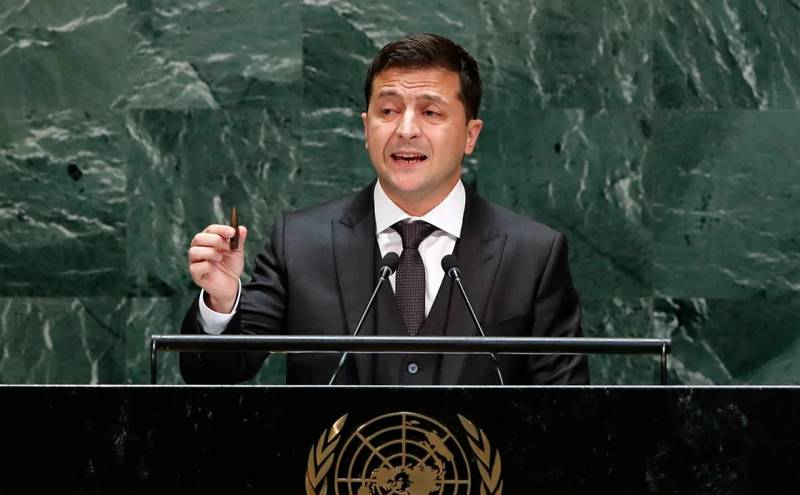 The emptiness, as expected, is silent. And here, by the way, there is a reason to save a lot for us. It's just that Pan Ze will not skate to the UN, but will simply send a recording of his next speech. There she will be played on the big screen, and when all the dozing ones wake up, you can immediately move on to the next performance.
I'll go over too.
Again, since everything about the war has gone now, let's gently move on to the topic of Crimea. It is impossible not to catch, because here again claims against us.
If there is no water in Crimea, then again we are to blame. Right? Right. There is a healthy grain and a logical result, which is expressed in the fact that Crimea was left without water. But there are a couple of nuances here.
On the one hand, we have to admit that we didn't really repair the networks. Well, you know, it was not up to that in general. And in particular ... Well, we did not expect that everything would turn out like that. Although, by and large, we would have known that the Crimea would float away, or did not know - one hell, money for pipes would hardly have been found.
So that with the lazy Ukrainian authorities, that with the happy Crimean, there is still no water. On the other hand, it's amazing. How much was said through the channels about the huge sums allocated for the improvement of the Crimea - and here you are, the pipes could not be made.
Probably, it's not even the pipes. And not in money. The place is so ... complicated.
We read about what is happening there. Reports like from the war. Someone is frankly happy that there are problems with water, someone twists a finger at their temples. But the bulk speaks in the style of "what did you want?" This is the question of the blocked channel.
They say that 80% of the fresh water was from the Dnieper. Through the North Crimean Canal, which connects the main channel of the Dnieper with the peninsula. After the peninsula changed orientation, water supplies stopped. In principle, it is logical. Whoever can block what, then plays that. You are gas, we are water. Of course, it looks uneven, but the principle is the same.
But you said yourself that you will get by. Add wells, build an atomic desalination plant, and run the pipeline next to the bridge. Wells have been drilled, yes. As for the rest, not everything is so far, but it turned out that wells are also not a panacea for trouble.
And since we can no longer repair the water networks of the Crimea and supply water there, then at least we will find someone responsible for all this Crimean outrage. And the fact that six years have passed is nothing. The punishing cleaver of justice must strike anyone!
We have such ... I don't even know, comrade, sir, sir, genatsvale ... Zhvania, in short. Citizen of Ukraine and former deputy Zhvania David Vazhaevich. This is the one who, without charges, admitted to being participants in an organized criminal seizure of power in 2014.
So, Zhvania decided to tell everyone who is to blame for the loss of Crimea. Why, no one understood, but since a person jumps out of himself from the desire to tell, why not listen? Moreover, the People's Deputy, an ally of Hydrant himself, this is, forgive me, not a Cossack Sema from the tenth hundred.
Zhvania criticizes the RRB. The RRB is not like yours, not goblins with clubs and handcuffs. The RRB is the State Bureau of Investigation. They realized, yes, where did the smell come from, right? That is, almost the FBI, only Ukrainian.
There is at least one letter difference, but the RRT is clearly not the FBI. Because they have been looking for 2 years, from the moment of foundation, but somehow everyone cannot find the guilty ones. And Zhvania can.
The RRB claims that Yanukovych is to blame for everything. And in the loss of Crimea, and in gas problems, and in the dollar rate, and in the fact that Putin. But Zhvania has a slightly different opinion.
Without a doubt, Yanukovych is largely to blame for this too. And I believe that the Ukrainian court passed him a fair sentence. But legality and justice will triumph only when the rest of those responsible for Ukraine's loss of Crimea are also punished. And surely the main culprit is Alexander Turchinov.
Here is such an interesting turn. One of Poroshenko's assistants suddenly makes such a statement for no reason. What is incriminating Zhvania Turchinov?
The prosecutor believes that it was Turchynov who ordered the Ukrainian military to be inactive during the seizure of Crimea by Russia.
Now many of you will say that the Ukrainian Armed Forces at that time could simply arrange a self-drinking, killing themselves with their heads against the Russian troops. And they will be right. And today only those who have one gyrus will argue with them - not a corn from a cap, but from a saucepan.
But apart from the former acting. President of Ukraine Turchinov, ex-President Petro Poroshenko and former Prime Minister Arseniy Yatsenyuk should bear responsibility for the annexation.
That's for sure, I gathered everyone in one heap and bought them. From the whole broad Georgian soul. But what is the reasoning ...
They did everything to make the population of Crimea hate the new Ukrainian government. It was they who made the decision to disconnect Crimea from electricity and water supply, their people threatened to send troops of nationalists to Crimea and banned the Russian language.
I'll put a secret on your head now. State.
The people of Poroshenko did absolutely the same thing with regard to Donbass. The whole set is exactly the same. Language, electricity, gas, food. And instead of them - mines and shells.
And what has changed in today's Ukraine? Never mind. At least in terms of language.
In general, our compatriot with such a widespread Ukrainian surname is right in something. We must judge all those who have done wrong before the people. Maidanno, not maidanno - it doesn't matter. But you have to judge.
We here collectively, as it were, do not rush to lick the Ukrainian authorities at all. And we hate them even harder than the Crimean ones. Because it is not yet entirely clear who is worse off. They have no water - of course, it sucks. But we have this water, and with the rest, wherever you spit - a lot of things.
Perhaps there, in the Kremlin, this tactic should have been chosen: barter. Change water for gas, or something. The gas that we will steal from the pipe anyway, exchange it for water, which will pour out into the sea anyway. Interesting exchange, right?
Last time I wrote to you about the epidemic. The second wave of the urodovirus completely disfigured the brains of many.
In our area, they first declared the red level of danger. It is the supreme who does not know. Even pigs have to grunt through the mask. And every other time.
Naturally, everyone began to close. Schools, kindergartens, and ... PATP! On the day of the announcement of the big naughty, not a single bus went on the route!
Can you imagine what was in the city? Ask which one? Where I live. So, let's omit the geographic coordinates and just imagine a crowd going somewhere in the direction of the city administration ... Without hiding their fighting spirit.
In short, buses were thrown onto the line by catapults.
And then a Commission came from Kiev urgently. And ... she cured all of us! After three days, the level turned orange, and then in general - green. That is, the evil Kovid fled somewhere in horror in front of the Kiev commissioners.
In general, I must say that the tests began to be done not for those who were suspected of having an illness, but for those who were suspected of being healthy. And all the statistics immediately improved. So now we have peace and quiet, see for yourself. I was filming exactly on September 23, when I got out to the city for a pension.
The only place where we were very restless was the market. On Saturday dashing people came. With cameras. And all the merchants who were without masks on this warm and sunny day, began to impose a fine of 14 hryvnia.
People told that the last time this happened under Petliura. And that's not a fact. The fence was knocked down in two places, several trays were simply smashed to pieces. The Germans did not skimp in 1943 as our unfortunate merchants.
But whoever did not have time was boiled. The market, of course, stood empty all weekend, which the people did not like at all. Again, there was a trip to the administration, but the case seemed to be hushed up. Or they brought it to the chief.
But now it's not safe to shoot with a camera in the market area. You can also hit something stupid and hard on the head. Behind. For it is completely unclear for what purpose you got the camera, whether you are a tourist, or, excuse me, a snitch.
So, alas, I will not provide the promised pictures with meat products yet due to the lack of such, and fears for their own safety. Next time I'll try.
These are just really pictures of life. The life that we have. Which have. After all, life is a good thing when the sun is shining, when children are laughing and old people are smiling.
So the slogan "We will live despite the difficulties" is being implemented with terrible force. What I wish you all, dear readers. So that your markets do not close, so that your crops do not rot, so that your pigs are man's swiniest friends!
And the fact that I spoke directly with toasts is also not just that. See you, my dear readers.