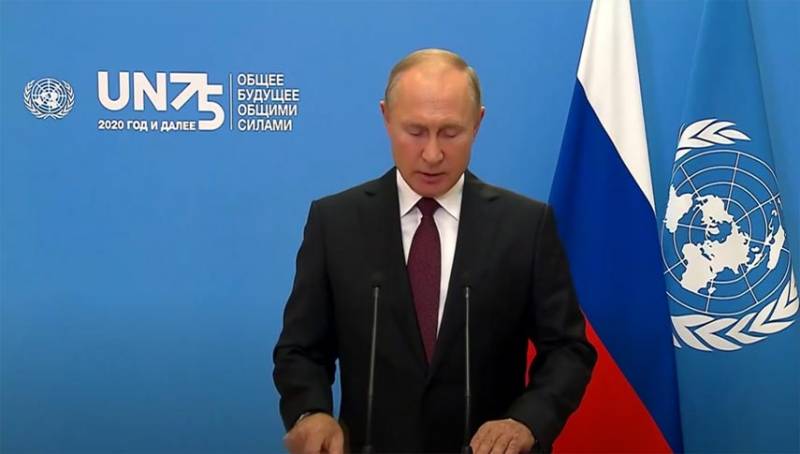 Vladimir Putin spoke remotely at the session of the UN General Assembly, which is dedicated to the 75th anniversary of the largest international organization. The Russian President noted that the UN continues to be the main platform for the implementation of international law. Putin noted that the organization "should not stiffen."
Russian President:
The UN must change and meet the challenges of the XNUMXst century.
At the same time, Vladimir Putin spoke about the inviolability of the veto right of the UN founding countries, which are permanent members of the UN Security Council, when discussing certain issues.
According to the President, it is important for the United Nations to listen and hear all the countries that are members of the UN.
A significant part of the President's speech was devoted to the coronavirus pandemic. The President recalled that the world's first COVID-19 vaccine Sputnik V has been registered. The head of the Russian state noted that Russia is ready to provide the vaccine to the employees of the United Nations Organization free of charge.
Putin again suggested that the world powers abandon sanctions, which would stimulate the global economy.
Vladimir Putin touched upon the complexities of the START-3 issue. He noted that Russia hopes for reciprocal steps from the American "partners" on the entire set of factors affecting strategic stability. The President announced the initiative of the Russian Federation, providing for a ban on the placement
weapons
in space - with a legally binding agreement.
Putin touched upon issues of general
stories
, common values, including the spirit of alliance, which showed itself in the fight against Nazism.
Vladimir Putin recalled the proposal to convene a summit of the Big Five - the countries that are permanent members of the UN Security Council.
Putin:
We are glad that the partners responded to this proposal, and such a meeting will take place as soon as the situation allows.
President of Russia:
I wish all peoples of the world.