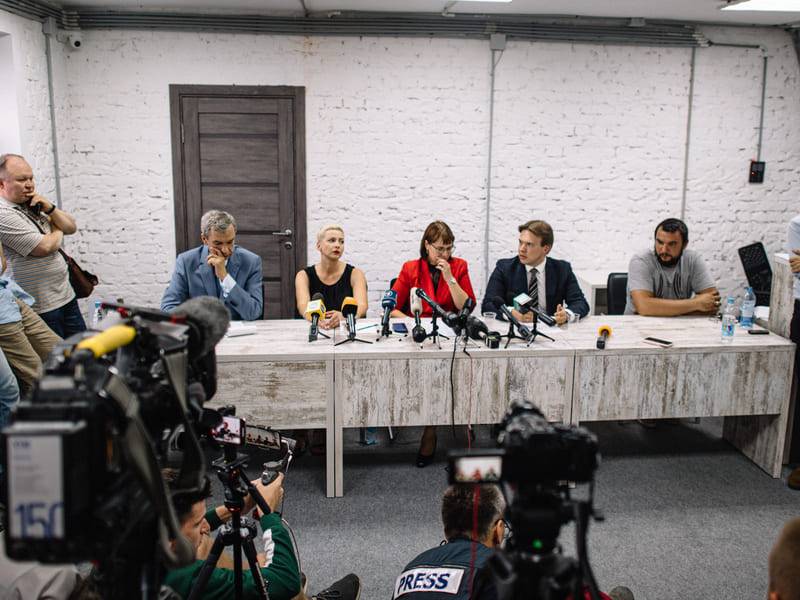 A revolutionary, as you know, is not a profession, at least not today. And, to tell the truth, it is not very easy to call the Belarusian "Maidan" people this sonorous word. The overwhelming majority of those who today make up the leading link of the local opposition, before the events of this year, had a completely peaceful occupation. At the same time, the pattern in the issue of the professional affiliation of these individuals is quite definite.
Believe me, if you take the trouble to familiarize yourself, even in a very brief summary, with the biographies of those who are members of the so-called Coordination Council of the Belarusian opposition, which is a self-styled (albeit recognized by the European Parliament) provisional "government" of the country, then, perhaps, very be surprised. This is just an unprecedented concentration of representatives of the creative class! Solid creative personalities, giants of thought and fathers (as well as mothers) of Belarusian democracy ...
Where to start? Yes, even with Pavel Latushko. The personality is, without a doubt, versatile. In 1995 he received a law degree, and a year later - a linguistic one. As soon as he contrived? Latushko worked mainly in the diplomatic field: he managed to visit the ambassador of Belarus in Poland, France, Spain, Portugal. In the interval between these fascinating voyages, for three years (from 2009 to 2012) he served as the country's Minister of Culture.
In short, a devilishly offended and trampled by "tyranny" man. In March 2019, Latushko's career made another sharp turn - from the post of Ambassador Extraordinary and Plenipotentiary to a couple of countries, he immediately landed in the chair of the director of the Yanka Kupala National Academic Theater. From the stage of this center of culture (he has already been dismissed from his post) and moved to the "revolutionaries" ...
Another "theatrical" personality is Yulia Chernyavskaya. According to his biography, "scientist, prose writer, playwright." From under the pen of this lady came out both works on cultural studies and a lot of fiction - from plays to poetry. Professor of the Belarusian State University of Culture and Arts. It is difficult to understand what I forgot on the "Maidan".
Svetlana Aleksievich is a special case. She's something of a failure on the creative path can not be attributed in any way. And the more she is rejected by those who once admired her works. From really good books about the Great Patriotic War - to the Nobel Prize for cave anti-Sovietism and Russophobia. That's a "glorious" way ... For her, the present turmoil is like manna from heaven. However, unlike most of the "colleagues", Mrs. Nobel laureate, long and firmly established in the West and, let's say, far from poverty, having played enough of the "revolution", will calmly drive to her place of permanent residence and continue to pour dirt on her homeland.
To tell the truth, looking further down the list of "coordinators", you begin to come to a quiet horror: do these people think that they know how to govern the country, to solve its economic and social problems? How could they know that ?! Andrei Kureichik is a "screenwriter, director and playwright" with degrees in law and journalism. Vladimir Pugach is a musician who, without much success, created a number of groups entirely with English names. By the way, also a certified lawyer. Something, in my opinion, is wrong in Belarus with the training of specialists in this profile ...
Maria Kolesnikova is the coordinator of the headquarters of Victor Babariko. Actually, a rather strange choice was made by the ex-banker - Mrs. Kolesnikova by education ... a flutist and conductor! She played the flute all her life. What got into politics ?! Especially considering that since 2007 this lady has lived in Germany, and has not even shown her nose to Belarus. Anna Sevyarynets is a "teacher, writer and literary critic". Sergei Chaly is a "Belarusian nationalist" of Ukrainian origin, a "journalist-analyst" with a diploma in theoretical physicist.
Of course, the life path of the Tikhanovsky couple is of particular interest: the unlucky presidential candidate Sergei and Svetlana, who courageously replaced him on this difficult path. What can I say? The activity of creating nightclubs (in Mozyr and Gomel) somehow did not work out for Tikhanovsky, who received a philological education. Together with his wife, they created a shooting company "Compass", which seemed to be quite successful in the advertising segment. However, the career of a political blogger, throwing mud at the country in which he lives and its authorities, seemed to Sergey more promising. This is how the Country for Life channels were born on YouTube and Telegram, which he set out to make a "springboard" to the presidency.
Instead, the case ended in arrest and real-life charges. However, those forces whose money was most likely invested in this political project demanded its continuation. However, it is possible that initially the stake was placed precisely on Svetlana: she, a professional philologist, worked as a translator from English in many interesting organizations. For example, in the NGO Chernobyl Life Line, registered in Ireland. What could be hidden under this sign, guess what.
At one time, Alexander Lukashenko called the Coordinating Council of the Belarusian opposition a bunch of "former molesters and outspoken nationalists, offended by the authorities." I would like to add to this definition the mention of creative individuals with clearly overestimated self-esteem and unsatisfied ambitions. Where such a company can lead the country, it is not impossible to imagine, it is even scary to imagine.