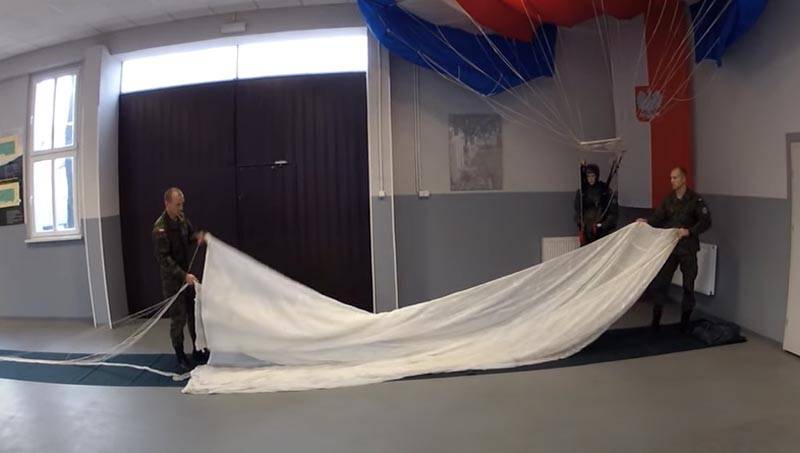 An agreement was signed between the Ukrainian Ukrspetsexport and one of the Polish companies for the supply of Polish-made parachutes for the needs of the Armed Forces of Ukraine. These are Dedal AD-95 parachute systems and AZ-95 reserve parachutes.
The new batch will be small - it will consist of 66 such parachutes. The customer promised to deliver the goods from Poland by December 1st.
The Dedal AD-95 parachute system is an analogue of the Soviet D-1-5U and D-6 landing parachutes used for combat and training jumps.
It is worth noting that the Armed Forces of Ukraine adopted Polish parachutes into service about three years ago, while the first deliveries of Daedals for the Ukrainian Armed Forces were made back in 2014. Until 2017, it was alleged, they passed the necessary tests.
It is reported that the Dedal AD-95 parachutes will be used by the airborne assault units of the Armed Forces of Ukraine. Polish-made parachutes allow jumping from heights of up to 8 thousand meters, providing a vertical descent speed of up to 5 m / s.
Recall that earlier a batch of parachutes from the United States was delivered to the Armed Forces of Ukraine, which turned out to be not only used, but also defective. The fabric of many parachutes of the American party, which, by the way, was also delivered through Poland, "crawled" - apparently, from the time and the number of uses in the US army. At the same time, until now, none of the responsible persons in the Armed Forces of Ukraine incurred any punishment for the supply of that batch.
Polish video of AD-95 parachute packing: