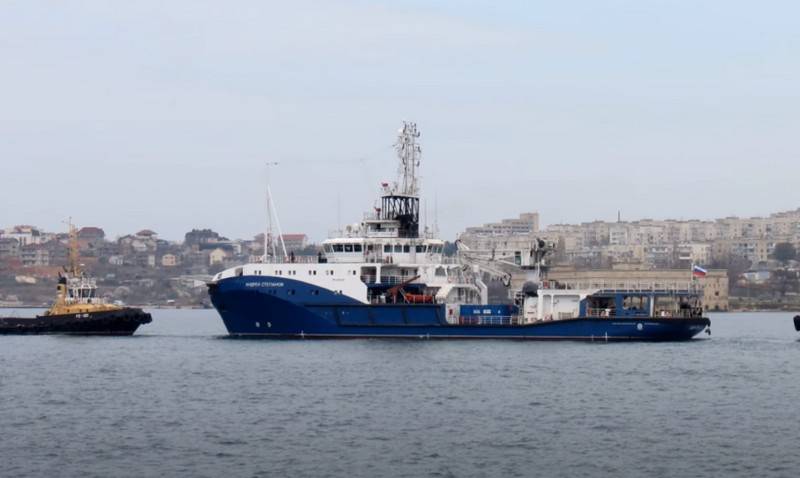 Sea tug of project 23470 "Andrey Stepanov", making an inter-fleet passage from Sevastopol to Kamchatka, crossed the Northern Sea Route. The press service of the Pacific
fleet
.
As noted, Andrey Stepanov crossed the Northern Sea Route in tow. At present, he continues the transition, heading for Petropavlovsk-Kamchatsky, where the ceremony of joining the tug into the detachment of support vessels for the troops and forces of the Pacific Fleet will take place.
The modern sea tug of project 23470 "Andrey Stepanov", built specially for the Pacific Fleet, continues its transition from Sevastopol to Kamchatka, where it will become part of a detachment of support vessels for troops and forces in the North-East of Russia. The towing of the vessel along the Northern Sea Route has already been completed. Arrival of the tug to Petropavlovsk-Kamchatsky is scheduled for the end of this week
- said in a statement.
The fact that the tugboat "Andrey Stepanov" had completed its sea trials at the factory and was preparing for the inter-fleet passage to Kamchatka from Sevastopol was reported back in the 20th of June this year. At the same time, the press service of the Pacific Fleet announced that the transfer of the tug would be carried out along the Northern Sea Route.
The second tugboat Andrei Stepanov, after the lead Sergey Balk, is the first serial in a series of five marine tugboats of Project 23470. Built at the Yaroslavl Shipyard according to the contract for two sea tugboats for the Ministry of Defense concluded in 2014. Laid down at YaZZ on July 27, 2015 and launched on June 29, 2017. Later it was transferred to the Sevastopol shipyard "Perseus", where it was completed on the water.
These marine tugs are designed to perform marine towing of ships, floating objects and structures in ice and in clear water; pilotage of vessels in the water area of ​​ports and docking; performing escort operations at sea; extinguishing fires at floating and onshore facilities, as well as extinguishing fuel burning on water; stranded ships and ships.
At the aft end of the vessel there is a platform for receiving and taking off helicopters. The presence of a crane with a lifting capacity of 20 tons at a boom reach of 13 m with active roll compensation allows the tug to independently carry out cargo operations and serve the helipad both in calm water and in marine conditions.
The main dimensions of the vessel: length, m 69,75; greatest width, m 15,0; board height to VP, m 6,7; the largest draft, m 5,2, displacement - 3200 tons. Autonomy in terms of provisions - 30 days, cruising range at a speed of 14 knots. - 3000 miles. Navigation area - unlimited in accordance with Arc 4 ice reinforcement class.