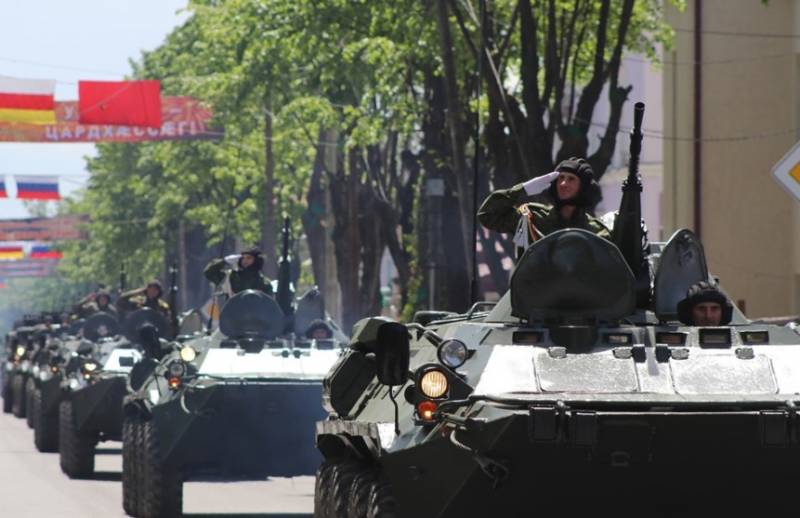 Celebrations and a military parade in honor of the 30th anniversary of the founding of the Republic of South Ossetia (RSO) were held today in the city of Tskhinval. Together with South Ossetian and Abkhazian military units, servicemen of the Russian Federation took part in the parade.
The republican state news agency "Res" informs about it.
Russia at the military parade in the capital of the republic was represented by units of the Border Directorate of the FSB of the Russian Federation and the 4th Guards Military Base of the Ministry of Defense of the Russian Federation.
According to the press service of the RF Ministry of Defense, about 20 units of Russian equipment, including the Grad MLRS, KamAZ vehicles with towed guns and the BTR-80, passed through Teatralnaya Square as part of the parade column. The parade crews of the RF military personnel numbered about 160 people. Musical accompaniment was provided by a military orchestra, which performed together with their South Ossetian counterparts.
Numerous guests from Russia, including a delegation from North Ossetia, arrived to participate in the solemn events. The holiday was attended by representatives of Abkhazia, as well as the Donetsk and Lugansk People's Republics.
Exactly 30 years ago, on September 20, 1990, by the decision of the Regional Council of People's Deputies, the South Ossetian Autonomous Region of the Georgian SSR was transformed into the Republic of South Ossetia.