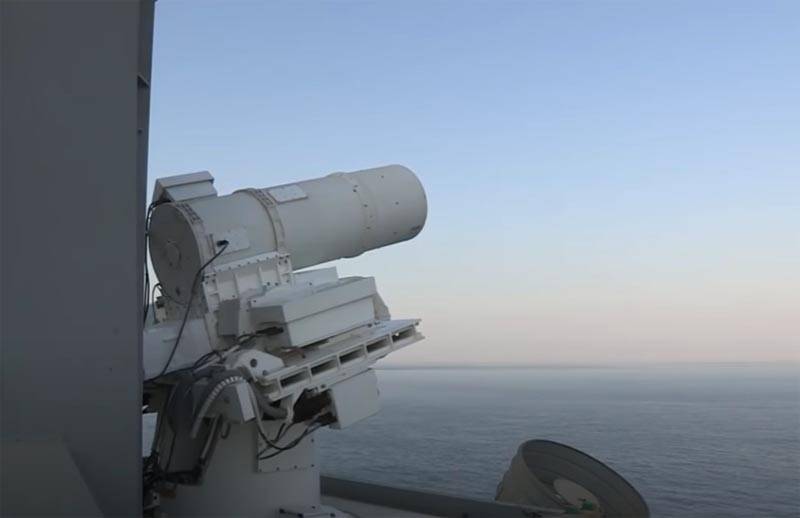 In the USA, work continues to increase the power of the laser
weapons
without a significant increase in the volume of the power supply system. At this stage, the United States concentrated the main work on the creation of ship-based combat laser systems. This suggests that there are still serious problems with the compactness of the batteries supplying the installation in the States.
At the same time, information about the emergence of additional problems during testing of prototypes of future shipborne combat lasers is leaked to the press.
One of these tests was carried out about 4 months ago. Then a prototype combat laser was tested aboard the USS Portland (LPD-27) transport dock ship of the US Navy. A drone was chosen as the target for the laser installation. At the same time, as noted, the tests were relatively successful only when a number of factors were taken into account: the drone was hit while flying at low altitudes, the time of exposure to the laser beam for the UAV to start igniting had to reach at least 15 s. However, the tests were officially declared successful, and it was also added that the result of the development should be a combat laser as a means of naval air defense - to counteract, including enemy aircraft.
In the use of a combat laser system being tested in the United States as a full-fledged air defense system, problems arise. For obvious reasons, no professional military pilot will simply allow a laser system to "focus" on a fighter for 15 seconds or more. In addition, the used 30 kilowatt model shows unsatisfactory results of combat effectiveness at high altitudes and in low cloud cover. So, the scattering of the laser beam grows critically at altitudes of 8 km. This effect is called tropospheric scattering, when microscopic particles of frozen moisture make their negative contribution to the laser. To inflict at least some tangible harm on a fighter that appears at an altitude of 8-9 km above a US warship, it will take a prohibitive time to "capture" an aircraft with a combat laser - more than a minute. For obvious reasons, these are unthinkable values, given the speed and maneuverability of modern fighters.
But the scattering of the laser beam also grows seriously when it passes through clouds at much lower altitudes. In other words, if a drone or an airplane enters the cloud layer, then they will actually be out of reach for the ship's laser installation.
Another problem with the US shipborne combat laser being tested is the need to use additional security systems for the electrical equipment of the warship. The use of a combat laser requires a lot of energy, and the very process of such an application can lead to a threat to the stable operation of the ship's support systems.
Video from testing a prototype combat laser (May 2020):