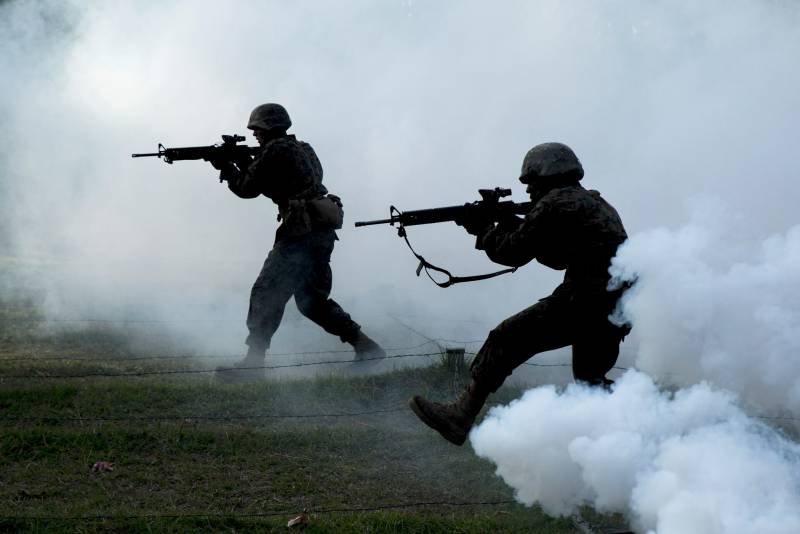 The US military announces the continuation of the implementation of a new training program for the training of infantry personnel of the Marine Corps (ILC). The ART standard shooting training, which has been in place for decades, is being replaced by the so-called annual ARQ shooting qualification. On this basis, in the United States, it is assumed that the number of owners of the rifle insignia will now significantly decrease.
What is the essence of the new US Marines firearms training program?
In the messages of the US military, it is said about the introduction of a new principle. It consists in the fact that the soldier can focus not on the classic version of hitting the target, but on the lethality of the shot. The ARQ program pays special attention to night shooting, as well as shooting at moving targets.
US Army Warrant Officer Eric Brown from the USMC Training Battalion from North Carolina:
This is more of a fighting style, shooting in an environment close to combat.
The American command notes that standard firearms training does not meet modern challenges. Military personnel need to be trained in practical shooting of the nature that they may encounter in real combat, where the target will definitely not wait until they open fire on it.
The current shooting training program has been operating in the States (with some changes) since 1907, assuming the defeat of targets at 200, 300 and 500 yards (a yard is 0,9144 m) in several versions - from sitting, lying, standing, and also standing on the knee. There is a part for practicing close combat - 20-25 m.
The new program, developed in 2018, involves the implementation of practical shooting with combat equipment, including body armor, helmet. One of the exercises is shooting at a target while approaching it (open or covert) using the M4, M27 or M16. Shooting cut-off - every 15 yards (13,72 m), starting at 500 yards (457,2 m). The main task is to damage the head or chest area.
Also, the innovation is to allow the use of artificial supports for shooters - for example, to put a tactical backpack or magazines under the barrel of a rifle. While firing, Marines will no longer have the ability to aim long after each shot. Instead, they will be given a total shooting time — for example, 45 seconds for five shots at 500 yards, three seconds for headshots at a target at 25 yards.
The system of evaluating results is also changing. Different points will be awarded (or not awarded) based on the following scale: miss, suppress, destroy.
It is believed that the new program will be extended to all divisions of the ILC in 2021.