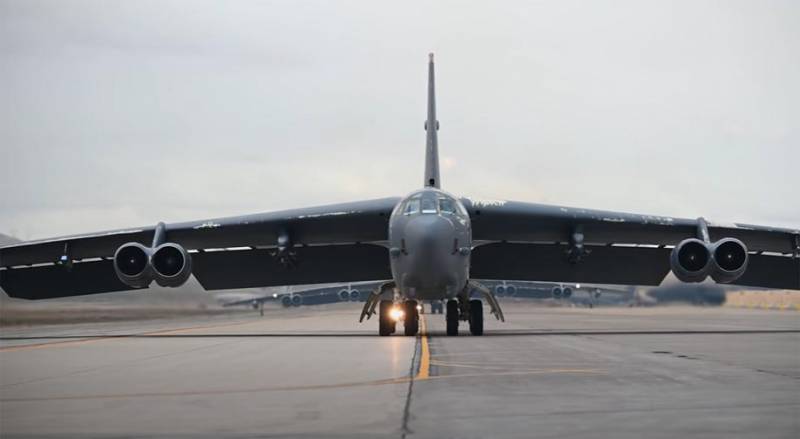 American strategic bombers continue to increase their activity in Europe. Days after the US Air Force B-52 first entered
stories
flew in the airspace of Ukraine, flying up to the Russian Crimea, flights are made over the NATO countries of Eastern Europe. So, today the US Air Force "strategists" appeared in the skies over Prague.
The US military command and the Czech authorities associate the appearance of strategic bombers in Czech airspace with the NATO Days. Official events within the framework of NATO days are held on September 19-20 in the Czech Ostrava.
Reports from the US military command indicate that B-52 Stratofortress strategic bombers are flying non-stop for 30 hours from Barksdale Air Force Base, Louisiana. The air tanker KC-135 is used to refuel them. F-16 fighters rose into the air to escort the American "strategists" from European air bases.
Representative of the US Embassy in the Czech Republic Griffin Roselle:
This Air Force aircraft display is a symbolic expression of American support for its trusted ally.
The chairman of the Czech security organization Jagello 2000, a security expert, Zbynek Pavlachik called the B-52 "a symbol of NATO Days" and added: "We are delighted to see the US Air Force B-52 strategic bombers flying over Prague."
Meanwhile, not everyone in Europe is "happy to see" American B-52s flying overhead. In particular, it recalls several air crashes and
aviation
accidents with these aircraft. One of them - the case of the 1960s, when the fall of the B-52 "dropped" two atomic bombs. At the same time, the fourth protection system of 4 saved the United States from a nuclear explosion. The first three refused. And this is not the only case of this kind with American "strategists" during their long history of being in the US Air Force.
If flights over European countries not only become more frequent, but also take place with a missile and bomb arsenal, then this, even from a probabilistic point of view, could lead to negative consequences for European security.