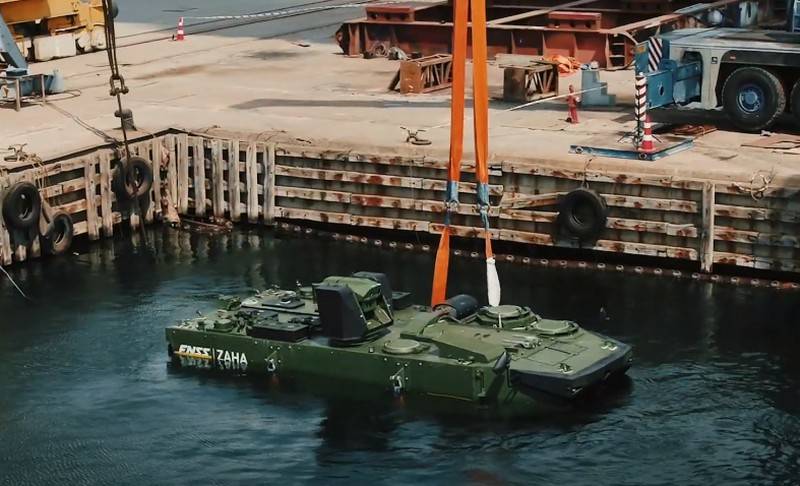 A video of the tests on the water of the Turkish ZAHA armored personnel carrier, designed specifically to equip the TCG Anadolu (L-408) universal amphibious assault ship under construction for the Turkish Navy, has appeared on the Web. The video was posted on its official YouTube channel by the Turkish military department.
The Turkish military conducted a self-correction test of an armored personnel carrier. These tests test the ability of armored vehicles to return to their original position when overturning in water.
The contract for the design, development and production of 27 ZAHA (Zırhlı Amfibi Hücum Araçları) floating combat vehicles was signed in March 2017. Of the ordered vehicles, 23 are to be produced in the form of conventional armored personnel carriers, two - as command and staff and two more - as an ARV.
The ZAHA BTR is a further development of the AAV7 armored personnel carrier for the US Marine Corps (formerly LVTP-7), but with a new armored corps, engine compartment and recycled undercarriage.
Combat weight - 30 tons; in the armored personnel carrier version, the vehicle can accommodate three crew members and twenty-one paratroopers. The body is made of an aluminum-magnesium alloy and reinforced with spaced-apart ceramic armor panels. This provides protection against 14,5 mm armor-piercing bullets. There are elements of mine protection.
Movement on the water at a speed of 7 km / h is provided by two water cannons, while the excitement should not exceed 2 points, when using a special "seaworthy" kit (snorkel pipes, etc.) - up to 4 points.
The armored personnel carrier is equipped with a Turkish-made BIUS. In the basic version, a self-developed FNSS DUM is installed with a 12,7 mm M2 machine gun and a 40 mm automatic grenade launcher.