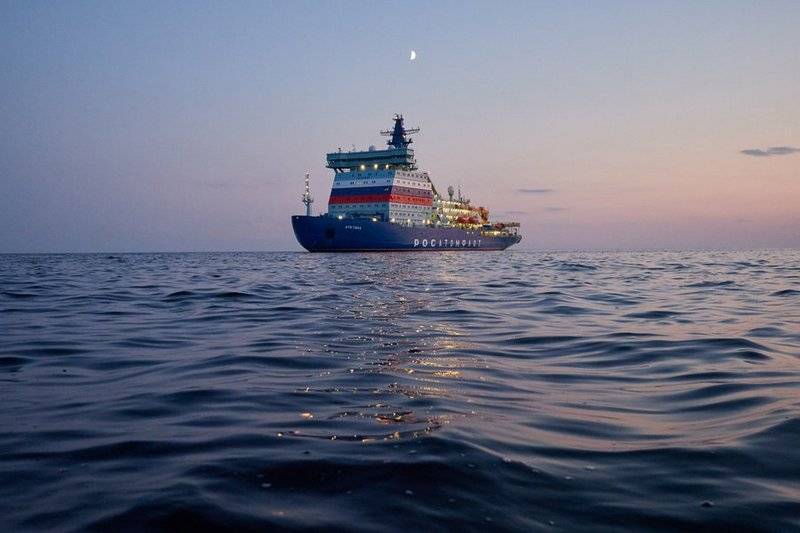 The lead universal nuclear-powered icebreaker of project 22220 "Arktika" has completed the second stage of sea trials, the vessel is fully ready to sail to Murmansk. This was reported by the press service of the Baltic Shipyard.
The second stage of sea trials of the icebreaker took place from June 23 to September 16 in the Gulf of Finland and the Baltic Sea. During the tests, the operation of the mechanisms and equipment of the "Arctic" was checked, the electric power system was tested in sea conditions and the maneuvering characteristics of the vessel at various draft options.
The sea trials program has been completed in full. Shipbuilders, contractors and delivery crews have done a lot. We are satisfied with the results. Nuclear icebreaker "Arktika" is ready to sail to Murmansk
- said the general director of FSUE Atomflot Mustafa Kashka.
At present, the icebreaker is at the outfitting wall of the Baltic Shipyard shipyard, from where it will leave on September 22 and begin its transition to Murmansk. The transition is planned to take about 2 weeks. The delivery of the icebreaker to the customer is scheduled for November 8 this year.
The icebreaker will be delivered with an emergency electric motor with capacity limitations "under certain guarantees and obligations". The replacement of the emergency electric motor on the icebreaker is planned to be carried out during docking in Kronstadt in August 2021. The icebreaker received damage to the right propeller motor as a result of mooring tests in December 2019.
The Arctic nuclear icebreaker is the lead vessel of Project 22220 in a series of three vessels being built at the Baltic Shipyard in St. Petersburg under a contract with Rosatom.
A feature of the 22220 project icebreakers is the use of variable draft using ballast tanks. Double-deck ships can operate both in deep water and in shallow water in river beds, overcoming ice up to 3-meters thick without losing speed. According to project data, new icebreakers will become the largest and most powerful in the world.