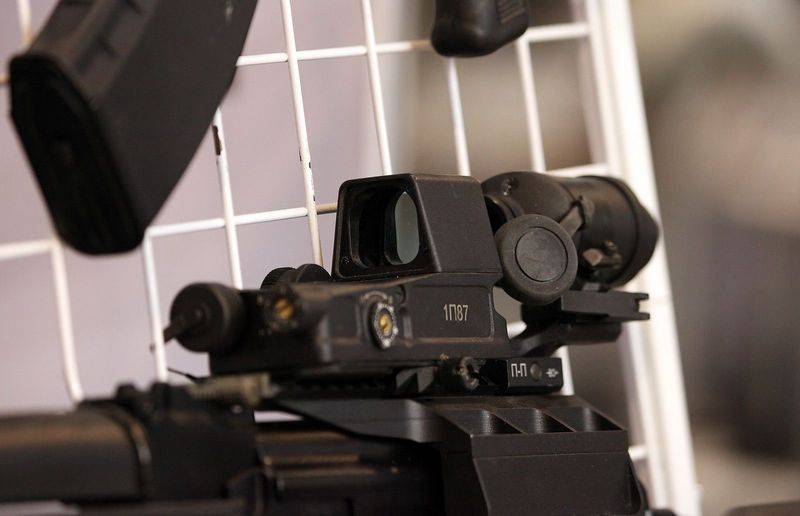 The Central Scientific Research Institute of Precision Engineering (part of Rostec) has begun the development of a new collimator sight for small arms
weapons
, which is not inferior in its characteristics to the best foreign models. The press service of Rostec reports.
According to the report, a new domestic collimator sight is being developed for submachine guns, assault rifles, carbines and machine guns. In the future, the Russian development should replace the collimator sights of foreign production, mainly used by various power structures of Russia. Of the Russian security forces, only the 1P-87 sight, developed as part of the creation of the Ratnik equipment, is in service.
According to the head of the department for the development of small arms TsNIITOCHMASH Vadim Malinnikov, whose words are quoted by "RIA
News
", the use of red dot sights expands the tactical capabilities of small arms and increases their combat effectiveness.
Malinnikov stressed that the sight being developed by Russian specialists will have an advantage over foreign models. He called the main differences between the new collimator a monolithic body without additional adapters and screws, a quick-release mechanism, the use of two power sources, a sealed design and a continuous operation of about 30 thousand hours.
In 2019, TsNIITOCHMASH announced the beginning of the development of a series of new high-tech sights for small arms with caliber up to 9 mm inclusive. The series includes thermal, collimator and other types of sights. The development is carried out by order of the Ministry of Defense.