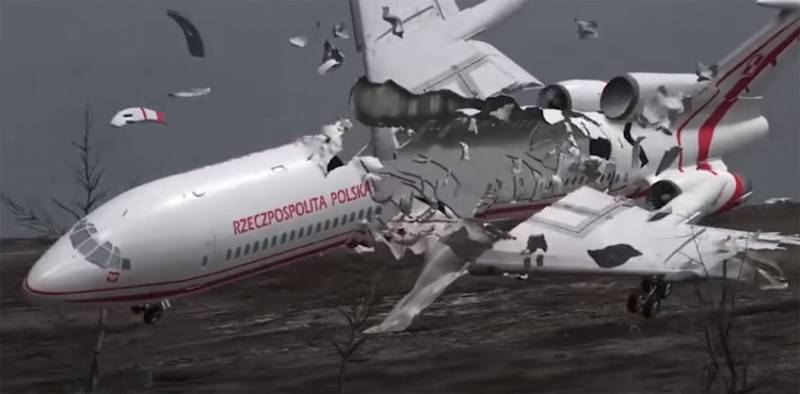 Polish computer simulation of the situation with the Tu-154
Deputies, public figures and ordinary citizens of Poland comment on the request of the Investigative Commission of the National Prosecutor's Office of the country to issue a warrant for the detention of the Smolensk dispatchers who served the flight number 1 in 2010. Today, "Voennoye Obozreniye" in one of the morning materials reported this demand of the Polish investigation team, headed by the ex-Minister of Defense of Poland Antoni Matserevich. It was in the course of "his investigation" that it was stated that on the wreckage of the Tu-154 that had fallen near Smolensk, "traces of an explosive were found." Macerevich himself then announced that "the explosives could have been planted in Russia during the maintenance of the liner." Why, in this case, the board flew for several months without incident, Macerevich does not comment.
The deputy from the Polish party of power "Law and Justice" (deputy chairman of the ruling party) Radoslaw Vogel, commenting on the statements of the press service of the National Prosecutor's Office, says that for this (for the detention of Russian dispatchers) the investigation team must have good and convincing reasons.
Vogel on Polish Radio:
I do not know any details, but I can say that all this is under the responsibility of the prosecutors conducting the case. The conclusions of the investigation must be unambiguous if they make such a decision.
According to the deputy of the Diet, in such a situation, one should first turn to Russia for legal assistance.
Vogel:
But it's hard to say for now whether the Russians will want to cooperate.
Here are some comments from readers of the Polish media.
Jest winny! (Poland):
The dark people from PiS (Law and Justice) will buy it. They need games.

Jedrekn (Poland):
What happened in Smolensk was organized by the president's brother. The former Minister of War was responsible for this, and the contractors were people under his control. The former minister even personally went to the crash site (of the plane) to see the effectiveness. He looked at it, dined, returned home. People from the GRU did not participate in this circus. I believe in this course of events.
analytyk (Germany)

Macerevich, explain how dispatchers from Smolensk airport planted a thermobaric bomb in Tu. This is a simple matter for him. Like a little beer before meals ...
Wacek B.
This is a circus from Antoni (Matserevich). It is already impossible to listen to it. 10 years later, no one believes in the possibility of establishing the truth.
It should be noted that an extremely small percentage of Poles support (in the comments to publications in the Polish media) the initiative to detain Smolensk dispatchers. Many Poles are frankly bewildered, and here are the airfield staff, who did everything to save the board, recommending that the pilots leave for an alternate airfield in the most difficult weather conditions.