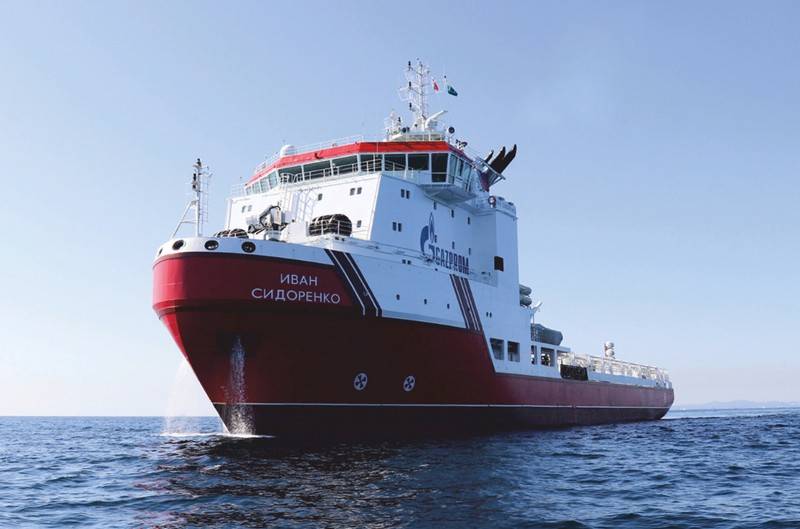 The supply vessel "Ivan Sidorenko" arrived at the logistics center of the Nord Stream-2 project in the German port of Mukran. This follows from the data of the Marine Traffic portal.
The vessel entered the port of Mukran on Thursday morning, September 17. According to the available information, "Ivan Sidorenko" will be used to supply pipes during the completion of the gas pipeline together with another vessel of this project - "Ostap Sheremet", which is currently docked in the port of Kaliningrad. Project 22420 supply vessel is designed to work with semi-submersible drilling rigs and has an unlimited navigation area.
As regards other vessels, whose participation in the completion of the Nord Stream 2 project: the Akademik Chersky pipelayer is also located in the Mukran port, the Fortuna pipelaying barge in the German port of Rostock. At the moment, "Akademik Chersky" is considered the main vessel for completing the gas pipeline, the participation of "Fortuna" is possible, but not guaranteed.
The timing of the start of the completion of the gas pipeline has not yet been reported, although it was previously announced that the work would be completed by the end of this year. At the same time, Gazprom itself called the silence on the progress of work necessary against the background of pressure on the project.
Meanwhile, Russia does not exclude delays in the implementation of this project. According to Vladimir Chizhov, Russia's permanent representative to the EU, the completion of the gas pipeline continues under the conditions of the imposition of sanctions, it will be completed, but some delays cannot be ruled out.