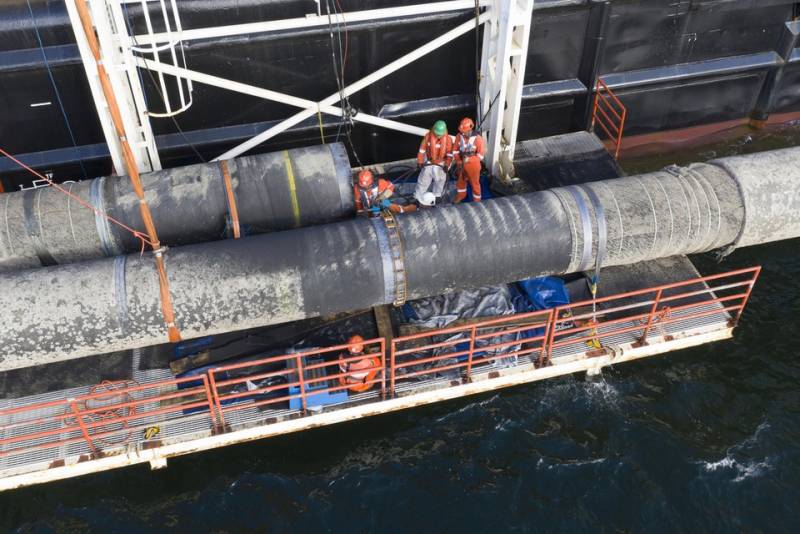 German Finance Minister Olaf Scholz has offered his United States counterpart Stephen Mnuchin a lucrative offer for the Nord Stream 2 pipeline. First, it was done orally by telephone, and then backed up by an official letter.
This was reported today by the German newspaper Die Zeit.
The German government is "very concerned" about the threat of sanctions against companies involved in the construction of the Nord Stream 2 gas pipeline.
- says the publication.
The meaning of the proposal is that the German side undertakes to invest in the construction of two terminals for receiving American liquefied gas, and in return, the United States should lift sanctions against the Nord Stream 2 gas pipeline.
It is assumed that in this case the terminals will appear in the German ports of Wilhelmshaven and Brunsbuttel. The cost of their construction will amount to about one billion euros.
So far, nothing is known about the response of the US Treasury Department to Berlin's proposal.
On the other hand, the head of the European Commission, Ursula von der Leyen, demanded that the construction of the pipeline be stopped in connection with the incident with Alexei Navalny. In response, Kremlin press secretary Dmitry Peskov called unacceptable attempts to overly politicize a commercial project beneficial to both Russia and Europe:
This is a commercial project that is absolutely in line with the interests of both the Russian Federation and the EU countries. First of all, Germany.
The Nord Stream 2 gas pipeline under construction is designed to deliver natural gas from Russia to Germany along the bottom of the Baltic Sea. Initially, the completion of the project was scheduled for the end of last year, but the completion date had to be moved.
In fact, the German government has decided to speak in Trump's language, which, as we know, is the language of transactions. Moreover, in the Trump variant, the deals can be "good" and "bad". Which option the US president will choose for the one proposed by Berlin will be shown in the near future.