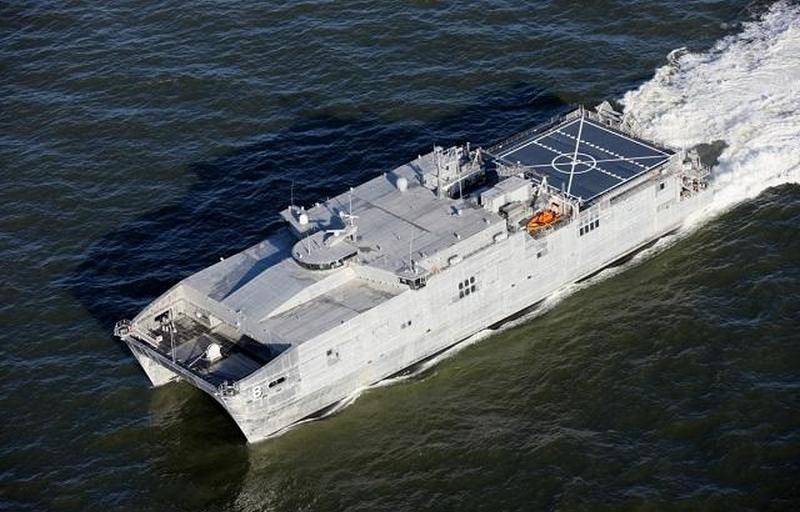 Following the destroyer URO USS Roosevelt (DDG-80), the command of the 6th
fleet
The US Navy has deployed the USNS Yuma (T-EPF-8) high-speed landing craft to the Black Sea. This is stated in the message of the fleet.
The command stated that the mission of the landing ship was to carry out operations "in support of the regional allies," and the same mission was designated for the destroyer. What the ship is actually carrying is unknown. It can deliver to the place of possible landing up to a battalion of marines, as well as various cargoes, including military equipment.
USNS Yuma, a ship of the US Naval Shipping Command, has begun sailing north to the Black Sea for regular maritime operations. The Sixth Fleet regularly conducts operations in the Black Sea in support of our allies and partners in the region
- said in a statement.
Note that the landing ship USNS "Yuma" will enter the Black Sea not for the first time. In the past, 2019, Yuma was marked three times, passing the Black Sea straits. Twice it delivered some kind of cargo to the port of Odessa, once it brought US Marines to participate in the Sea Breeze 2019 exercise.
USNS Yuma belongs to the Spearhead class of high-speed transport vessels. Ships of this type are multi-purpose, non-combatant ships designed for the rapid transfer of troops, cargo and military equipment, supply units and humanitarian relief operations.
Key Features: Displacement 1515 tons. Length 103 meters, width 28,5 meters, draft 3,83 meters. Full speed over 43 knots. Cruising range of 1200 nautical miles at 35 nodes. The crew of 41 people consists of civilian sailors who are subordinate to the Military Sealift Command. In peacetime 22 person.
The Ukrainian media reported that all NATO ships, including the landing craft, are arriving in the Black Sea to control the Russian strategic exercises Kavkaz-2020, which will be held in southern Russia. There have already been suggestions for NATO ships and amphibious assault ships to enter the Sea of ​​Azov, from where it would be more convenient to follow the Russian exercises and "react" if something happens.
Due to the shallow draft, Yuma, in principle, could enter the Sea of ​​Azov, which is so desired in Kiev, but the entry of an American landing ship, like any NATO ship, into the water area of ​​the inner sea of ​​Russia and Ukraine is simply impossible. The United States has long wanted to gain access to the Azov ports of Ukraine, but so far they can only dream of this, as well as the passage of such ships as USNS "Yuma"