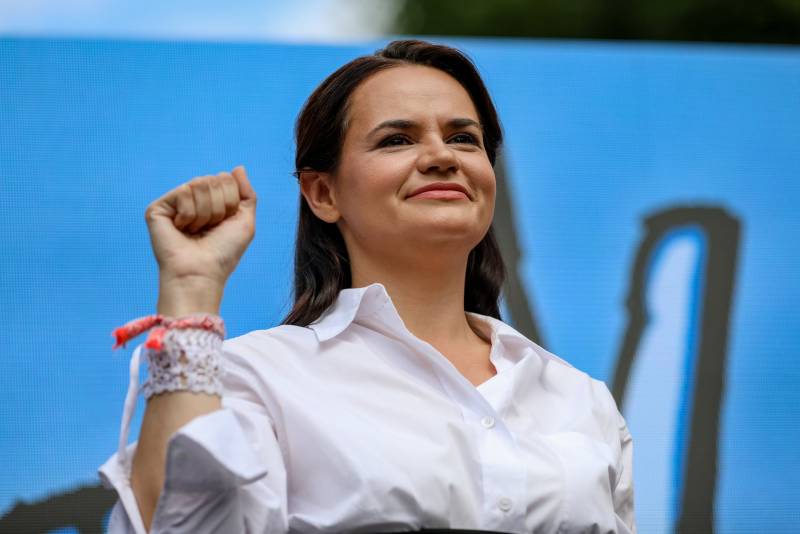 From Svetlana Tikhanovskaya, who lost the presidential elections in Belarus, the West continues to create a "second Guaido". True, in this case, Guaido is favored by the fact that at least he did not flee his home country after the elections, unlike Tihanovskaya. The Belarusian oppositionist is now becoming one of the newsmakers of the Western media while in Lithuania.
An interview with her was published in the Washington Post, where she once again calls Alexander Lukashenko the illegitimate head of the Belarusian state. In an interview, the ex-presidential candidate of the Republic of Belarus says that "Lukashenka's departure from the presidency of Belarus is only a matter of time".
Tikhanovskaya:
We do not recognize the results of the past elections, we will continue to hold protest actions in Belarus. At the same time, we insist on a peaceful protest that completely excludes violence.
Tikhanovskaya also once again called on the international community to "end contacts with the regime."
And on the eve, as Voennoye Obozreniye already reported, the ex-presidential candidate of Belarus, addressing Vladimir Putin, said that "whatever agreements he signed with Lukashenka in Sochi, they will have no effect - they will be canceled by the new Belarusian authorities ". It seems that Ms. Tikhanovskaya forgets that Alexander Lukashenko, even if he lost the election, would remain the legitimate president of the Republic of Belarus until the new head of state took office. And the tirade about the cancellation of agreements by the "new authorities", it turns out, suggests that the opposition forces would have canceled the agreement on a new loan from Russia for Belarus in the amount of $ 1,5 billion?